Danny DeVito on Hoffa, War of the Roses & the Beauty of Blu-ray
By Rachel Cericola
The name Danny DeVito is instantly recognizable. Without a doubt, he is one of those actors that doesn't need a resume recap. From Louie De Palma to the Lorax, DeVito has been a Hollywood mainstay for over 40 years and counting.
He's currently working on Triplets, the sequel to the 1988 comedy Twins, in between his stellar work on the quirky comedy It's Always Sunny in Philadelphia. Yes, it's stellar. Can you name another television character whose claim to fame is the rum-soaked ham?
While DeVito is best known for his work in front of the screen, he's had a string of hits as a director. Today, two of those films are coming to Blu-ray.
In 1988, DeVito made War of the Roses. It re-teamed the actor with his Romancing the Stone costars, Michael Douglas and Kathleen Turner. However, this was no romp through the jungle. Instead, it was a sadistic little comedy about a couple going through an extremely bitter divorce. Four years later, DeVito brought Hoffa to the big-screen, with Jack Nicholson taking on the role of real-life Teamsters Union leader Jimmy Hoffa.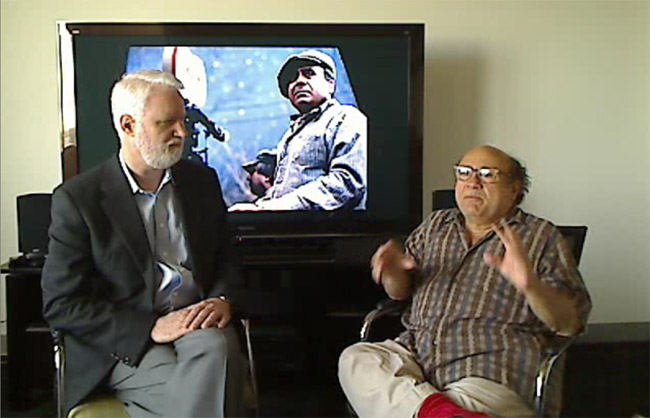 Both films were released to accolades, but will they hold up with the Blu-ray crowd? DeVito is actually a big fan of the technology.
"I always thought that if you were born before 1966, you should stay away from all of this stuff, but I'm totally hooked on it. I love it," he said about the Blu-ray format. "This is really a win-win situation for filmmakers; for someone that cares about his work, someone that wants it to be realized by many people out there, many audiences."
In fact, DeVito has been a fan of home theater technology for a while, saying that he's been recording extras for quite some time. He also was eager to jump on the LaserDisc movement back in the day. "I love the idea of owning that movie and keeping it in your library," he says. "Now with Blu-ray, I love looking at the details and hearing the sound. When you look at it in your home, it's mind-blowing. It just takes you away."
Big Picture Big Sound got the chance to sit in on a chat with DeVito talking about his work, his love of film, and his appreciation for the high-def technology. Here are a few highlights from the roundtable:
Question: How big is your Blu-ray collection? And as a filmmaker, do you ever feel Blu-ray is too sharp and clean?
Danny DeVito: First let me go backwards. I don't ever think Blu-ray is too sharp and clean. If the filmmaker wants the film to have a certain texture and quality, that feature will be realized even more with Blu-ray. If you're shooting a movie with a grainy or other worldly or other look to it, it's not going to tamper with the psychological effect of it. It's going to be presented as the director intended. I buy them as soon as they come out, so I have quite a few of them.
Q: As a filmmaker, what are your thoughts of people watching films on smaller screens versus the big screen?
DeVito: I think you can enjoy a movie on a smaller screen just as well as on a bigger screen. I sometimes watch movies on my computer on the road -- it's a great gift. As a kid, all I could watch was the Million-Dollar Movie on channel 9 on a 13-inch Dumont, and I really enjoyed it. It's your taste in movies and you can enjoy them on a big screen or not. It's great to watch movies on the big screen, but a movie is a movie, and it's good to watch them anyway you can.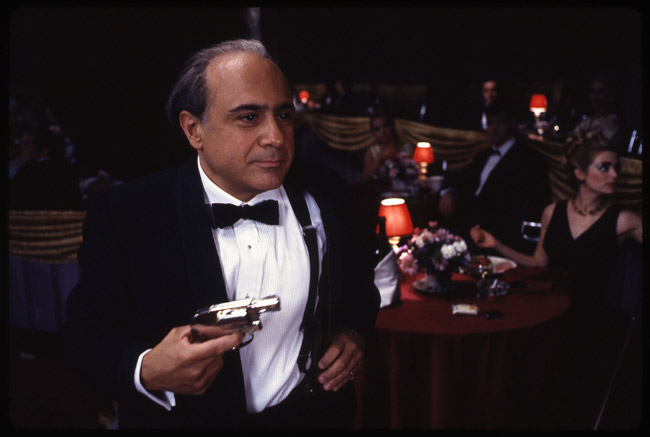 Q: When these films were mastered for Blu-ray, did you keep the color timing, contrast, etc. the same as you did for the original theatrical release?
DeVito: Yes -- everything is the same, except it's realized in a more vivid way. We wanted to keep the same feeling of the original film. We didn't want to change the way the audience responds to the movie by changing the way the film looks. The film and Blu-ray is just how I was seeing things on the set. You get the full array of visual and aural information with the Blu-ray.
Q: What types of extra features did you include on the films?
DeVito: We have interviews with the composer and producer, material that I shot, extra scenes, behind the scenes, etc. And I have an introduction for the Signature Series that I'm very proud of that has never been seen before by the human eye.
Q: How, if at all, does knowing your films will ultimately be transferred to Blu-ray affect how you think about making a film, the extras that go into the presentation, etc.?
DeVito: This is something that I think about all the time. Right now, I've been doing TV. We've been doing It's Always Sunny in Philadelphia for 8 years and we are definitely big fans of creating extra content. We do a lot of behind-the-scenes skits to fill out the extras on the DVDs. Every movie that I make from now on will have a major amount of thought put into the extras.
Q: Is there a Death to Smoochy Blu-ray in the works? (Please??)
DeVito: As far as I know, there's no Death to Smoochy Blu-ray in the works. I need the support of all the fans in the world to make that happen. It's a Warner Brothers movie, so please call them!
Q: Mr. DeVito, I would like to know if you have any thoughts on the use of a teal/orange color timing in so many of today's films. It is fast becoming the standard in most films and a trend I find rather disconcerting.
DeVito: I'm from New Jersey. I cut grass when I was a kid and I worked in my sister's beauty parlor. Thanks for asking.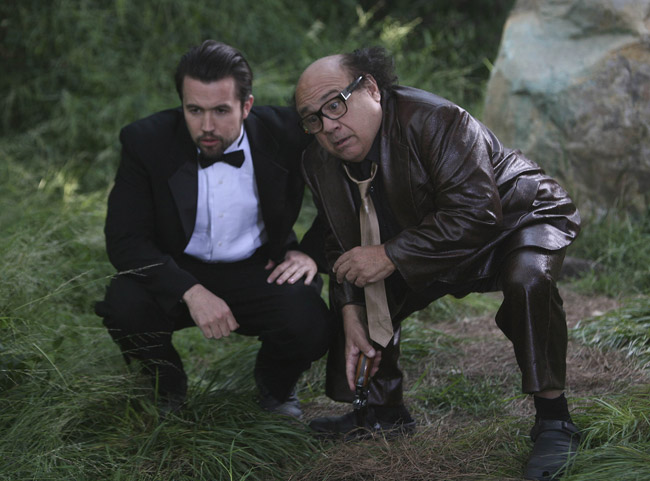 Where to Buy: