Daddy's Home 2 Review
By Matthew Passantino
Daddy Issues
Alright, Dads - the "Bad Moms" got their unnecessary holiday sequel, so here's yours, whether we wanted to see it or not.
"Daddy's Home 2" reteams Mark Wahlberg and Will Ferrell, who were opposing fathers in the first film but this time around they are just the best of friends. Co-parents, as they like to put it. They've got this new age, modern family parenting down, suppressing their disdain they had for each other in the first film the best they can.
Dusty (Wahlberg) is trying to have a more present role in his kid's life, so he got a job at their school. Their stepdad, Brad (Ferrell), drops the kids off to school, while Dusty is conducting traffic in the front circle. Brad rolls down the window and hands Dusty a thermos of hot cocoa with perfectly placed little marshmallows. "Daddy's Home 2" really, really, REALLY wants us to know these two are okay with each other.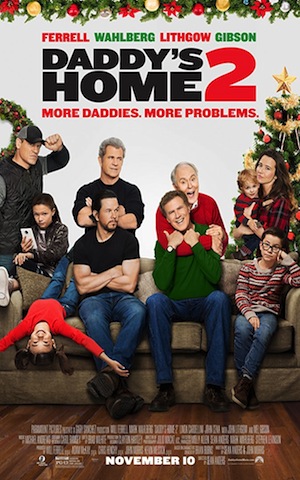 After an awkward Christmas pageant, where one of Dusty's kids tells the entire audience how she's tired of having two Christmas celebrations, Dusty, Brad and Sara (Brad's wife and Dusty's ex-wife, played by Linda Cardellini) decide they are going to have one Christmas together. Furthermore, Dusty's dad, Kurt (Mel Gibson) and Brad's dad (John Lithgow) are going to spend the holiday with them as well. Kurt decides they are going to go to a nice big cabin, where there is plenty of room for the whole family.
Adding the older parents is what we just saw last week with "A Bad Moms Christmas" and the movie hopes to get some extra mileage out of Lithgow and Gibson. Lithgow is always a pleasure, bringing his jovial charisma to his performances. Gibson isn't required to do much but be the gruff, distant father that Dusty never had. He is just playing an extension of his public persona.
The original "Daddy's Home" wasn't very good, never really finding much new humor in Ferrell's bumbling everyman and Wahlberg's tough guy absent father. They bring nothing new to the table in the sequel. Dusty tries to keep Brad in check when he gets too emotional or carried away, or just isn't "cool" enough. Brad is still falling down, getting hurt and dropping machinery on top of cars. We've seen this shtick before and it feels particularly warmed over here.
Director and writer Sean Anders tries to use the children a bit more this time around, including Dusty's stepdaughter (whose father is played by John Cena, naturally). There are some entirely uncomfortable uses of the children, from a shotgun-toting minor during a hunting scene gone awry, to a young boy discovering his feelings for girls. It's some kind of attempt at cringe comedy that falls completely flat.
Certainly, everyone was well-compensated for returning for the sequel but lets hope Wahlberg, Ferrell and crew have exhausted these characters because they sure have exhausted us. "Daddy's Home 2" is a slapdash sequel that deserves to be skipped.