DVDO's Mobile HD Travel Kit Gives Smart Phones HDMI Output while Charging
By Rachel Cericola
It's hard to be away from home, especially when you have a killer AV setup. DVDO wants to ease some of your homesick feelings with its newly announced Mobile high-definition (HD) travel kit.
The kit is an all-in-one, portable MHL-to-HDMI adapter and multi-charger, specifically designed for people on the move. It sort of a middleman, allowing travelers to hook a compatible smartphone to an HDTV or projector -- all while charging up that same portable.
This type of solution makes it easy to carry business presentations, family videos, and a variety of other audio and video files inside that small form factor. However, you won't have to huddle around that small screen or carry a mess of cables. The ability to charge up the portable for later use is also a nice perk.
DVDO Mobile is compatible with any MHL-enabled smartphone or tablet, such as Samsung's Galaxy S II or the HTC EVO 3D. It features an integrated 20-inch USB-A connector, an 8-inch micro-USB connector with a 46-inch total span that recoils with wrap-and-hide cable management, and a 36-inch HDMI connector to link to a compatible HDTV or projector.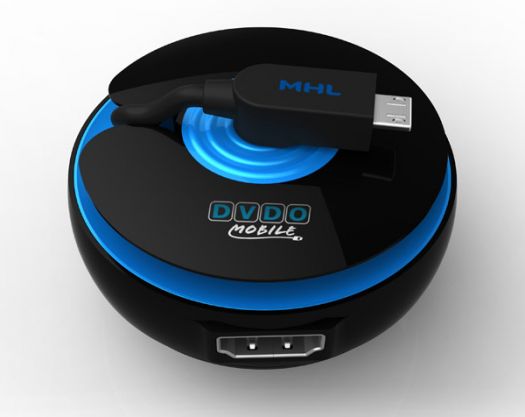 Once connected, you can use a TV or projector remote to control the MHL-enabled device, for easy, no-hands operation. Charging options include an integrated USB-to-PC connector and a USB-to-AC charger.
"The mobile market is continuing to grow and DVDO Mobile is the must-have mobile accessory to harness the power of the latest MHL-enabled smartphones and tablets in a sleek and portable package," said DVDO's Joseph Lias. "DVDO Mobile enhances DVDO's heritage of delivering innovative and cost-effective HD processing and connectivity products, while focusing on the changing needs of increasingly mobile end users."
Where to Buy:
For More Information: