Channel Master CM-7000PAL OTA HDTV Receiver with DVR (DISH DTVPal DVR) Review
By David Reinhart
A DVR for the Rest of Us
Next to the flat screen TV, the DVR (digital video recorder) is the biggest game changer to hit TV viewing since Doritos and bottled beer.  The ability to pause a live TV broadcast, pick up later exactly where you left off and seamlessly transition between recorded and live programming has completely transformed the way we watch TV, not to mention given us an excuse to finally trash all those decaying VHS tapes.
Hold on a minute.  We?  Us?  Those of us, that is, who command the cash flow necessary to afford cable or satellite service, and either shell out $300+ for a TiVo (plus monthly TiVo fees), or cough up the monthly DVR fees from our TV provider. Sure, you can use a TiVo with over the air broadcasts, but you still have to pay the monthly TiVo fee (currently $12.95/month).  Let's face it -- until now, DVR technology has been a privilege reserved for the relatively well-heeled -- and well-cabled.
Not any more.
Enter Dish Network's DTVPal HDTV DVR (a.k.a., the Channel Master CM-7000PAL).  The unit we tested was the DISH-branded DTVPal DVR, however this is now discontinued and is available under the Channel Master brand with a longer warranty.  This truly democratic piece of equipment finally allows viewers equipped with little more than a TV and a decent antenna to reap the benefits of DVR technology -- without subscription charges or monthly fees.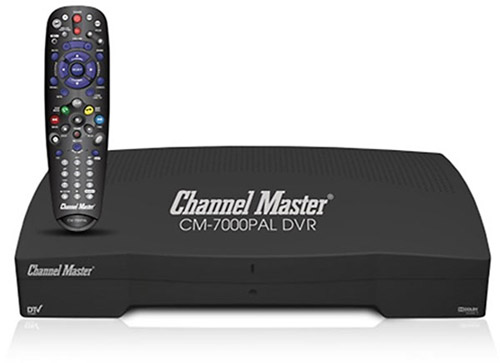 Out of the Box
Besides the DVR unit, the box includes a remote, batteries, component video and coaxial cables, Quick Start Guide, and User Manual.  Notably absent are HDMI and Ethernet cables, though the DVR unit has ports for both.  The back of the unit itself offers several connectivity options: a "TV Set Out" coaxial connector for hooking up an old-style CRT TV via channels 3 or 4, an HDMI port, component audio/video connections (red, blue, green), RCA-type audio/video connections (red, white, yellow), an optical digital audio connection, and finally Ethernet and USB ports.
We hooked up our DVR to a VIZIO VP322 32-inch plasma HDTV set and an Antennas Direct PF-7 picture frame antenna.  Testing all four connection methods verified that the component video and HDMI connections provided the sharpest video and graphics, courtesy of their 1080i/720p high definition capabilities. With the RCA connection and the old style coaxial hookup, the picture quality -- though still acceptable - was markedly inferior.  The manufacturer recommends using either HDMI or component video connections; we heartily concur.

The Setup
We followed the Quick Start Guide provided in the box, and found it indeed quick and easy to negotiate.  On-screen menus and action buttons are large and legible, and their responsiveness to the remote is hair-trigger. No frustrated stabbing at sticky remote buttons here.  Our test unit happened to include the latest firmware update loaded onto a USB stick [editor's note: you're welcome!]. We popped the stick into the on-board USB port, and the update practically ran itself.  I'm told the update came from the DISH web site, but the unit can also receive firmware updates over the web through its Ethernet port. We ran a provisional Ethernet cable from the port to a DSL modem and within minutes the unit had automatically downloaded another update, bringing it up to the F208 release, which we used for most of the testing.
"Control, Control, You Must Learn Control!"
Yoda rocks, and his words to Luke are applicable here as we discuss the DVR's included remote.  Those who have ever subscribed to DISH Network will find the remote control familiar as it looks nearly identical to the remote provided with current DISH DVRs.  The remote is so well-designed and user-friendly that even our seven-year old son was able to put it through its paces. Buttons are color-coded and grouped by function: live TV on the top, DVR on the bottom. A few notable features: on the live TV portion, a touch of the "Browse" button instantly brings up a channel-specific program description, signal strength meter and hourly program guide, from which you can pre-program recordings.  The "guide" button gives one-touch access to a comprehensive seven-day program guide for all available channels, from which it's also possible to preset recordings. The DVR button group features four speeds of fast forwarding and rewinding, as well as differently-colored buttons for skipping 30 seconds forward and 10 seconds back -- all extremely useful when whizzing through material to get to where you left off.
As an aside, I must mention that the guide results will vary depending on where you live.  In New York City, the local CBS affiliate broadcasts the guide data of TVGOS (TV Guide on Screen) which provides detailed programming data for just about all of the local channels.  In other markets, or for certain local channels you may get limited guide data (12-24 hours) which comes from the digital PSIP (Program and System Information Protocol) data embedded in ATSC channels.  One of the drawbacks of relying on a free guide is that it may not be as reliable or comprehensive as a paid guide service through TiVo or a paid TV provider.  But during our review period, the detailed 7-day guide was pretty reliable and consistent.

But getting back to the remote, it can also be programmed to control other home theater devices.  But the way this works is one of the DTVPal's few drawbacks. Though the user guide contains a comprehensive list of components and corresponding control codes, we found the process of trying to locate the right control code for each of our devices frustrating and burdensome. And rather than default back to controlling the DVR after our futile attempts to reprogram it, the remote must be specifically told to do so, an annoying feature which led us to believe the DVR itself had conked out until we finally deciphered it (tip: hit the "Pal" button at the top left of the remote to get back into the correct mode).
Is it Live or is it Memorex?
The DTVPal is equipped with two ATSC digital tuners for receiving live terrestrial digital television broadcasts.  Translation: assuming halfway decent antenna reception, you can record one digital program while watching another or record two at once while watching a previously recorded program.  Of course, depending on where you live, that initial assumption may be a pretty big one. Our second-floor apartment is located four miles due east of the Empire State Building.  Unfortunately, any direct line of sight to that holy edifice of broadcasting is obstructed by an armada of multi-story buildings.  Even so, fed by our humble yet stylish PF-7 picture frame antenna, the DTVPal pulled in 37 digital channels, the majority of them at a signal strength of 90% or better. Though some stations -- Fox in particular -- exhibited more signal fluctuation and picture breakup than others, the signal on most of the other channels remained strong with minimal dropouts. And because it's digital, the picture is crystal-clear and indistinguishable from cable.  In fact, in most cases the picture quality of over the air content is actually better than cable or satellite due to lower compression rates.
The feature most readily associated with DVRs -- the ability to temporarily buffer up to an hour of the currently-tuned channel, enabling the viewer to pause, then rewind and fast forward live TV broadcasts -- worked flawlessly on the DTVPal DVR. The skip forward and back buttons came in especially handy when, say, Jack Bauer's world-saving antics were suddenly interrupted by a thicket of annoying car ads.
The ability to record programs onto a hard disk is also standard for DVRs. The DTVPal offers one-touch instant recording of live shows, as well as one-touch advance recording from the guide, or via a manually set timer program. Setting up recurring recordings is slightly more labor intensive, yet still easy enough to manage in the GUI. What is missing, for those who may be coming from the TiVo or cable/satellite DVR world, is the ability to schedule a recording by program name, instead of time block.  You can search the guide for matches to a particular search string, and see if anything matches this search within the guide's timeline, but you can't set the DVR to record anything with the word "Survivor" in it (for example).
By comparison, a TiVo DVR would know when "Survivor" temporarily changes itself from Thursday for Wednesday to accommodate some silly basket ball game, but the DTV Pal DVR does not, so you will still need to be aware of any possible schedule changes.  The DTVPal also doesn't know the difference between a new episode of a show and a repeat.  If your show is on Thursdays from 8:00 to 9:00 on channel 2, then that's what you get, regardless of what is actually on the air.  Coming from the analog VCR world, you might not even notice this, but if you have any experience with cable, satellite or TiVo DVRS, then it may take some getting used to.
Once recorded, accessing those recordings is again a matter of a few button touches.  Shows normally are captured using the guide meta data, so instead of seeing a list that says "Wednesday, 8:00 PM Channel 5," the recording will be labeled "American Idol."  This makes finding recorded shows an extremely simple matter.  And as for the overall quality of the recorded audio and video -- this is the digital age, after all -- it's an exact duplicate of the original.  Even a 7-year-old TV addict wouldn't be able to tell the difference (I asked... he couldn't).
For true audiophiles and surround sound lovers, the unit is capable of full 5.1-channel Dolby Digital surround sound, assuming it is present in the original broadcast.  This 5.1-channel digital signal can be delivered either via the HDMI outputs or the optical digital port.  Just make sure your receiver can handle the full multi-channel signal via the HDMI or optical cable (most receivers can).
Turn ons
Simple to setup and use
Compatible with SDTVs and HDTVs
Remote is well-designed, easy to use
Strong digital tuners provide excellent picture quality
No subscription fees
Upgradeable software
Turn offs
Programming remote to control other devices is burdensome
Technical support minimal to nonexistent (should be better now that Channel Master is selling it)
No HDMI cable included in box
Final thoughts
Though at first it seemed destined to relegate rabbit ears to the dustbin of history, the advent of digital TV has in fact done exactly the opposite. In most areas of the country, HD broadcasts are easier to receive than their analog predecessors, there are more channels available than ever before, and the digital images are crystal clear.  So why hand over your cash to the cable or satellite companies when you can get the same (or better) pictures with a $50 (or less) antenna?
Channel Master's CM-7000Pal DVR makes the argument against pay TV even more compelling. Finally, technology that only cable and satellite subscribers could access in the past, or those willing to pay a monthly TiVo fee is available to the rest of us.  The unit works great, is a cinch to operate, and at under $400, is priced to move. If you've got good antenna reception, and you're not interested in all those premium cable channels, adding a Channel Master CM-7000PAL DVR to your living room makes sense, especially with the World Cup fast approaching.  Why pay through the nose for GOL-TV when you can record it all on Telemundo for free, in high-def? Gooooooooooal!!!!!!!!!
Specifications: Channel Master CM-7000PAL/Dish Network DTVPal DVR
Color: Black
Dimensions: 14 1/2" x 8 3/4" x 2 1/4"
MSRP: $399
Storage capacity: 150 hrs SD/30 hrs HD (250 GB internal drive)
Digital tuners: 2
Warranty: 1 Year Limited Parts & Labor
Connectivity:
HDMI out
Component video out
Composite/RCA video out
Coaxial out
Digital optical audio out
Ethernet
USB 2.0 (1)
Manufacturer's Contact Information:
Channel Master
2260 W Broadway Rd,
Mesa, AZ 85202
Ph: 1.877.746.7261
Web site: www.channelmaster.com