DC's Pop Culture Community Loves Awesome Con
By Lora Grady
Awesome Con!
I'm still not sure how it happened, but back in 2012 I started covering San Diego Comic Con for Big Picture Big Sound. For four glorious years I trekked (no pun intended) to the west coast each July to spend a week with my people: the nerds, the geeks, the pop culture fanatics. This year, the con came to me. Well, sort of; I had the opportunity to attend Awesome Con, Washington DC's own comic convention, and instead of booking a cross-country flight I just needed to hop on the local Metro.
Like all cons, AC is much more than comics: this year's headliner is actor David Tennant, who for many will always be the face of Doctor Who.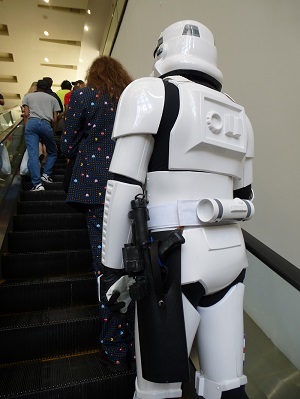 Featured guests include genre renaissance woman Felicia Day (
The Guild
,
Mystery Science Theater 3000: The Return
), actor/writer/gamer/blogger Wil Wheaton ("Stand By Me,"
Star Trek: The Next Generation
) and filmmaker Edgar Wright ("Shaun of the Dead"), here to showcase his eagerly anticipated new film, "Baby Driver."
Awesome Con is unique in the world of cons because this year they're also partnering with Smithsonian Magazine to debut Future Con, a con-within-a-con that spotlights the overlap of science, technology, and entertainment. FC panelists include staff from NASA, the Smithsonian's National Air and Space Museum, the National Academy of Science, and Discovery's Science Channel. They'll present on a dazzling variety of topics all geared to remind us that science and learning are fun and exciting and yes, entertaining.
Cons are about panels and swag, for sure, but what's really worth a look are the amazing costumes. Some folks wait all year for a chance to pull out their cosplay gear, and Awesome Con provides that opportunity for fans from all over the DC area. This year brought out plenty of fans eager to wear their pop culture passions on their sleeves - and everywhere else. Check out some of the fun and colorful photos from Awesome Con, running June 16-18 at the DC Convention Center. We've said it before and we'll say it again: the con is on!