Cyber Monday TV Deal: Samsung UN65KS8500 Curved 65-Inch 4K Ultra HD Smart LED TV: $1597.99 Shipped
By Rachel Cericola
Earlier this year, Samsung Electronics launched its latest round of SUHD TVs. If you've been waiting and wanting since then, you can now start purchasing. We found one on sale for Cyber Monday!
Amazon currently has the 65-inch UN65KS8500 Curved 4K Ultra HD Smart TV on sale for just $1,597.99. This price is $302 off the list, and even includes free shipping. Of course, it also includes a cadmium-free 10-bit Quantum Dot Display, with support for high dynamic range (HDR) and a 1,000-nit HDR minimum for a higher level of contrast between light and dark images. Find out more about this spectacular set on Amazon's product page: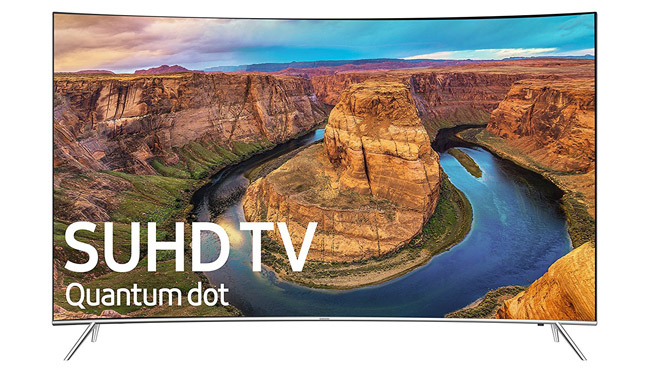 Other image perks include the Ultra Black feature for deeper, richer black levels and UHD-A Premium UHD certification, which means you should be getting the best UHD TV experience possible.
Like other TVs in the KS8500 Series, the UN65KS8500 has the Quantum Dot Color, the HDR1000 High Dynamic Range, and Samsung's "360" curved design. It even has the Peak Illuminator Pro feature, which can pump up those colors.
Also note that this a Smart TV, so you can access all sorts of web-based streaming services right through the TV. The lineup of on-screen apps includes Netflix, Amazon Video, YouTube, Hulu, and more. And if you can't find what you're looking for, the Smart View app allows you to stream content to the TV from select mobile devices. There's even four HDMI inputs for hooking up external sources!
When buying the UN65KS8500, make sure you're ordering from Amazon -- and not one of the retailer's third-party sellers. They have the low price, which is actually guaranteed. That means if you can find this exact set for less within 30 days of your purchase, Amazon will refund you on the difference. Also, Amazon offers free shipping and Enhanced Delivery, which means a rep will bring it in, set it up, inspect it for damage, and dispose of the packing materials. You just enjoy!
Where to Buy:
Please note: all deals posted on Big Picture Big Sound are current as of the posting date and time. These deals are frequently time- or stock-limited and generally do not last. Final pricing and stock are determined by the individual deal provider, not by Big Picture Big Sound so you will need to click through on the offer link to see if it is still available. Through our affiliate relationships with many online vendors, Big Picture Big Sound may earn a small commission on any referred sale.