Creative Sound Blaster Recon3D, Omega Wireless Headset Bundle (GH0200) Review
By Chris Chiarella
Creative's various "Sound Blaster" products have long impressed me with their performance and ahead-of-the-curviness (hey, they did DVD-Audio back when almost no one did DVD-Audio, for example), but the majority of this SB gear has been designed for use on the PC, which inherently limits their claim to the home theater. And so the wonderful Creative Sound Blaster Recon 3D and Omega Wireless Headset Bundle came as a pleasant surprise, as the box tells us right up front that it is ready to play with the Sony PlayStation3 (Blu-ray! games!) and Microsoft Xbox 360 (more games! DVD! even HD DVD!), as well as the PC and Mac, another perk of the power of modern game consoles.
The bundle arrives in two basic pieces: the Creative Sound Blaster Tactic3D Omega Wireless Gaming Headset and the Creative Sound Blaster Recon3D THX USB External Sound Enhancer for PC, PS3, XBOX 360 and Mac. Don't be fooled by the term "gaming headset," what we're really talking about here is a lightweight, heavy-duty pair of over-the-ear headphones built atop a steel-core headband, with an attachable noise-canceling microphone if we really do want to trash-talk friends and strangers while pretending to murder them in contests of online skill.
Blaster Set for Stun
Now, it helps to think of the Sound Blaster Recon3D unit as an outboard soundcard, performing many of the same noteworthy feats as Creative's latest PC gear but in a more agreeable form factor. It's powered by the company's own quad-core Sound and Voice processor, and packs a complete suite of hardware-accelerated THX TruStudio PRO technologies, plus a built-in Dolby Digital decoder.
For home theater applications, chief among its powers are Crystalizer and Surround. THX TruStudio PRO Crystalizer analyzes the signal and serves to accentuate the myriad little sonic details that can make a good soundtrack really pop. Crystalizer also continues to be a blessing to MP3 music and internet video, essentially restoring compressed audio to its former glory. The THX TruStudio PRO Surround algorithm adds depth and spatial information to two-channel audio streams, for a genuinely immersive effect. And when it receives discrete multichannel audio (e.g., Dolby Digital 5.1), the algorithm steps up to render a credible illusion of hundreds of virtual speakers.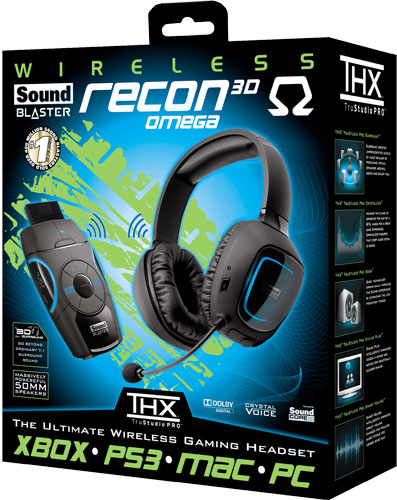 Additionally, THX TruStudio PRO Bass simulates the low-end kick that's too often missing, THX TruStudio PRO Dialog Plus thankfully lifts voices above the background mix to enhance clarity, and THX TruStudio PRO Smart Volume evens out the levels between drastic high/low disparities, the sort of feature that has become de rigueur in so many TVs and audio and devices over the past few years. If we take the optional step of connecting to the PC or Mac and running the included Recon3DProfile software, we can calibrate the processor to our liking, and then save those settings to the unit and apply them in the living room when connected to the PS3 or Xbox 360. Otherwise, those THX tweaks will work at preset levels, and can be toggled off altogether via the THX logo button.
We wasted no time connecting the Recon3D pod to the Blu-ray-spinning PlayStation3, done by attaching the device to one of the console's four front-panel USB ports for the necessary power, and then to the optical out around back for the audio signal. (All necessary cabling is included.) No special software is required for the PS3 (or the Xbox 360 for that matter), we only need to configure the console Settings to output audio optically. So if we've been using HDMI we will need to go in and re-adjust, but it's just a few quick steps. Any audio passed optically to the Recon3D will receive the device's VIP treatment. The little black pod itself has some basic controls on top and on the sides, including a hard PS3/Xbox/PC Mode switch.
A "Tactic Link" wireless card pops into the Recon3D unit, in between the two cable plugs, to connect with the rechargeable Tactic3D headset, which will need to be juiced up via USB (a dedicated AC adapter is not included, but we got by). Once everything is patched in and powered, the wireless link between the PS3 and the headphone was foolproof and automatic. Both the Recon3D and Tactic3D Omegas emit a matching deep blue glow that looks especially groovy in a darkened home theater. TacticLink supplies an uncompressed wireless signal, and does not introduce any perceptible delay.
The Best Gets Better?
The backbone of my testing was a scene from The Patriot that I am now intimately familiar with, wherein Mel rescues Heath from the redcoats, a mini-masterpiece on Blu-ray but one that demands ample surround and bass reproduction, while fraught with directionality and helpful if incidental bits of talk.
Now, the two substantial 50mm drivers inside the Tactic3D Omega headphones are not pumping out true multichannel directional effects across a 360-degree soundfield of course, but with the assistance of Recon3D they do manage to deliver distinct layers of sound. A throng of chirping insects is clearly discernible above the music, which is in turn separate from the dialogue. This transparency of the dialogue in particular is all the more impressive for the lack of a center channel speaker, obviously.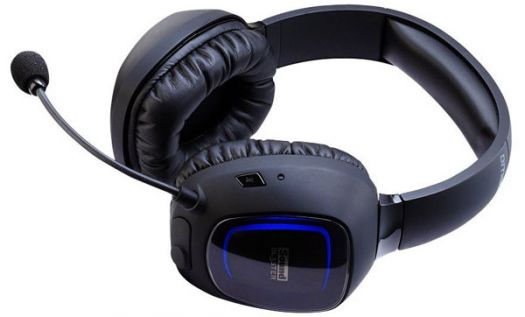 These well-designed, amply-sized speakers provide no shortage of perceived bass for the explosive gunshots (and cannon in other scenes), or overall volume either, which can be adjusted via the handy up/down buttons on the left earcup. The resulting power, complexity and envelopment of the Recon3D/Tactic3D Omega effect was nothing if not convincing. More than once I took them off in disbelief:  The audio is not localized to the earpieces, it sounded instead like my standard loudspeakers and subwoofer were active and the entire room was filled with the movie. But they weren't, and the room was silent, which I suppose is another nice bonus when using a sophisticated two-piece solution like the Recon3D with the Omega Wireless Headset.
Turn-Ons:
Plays loud, with outstanding clarity and depth
Easy installation and configuration
Multifaceted THX TruStudio PRO audio processing suite
Turn-Offs:
Limited control of features away from the computer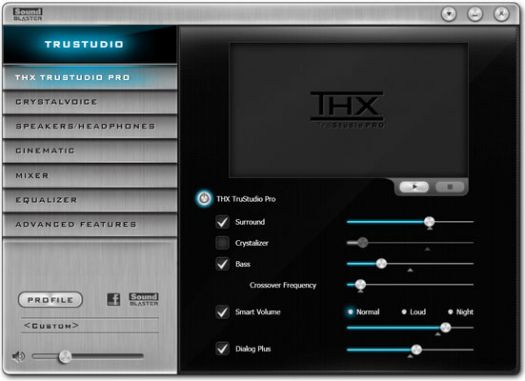 Final Thoughts:
If the PlayStation3 is the center of your entertainment universe, as mine is, or if the ever-growing versatility of the multimedia Xbox 360 has you spending many daily hours on the couch, then the Sound Blaster Recon3D/Tactic3D Omega bundle offers some serious appeal. In fact, since it gets its power from a standard USB port and its digital audio from a standard fiberoptic port, you could probably use it with a standalone Blu-ray player, DVR or other source component which features the necessary ports. This makes this system more flexible than even the company markets it.
For those times when a true 5.1/7.1 setup isn't an option, for reasons of space or budget, easily-disturbed neighbors, or sleeping family members, a comfortable high-performance headphone system such as this could be the best of all worlds.  It brings movies and more alive in new and wonderfully engaging ways, and without a cable tugging on our noggin. The $199.99 'phones and $129.99 Sound Blaster are worth every penny individually, but this complete $249.99 package represents an $80 savings, making it quite a bargain as well.
Available Separately:
Features and Specifications:
MSRP: $249.99
Headphone Drivers: 50mm x 2
Frequency Response: 20Hz-20kHz
Wireless: Uncompressed 2.4GHz
Headphone Dimensions and Weight: 7.4" diameter x 3.2" thick, 11.5 ounces without microphone
On-Headphone Controls: Power, Microphone Mute, Volume Up/Down
Recon3D Dimensions (H x W x D) and Weight: 5.3" x 3.2" x 1.2", 4.8 ounces
Recon3D Controls: THX, Mute, Scout Mode (for gaming), Volume Up/Down, Connect; Mode Switch (PS3, Xbox, PC), Microphone Switch (Low, Mid, High)
Recon3D Ports: Optical/Aux In, USB Mini, Stereo Headphone mini Out, Microphone In, Tactic Link card slot
THX TruStudio PRO Features: Crystalizer, Surround, Bass, Dialog Plus, Smart Volume
Warranty: One Year, Limited
What's in the Box?
1 x Creative Recon3D Sound Enhancer
1 x Tactic 3D Omega Wireless Gaming Headset
1 x Detachable Noise-Canceling Microphone
1 x Tactic Link Transmitter Card
2 x Micro USB-to-USB cable (4.9')
1 x Digital Optical Audio Cable (3.3')
1 x 2.5mm stereo cable for Xbox 360 controller (4.9')
1 x Audio extension cable for console (9.8')
Installation CD
Quick Start Guide
Warranty
Manufacturer's Contact Information:
Creative Labs, Inc.
1901 McCarthy Boulevard
Milpitas, CA 95035
ph: (800) 998-1000
website: http://www.creative.com/