Cord-Cutters: Get Your March Madness On with Terk and Sling TV
By Rachel Cericola
You don't need a hefty cable bill to get caught up in March Madness. In fact, TERK is looking to help cord cutters get in on the excitement.
The antenna maker is offering a little combo deal on the company's Omni-Directional, Amplified Digital Flat Indoor HDTV Antenna. Buy the antenna for just $34.99 (which is $15 off the MSRP), and they will throw in a 10-day trial of Sling TV for free.
Sling TV is a streaming service that offers live sports, lifestyle, family, news, and information channels, as well as Video-On-Demand entertainment and much more, both at home and on the go. This can be a nice supplement for users with an antenna, which offers access to free local channels -- with many of those available in HD.
According to TERK, the company's new antenna lineup will offer high-definition broadcasts of local news, sports, weather, and popular TV shows in both UHF and VHF frequencies. Of course, the actual channels and the number of channels you receive will depend on where you live and the location and quality of your antenna. You can check out TERK's website, as well as AntennaWeb.org or TV Fool, for information on what may be available in your area.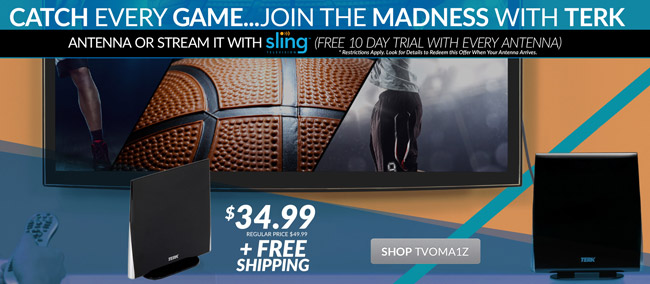 Just know that March Madness games are being broadcast on CBS, truTV, TNT, and TBS -- and that CBS is the only one of those channels you can get with an antenna. However, TNT and TBS are part of Sling TV's $20 Sling Orange package, with truTV being offered in the Sling Blue lineup for $25 per month.
"Streaming television has always been a popular option, but sporting events such as the March Madness Tournament is the time of year where the popularity of cord-cutting is taken to a new level," said Ian Geise, president of TERK Antennas.
Sling TV actually reported record streaming numbers during last year's March Madness games. For more information on tying this service into your antenna purchase, check out the TERK website.
More About Sling TV: