Comic-Con: LG showcases new 3D TVs and HD Smartphones
By Lora Grady
LG Cinema 3D Technology Says: Take Me Home Tonight
During last night's Comic-Con preview I had a chance to visit the LG booth to check out their new 3D television and smartphone products.  LG is currently partnering with Legendary Entertainment ("The Dark Knight", "Inception") in a campaign to use film clips and other exclusive cinematic content to promote their 3D equipment.  The 47-inch 47LM7600 LG Cinema 3D Smart TV with frameless bezel features flicker-free viewing through passive 3D glasses – as LG's Martin Valdez explained to me, this means "fewer headaches" for viewers, while the set's 165-degree viewing angle makes it easier than ever to experience the picture from almost anywhere in your media room.  The 2D to 3D up-conversion technology can convert most content to 3D, even if it originates in 2D; this includes Xbox games, movies, TV shows and more.  Intriguingly, it also includes footage shot on LG's 3D camera-equipped smartphones.
On the phone side, LG showcased their new HD smartphones, the LG Spectrum and the LG Nitro, which are new to market and currently available in conjunction with the AT&T wireless network.  The one I saw was a slick-looking product, and what's really breathtaking is getting an up-close look at the 2D to 3D conversion, which Mr. Valdez demonstrated for me using some new clips from Legendary's forthcoming "The Dark Knight Rises".  The 3D cinema technology is proprietary to LG, and it allows users to record in 3D on the phone as well as opting for the aforementioned conversion to view the footage on tv.  And, the prospect of easily watching 3D movies during the morning commute beats the heck out of reading the newspaper on the train.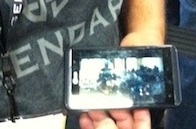 The phones have an approximate 6-hour battery life, depending on usage, and are available now in the $100 price range (with mobile service contract).  The LM7600 series TV is currently out in a 47-inch model (47LM7600), and a 55-inch option (55LM7600) is forthcoming.  LG's stated goal is to utilize a more cost-effective technology to make it easier for users to "bring 3D home".  With these features and the promise of a truly exciting viewing experience, it would definitely be tempting to take LG's 3D devices home tonight.