The Site for Home Theater and Movie Reviews
Cinderella: Diamond Edition Blu-ray Review
By Rachel Cericola
The Film
At some point, every little girl dreams of being Cinderella. One of Disney's first princesses is still one of the prettiest, even if she doesn't have the strength of some of her peers.
Yes, it's hard to believe that Cinderella is so envied. She spends her days scrubbing, sweating, and taking care of every little task for her wicked stepmother and equally evil (and ugly!) stepsisters. Like all princesses, however, Cinderella does have a way with the animal world and has a slew of furry friends.
Besides a little backstory, the plot of Cinderella is insanely simple: When word gets out that the King is looking to play matchmaker for his son, all of the eligible ladies in the land are invited to a ball -- at least the ones that don't have family thwarting their efforts. Thankfully, Cinderella's Fairy Godmother has her back, and gets her to the festivities. However, it's a limited-time offer. At the stroke of midnight, the spell breaks, along with the Prince's heart. However, both he and the King are determined to find the girl that left that lone glass slipper behind.
OK. All grown up, some of you ladies may not appreciate Cinderella's dated message. Flopping around like a fish for the Prince's affections and song lyrics like "leave the sewing to the women, you go get some trimmin'" may not seem all that magical. Still, Cinderella is has a way of making viewers feel young again. It's a classic and she is the pinnacle of all of the Disney princesses. Show some respect!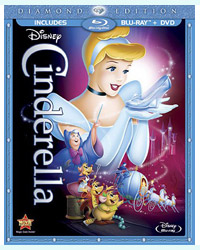 The Picture
Presented in the film's original 1.33:1 aspect ratio, Cinderella is as gorgeous as a princess should be. There's great detail throughout, especially in our little mouse friends, the floors, and Cinderella's shabby surroundings. The colors, however, are the film's strongest suit. They are bright and just downright beautiful.
The Sound
Disney has included a restored version of Cinderella's original 1.0 mix. However, for something a little extra, there's a DTS-HD Master Audio 7.1 track. Despite the 7.1 treatment, the film doesn't have the same extra-large soundtrack as some of Disney's other efforts. The surrounds are basically used to give the film's soundtrack a much fuller presentation. All of the other sounds, including dialogue, tweeting birds, singing voices, and bibbidi-bobbidi-boos are pretty centered.
The Extras
Disney doesn't mess around with its Diamond Edition Blu-rays; Cinderella has all kinds of treasures included. There are deleted scenes and songs, old and new featurettes, storyboards, and more. There's also the Tangled Ever After short, which aired theatrically with Beauty and the Beast 3D. While one of Disney's newest princesses doesn't really have the center stage here, it is a hilarious 6 minutes that the kids will certainly enjoy (repeatedly). Another nice feature for the wee ones is the "Personalized Digital Storybook: Bibbidi-Bobbidi-You." This is a little on-screen-storybook version of the film, which can be paired with an iOS app or a computer. At press time, the second-screen features were not available, but it looks like the "personalized" part involves adding the viewer's name into the mix. That said, it works with and without that second screen and can be viewed on its own.
Final Thoughts
Every little girl dreams of being the princess, having the hairdo, the big poofy dress and the magic slippers. You may not be able to offer that, but at least you can get the Cinderella Blu-ray. Are you going to deny your princess that pleasure? Of course not -- not when Disney's classic looks this good.
Product Details
Voices: Ilene Woods, Eleanor Audley, Luis Van Rooten, Jimmy MacDonald, William Phipps, Lucille Bliss, Rhoda Williams, Verna Felton
Directors: Clyde Geronimi, Hamilton Luske, Wilfred Jackson
Audio/Languages: DTS-HD Master Audio 7.1 (English), Original 1.0 Mix (English), Dolby Digital 5.1 (French, Spanish)
Subtitles: English, English SDH, French, Spanish
Aspect Ratio: 1.33:1
Number of Discs: 2
Rating: G
Studio: Disney
Blu-ray Disc Release Date: October 2, 2012
Run Time: 75 minutes
List Price: $39.99
Extras:

Introduction by Diane Disney Miller
DisneyView Option
Personalized Digital Storybook: Bibbidi-Bobbidi-You
Backstage Disney: Diamond Edition

The Real Fairy Godmother
Behind the Magic: A New Disney Princess Fantasyland
The Magic of the Glass Slipper: A Cinderella Story
Alternate Opening Sequence

Tangled Ever After
Classic Deleted Scenes
Cinderella Title Song
Unused Songs
Radio Programs
Classic Backstage Disney

From Rags to Riches: The Making of Cinderella
The Cinderella That Almost Was
From Walt's Table: A Tribute to the Nine Old Men
The Art of Mary Blair
Storyboard-to-Film Comparison Opening Sequence
1922 Laugh-O-Grams: Cinderella
Excerpt from the Mickey Mouse Club with Helene Stanley Original Air Date January 24, 1956
Theatrical Trailers

Sneak Peeks
What do you think?
| | |
| --- | --- |
| Overall | |
| Video | |
| Audio | |
| Movie | |
| Extras | |
Explore Big Picture Big Sound