Channel Master TV Review
By Rachel Cericola
Edited by Chris Boylan
If it's free, it's for me!
When we look back on the this decade, it will be known as the era that people rose up against "the man," severed their ties to pay TV, and cut the cord! Ok, some people. In these tough economic times, a lot of people are looking to cut back. Believe it or not, pay television is one of the first things to go. In fact, a recent report by MagnaGlobal says that almost 9 million homes will drop traditional pay TV services by 2016.
One of the things that may keep people hanging on is the inclusion of a digital video recorder. Being able to watch what you want, when you want and fast forward through the commercials has changed the way that we watch TV -- for the better, of course. It's also a tough thing to let go. Luckily, you don't have to be DVR-less anymore while still severing ties with your TV provider, thanks to the Channel Master TV.
The Channel Master TV (model CM-7400, to be precise) is a set-top box that looks very similar to every cable and/or satellite set-top box you've ever owned. At 10-by-7-by-1.75 inches, it does have a slightly smaller footprint than your average cable box, not to mention those little antennas sticking out of the back. Just don't get your hopes up; those little protrusions are not for picking up over the air TV (you need a separate indoor or outdoor TV antenna for that).  They're actually there so the device can communicate with your home network and from there, out to the Internet.
The major selling point of the Channel Master TV is its compatibility with free over the air TV broadcasts -- yes you heard that right, free over the air TV broadcasts. That means you'll have to give up HBO, ESPN and the hundreds of other pay TV channels that you've become accustomed to, but you'll also give up that monthly fee. And rest assured, this isn't like your grandfather's old fuzzy analog TV with just three channels and a finicky set of rabbit ears. With the advent of digital TV, it is possible to get quantity and quality from local broadcasters, absolutely free.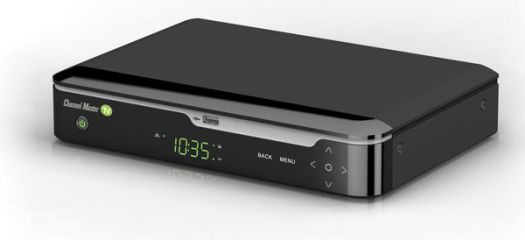 However, unlike the high-def tuner built into your HDTV, the Channel Master TV has a built-in DVR. That means that you can pause live TV, record up to two channels at a time, fast forward through commercials to your heart's content, and begin watching a show from the beginning, all without waiting for the show to end -- and all without a monthly fee.
Not Just Another Black Box
The compact Channel Master TV will most likely take up less space than your current cable or satellite set-top. On the front, it features a power button, a series of status LEDs, a clock (remember when those were on set-tops?), and a 7-way navigation menu for manual control. There's also a USB port, so you can playback or transfer content from a flash drive or an external USB hard drive.
Around the back, there's a host of connection options, including the preferred HDMI, a digital audio output, a second USB port, an Ethernet jack, the eSATA connector (for future upgrades), coax in and out, and composite and component video outputs.
The most obvious difference between this box and your typical satellite or cable box is not the size. It's actually those three Wi-Fi antennas that extend out the top, making it look like a small alien.  These enable the Channel Master TV to communicate with your home network (802.11b/g/n) in order to access the enhanced guide and to stream select content from the internet to your TV (more on that later).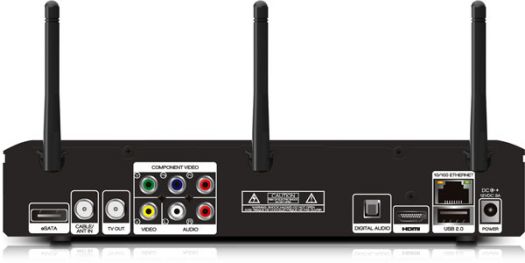 Pain-free Setup
For A/V purposes, we opted to connect the Channel Master TV using the included HDMI cable. We first hooked it up to directly into an available port on our plasma HDTV, then later added it into the mix on our AV receiver so we could benefit from surround sound on compatible programming. The latter produced better audio results, since the box includes multi-channel Dolby Digital and Dolby Digital Plus support via the HDMI output.
Next, you'll need to give the little guy access to some TV channels. The CM-7400 includes both ATSC and ClearQAM tuners.  This means that in addition to supporting over-the-air (OTA) digital TV broadcasts, the Channel Master TV also works with digital cable providers. This can allow you to keep all of those channels that you know and love, but without the monthly cable box or DVR rental fees (your monthly cable bill will still apply, of course). However, keep in mind that encrypted channels and those that use SDV (Switched Digital Video) may not be supported. So your channel lineup on the Channel Master TV may be different from what you get on one of the cable company's boxes. That said, if you're considering the Channel Master TV, you're probably cutting the cord entirely, and that means you will connect the box to an OTA TV antenna in order to tune in those free local digital TV broadcasts. This is how we opted to use the box for this review.
After all, who doesn't like free? Well, you may not want to answer that if you don't have some type of antenna. The good news is that the Channel Master TV works with both indoor and outdoor antennas. For this review, we used our rooftop Antennas Direct ClearStream4 antenna (find out more about installing an HDTV antenna or adding local OTA channels to your TV mix).
Of course, you'll also need to hook the box into an available power outlet. Here's where things get hot -- and not in a good way. This set-top box gets very hot very fast. Now, we didn't really time how long it took for the box to heat up, but it did maintain that high temperature throughout our testing. Also, it doesn't seem to matter whether the box is in use or in standby. The thing is just toasty. Users aren't going to be able to heat cocoa or make a grilled cheese on the Channel Master TV (unless they are patient), but it's very noticeable.
Check out our handy infrared pic below to see a comparison between the Channel Master TV an A/V receiver and another DVR (I knew that IR camera would come in handy some day!). When asked about this high temperature, the Channel Master rep acknowledged that the unit does run hot, but stated that the chips required to process and deliver up to three concurrent streams of 1080p video are designed to run at higher temperatues, that the heat is mostly directed toward the bottom of the unit, and that the Channel Master TV is "designed for long life consistent with consumer products of similar design." Channel Master recently acknowledged this issue publicly, and is backing the product with an extended 1-year warranty. So there you have it.  We'd recommend not stacking other components on or under it so it has some room to breathe.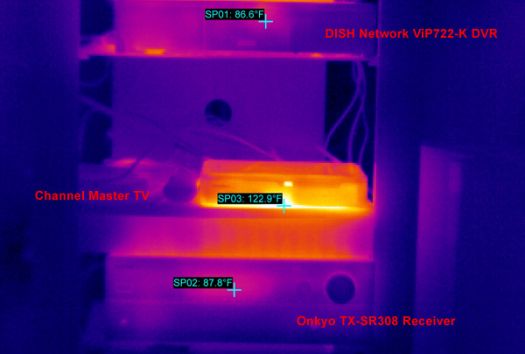 Next, you're going to want to hook the box to your home network if you want to add in any of the paid content options. Aha! See, there's always some type of hidden fees. Of course, it's not an absolute necessity, but having that connectivity allows users to access the box's other features, such as VUDU and other apps (more on that in a bit) as well as the enhanced guide. The Channel Master TV does include options for both wired and wireless network access.
Once everything is hooked up, an on-screen wizard will walk you through the setup process, using the included remote control. This process allows users to set the time zone, the TV's output format and aspect ratio. It also allows you to set up your web connection. After punching in our WEP password, the system connected to our network without a hitch in approximately 20 seconds.
Next, you'll need to select your type of program guide. There are two options: Basic and Premium. Basic is a freebie option that's included in the price of the box. Basic service provides access to the channel lineup anywhere from a few hours to days at a time. It really depends on the broadcaster as it relies on the optional "PSIP" guide information that local broadcasters may deliver for their channel line-up. It will get you by in a pinch, but you won't be able to set future recordings or check out programming beyond a 1-day to 8-day window, on average. Another Basic limitation lies in the Search feature. With Basic, users can search for programming based on a keyword or show title. If you want something slightly more advanced than that, you'll have to opt for the Premium guide service.
For a $49.99 annual fee, Premium offers a 14-day viewing and recording window, as well as lots of meta-data about upcoming programs. This allows users to search for programs based on the aforementioned show title, but adds in options for People, Keyword and Genre. Channel Master was kind enough to provide us with the Premium service for the duration of our review, but we also checked out the Basic version as a comparison. Of course, Premium provided a much more pleasurable experience. It's nice to be able to search and browse shows up to two weeks out when setting recording timers.  With basic, if your favorite show is resuming new episodes after a break, you may not be able to find it in the guide until a day or two before it's back on.
If all else fails, and the free guide is not giving you enough information, you can always schedule a timed recording the old-fashioned way, by day/time/channel.  But programming by show name is so much easier and we're happy to see that the Channel Master TV has this feature even with the basic guide (an improvement over the original CM-7000 Pal DVR).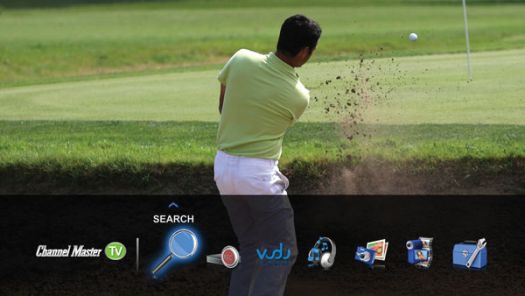 Something for Nothing
The process of finding channels is the lengthiest portion of the setup process. Of course, it's also the easiest, since you just sit and wait for the device to scan through what's available. Our scan took about 10 minutes. When the cycle was complete, we had a total of 20 channels to choose from -- and every single one of them is absolutely free. Even though this was a nice little score, it was 10 channels fewer than what we were getting with the same antenna in the same position, but using our DISH Network VIP 722k HD DVR to tune them in.
It's true that channels could change on any given day, but you shouldn't see too much fluctuation. The core channels closest to your home with the strongest broadcasts should come in reliably, but you may occasionally pick up or lose a fringe channel here and there. The station's signal and weather conditions can affect what you're receiving and how well you're receiving it, so don't be shy about doing a quick channel scan on occasion. That said, we scanned for channels with both boxes on the same day, under the same conditions, with the antenna in the same place. It appears that the Channel Master TV just couldn't pick up all of the goodies that the DISH box was able to find.
The lack of extra free channels is a total bummer. That said, most of what we received looked pretty phenomenal. Some, well... not so much. The Channel Master TV tapped into many local digital channels, both in SD and HD. Despite having fewer channel options than you get with a pay TV service, the Channel Master TV 's picture quality was just as enjoyable as our cable and satellite experiences. Our one gripe, however, is that flipping channels may aggravate those with a short-attention span. After all, the gratification is not immediate. Those with an itchy trigger finger may notice a (very) slight delay during the channel surfing process.
It's hard to complain, since it's all free (other than the Premium guide) and it even throws in the DVR bonus. In actual operation, the Channel Master TV operates like any other DVR, allowing users to pause, rewind and fast-forward through live and recorded TV. The box has a hearty 320GB hard drive, which should hold about 35 hours of high-def programming or 150 hours of the standard-def stuff.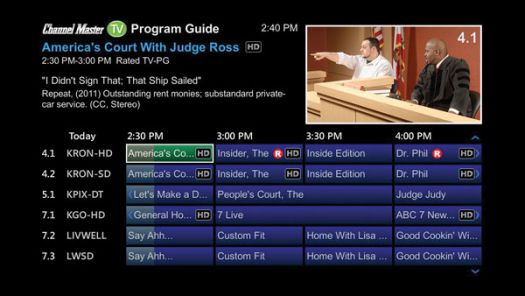 Now Go Do That VUDU That You Do So Well
If local channels aren't enough to satisfy your appetite for entertainment, the Channel Master TV does supplement some of what's missing from pay TV, using VUDU and VUDU Apps. Sadly, this box does not support Netflix or Amazon Video on Demand (at least not yet), which are part of TiVo's OTA DVR option, the Premiere. That said, the TiVo box is virtually useless without the mandatory TiVo service, which will set you back an additional $14.99 or $19.99 per month.  Or you can pony up a $499 lifetime fee for an individual TiVo DVR.
But getting back to VUDU on the CM-7400, what's nice about it is that it does not require any type of subscription; it's a pay-per-view format. And it's extremely high quality, both in audio and video.  VUDU allows you to access tons of movies and TV shows on demand, in high-def (up to 1080p resolution) as well as with Dolby Digital Plus 5.1 surround sound on many titles. Also, a recent CMTV firmware update has added VUDU 3D into the equation, which is huge if you have a 3D TV. It also includes VUDU Apps, which are little freebies that provide on-screen access to Facebook, Twitter, Flickr, The New York Times, Discovery Channel, CNN Daily, and so much more. It's important to note that most of the apps only offer clips to tease you into what you may not be getting through your OTA setup. However, they are free and should be able to get you through those times when free TV just isn't enough.
If you want the good stuff, you're going to have to pay for it, but at least you won't have to leave the house or wait for movies to arrive in the mail. VUDU offers tons of movies and TV shows on demand. First we decided to take a free (again!) spin through some of the recent film trailers, just to see what type of quality we could expect. There were HD trailers for The Avengers, The Muppets, The Dark Knight Rises, Mission Impossible: Ghost Protocol, and much more. All streamed perfectly over both our wired and wireless networks, with no buffering issues. Even better than the HD (almost), was that each of the clips was accompanied by Dolby Digital Plus 5.1 channel surround sound.
Next, it was time to give the box a tougher task -- or at least a longer task. We ordered a full movie on VUDU. Checking out Horrible Bosses, we were treated to an HD movie, with 5.1 sound, and loved every minute of it. There were absolutely no picture or sound issues. The experience was smooth, and enjoyable from beginning to end. This is a nice little bonus, whether you want the occasional movie or want to catch up on TV shows not available through your OTA lineup.

Don't Forget the Remote!
We hate to mention the remote so late in our review, but really, there are no surprises here. The Channel Master TV comes with its own remote, which provides everything you'll need to flip channels, operate the DVR, and even access some of the box's web features. It's actually a little larger than we expected, given the size of the box. However, it's also insanely easy to use, mimicking just about every cable and/or satellite TV remote we've ever owned.
Turn Ons
DVR capabilities without a monthly fee
Access to VUDU streaming, VUDU 3D, and other apps
Built-in WiFi networking
Free channel guide
320GB of storage
Turn Offs
Tuner doesn't deliver as many channels as it should
Gets insanely hot, insanely fast
Slightly delayed channel surfing
Enhanced guide option will set you back $49.99/year
Final Thoughts
It's hard to argue with free. In some cases with the Channel Master TV, you get what you pay for. It does provide some of the essential parts of cable or satellite TV service, without any monthly costs. However, it doesn't deliver all of the OTA channels that it should. Also, to get the full guide and enhanced DVR features, you will need to cough up $49.99 per year, which drops the value score down a bit.  If you cut the cord on pay TV, it may seem insane to consider spending $399 on this box. However, it's an investment -- and a fairly sound one, at that. If you're venturing out into the world of OTA programming and can't live without your DVR, this box is a no-brainer.
Manufacturer's Specs:
Manufacturer's Contact Information:
Channel Master
1715 W Sunrise Blvd.
Mesa, AZ 85233
On the web: www.channelmaster.com, www.channelmastertv.com