Changing the Atmosphere at Your Local Theater: Dolby Atmos
By Ian White
It would sound better if it was in "Dubbly"...
New surround sound formats don't generate a lot of interest anymore and it's not hard to understand why; consumers don't have any money to spend on additional loudspeakers (or, in some cases, any loudspeakers) or a new receiver.  And the thought of even mentioning making more holes in the wall to the spouse ranks up there with mentioning that you're planning to run off to Vegas with the fellas to attend a booth babe convention.
Dolby has been part of the sound technology lexicon for decades but few consumers really understand what the company does or how much they have invested in enriching the entertainment experience across a multitude of platforms: not just the home and portable electronics markets, but also commercial cinemas. Dolby has advanced and continues to pioneer sound in movie theaters from Dolby "A" noise reduction used on A Clockwork Orange in 1971 to the first commercially viable widescale theatrical surround system, Dolby Stereo which premiered in 1976 with A Star is Born.  Dolby has continued to advance theatrical sound with a push for 7.1  in movie theaters (Dolby Surround 7.1), which debuted with 2010's Toy Story 3.  [sidebar: Unfortunately for companies like Dolby, some movie chains (AMC...ahem) have done little to enforce sonic excellence in their theaters, with uneven sound levels that have moviegoers plugging their ears or even leaving with their children (I have actually had to do this twice this year) but I digress...].
Dolby's latest experiment in surround sound leaves previous advancements in the dust and it may already be available in a theater near you. Dolby Atmos is not going to be an "official" product until April 2013 when the first cinema processor goes on sale, but this ground-breaking technology is a paradigm shift in movie surround sound and -- unlike the ongoing disaster known as 3D -- will truly offer consumers a real reason to spend more for films.
Big Picture Big Sound was invited to an earlier demonstation of Atmos 
back in May
but that was before the release of Disney/Pixar's 
Brave
(the first Atmos-encoded film) and there is now much more to report about this exciting new technology. After last week's press event in New York City, we're more than just a little impressed.
Depending on where you live (here's an 
updated list of theaters
), Atmos may currently available near you with specific showings of
Taken 2
. Dolby has wisely focused on some of the larger population centers such as New York, Toronto, Los Angeles, Shanghai, and San Francisco, but the master plan is to have the technology installed in more than 1,000 theaters by the end of 2013.
Two new titles have been announced including Chasing Mavericks and Ang Lee's much anticipated Life of Pi, but Dolby let it slip yesterday that two more films being released in November/December are also expected to be available in Atmos. While we have no confirmation (or even any confirmed speculation), we're willing to go out on a limb and bet money that The Hobbit: An Unexpected Journey may be the December release. Dorks in ill-fitting costumes rejoice!
So what's the big deal?

Dolby Atmos is the dream of "real" surround sound finally realized by fully immersing the viewer with a pan-array of loudspeakers - effectively a full hemisphere of sound. How many loudspeakers will the audio format support? Up to 64 channels.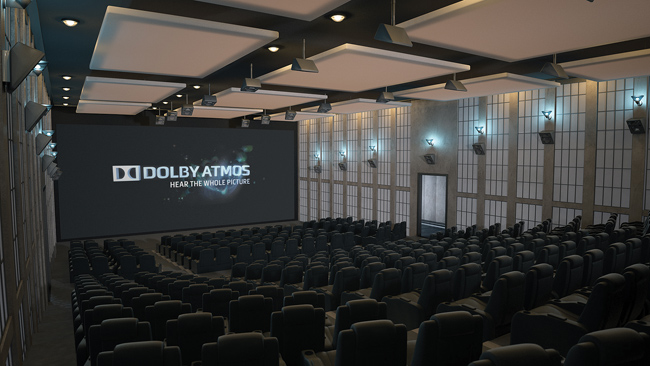 Now before you get out the calculator to figure out how many loans (or divorce attorneys) you would require to install that in your media room, take a deep breath and smile. Dolby doesn't expect that configuration to exist anywhere with the exception of the largest theaters or sound editing facilities such as Skywalker Ranch. The reality is that you don't need a 64 channel configuration to experience Atmos; Dolby's own theater in New York utilizes a 32.3 set-up (32 speakers plus 3 subwoofers) as this is considered to be ideal for the space.  And while a home version is still only in the lab phase, we could see a 13.1 or 15.1 channel scenario for the home that would come really close to the full cinematic experience. Imagine a pair of front height speakers, two pairs of in-ceiling loudspeakers above your head, and one pair of side in-wall speakers about four feet out from the screen (added to your existing system) and your're in aural heaven.  The good news is that the same sound "mix" can be used to drive any Atmos-enabled system from 11.1 all the way up to 64 channels.
This object-based platform allows sound engineers and other content creators to have an unprecedented level of control over the placement of sound within a playback environment.
Dolby has already created the application for content developers which comes as a collection of plug-ins for Protools.  The actual cinema processor is coming out in April 2013. For now early adopter cinemas are deploying Atmos using the same workstations that studios use for the encoding, but these will be swapped out by Dolby with the official decoder boxes in the Spring as production hardware becomes available.  Based on what we have heard in the demos, we suspect that Atmos-encoded films -- and Atmos-equipped theaters -- are going to become the high-end cinema sound standard very quickly.
The system is scalable which will be a relief to the large theater chains who won't relish the idea of adding as many 16-20 full-range loudspeakers to their existing systems in each theater along with the required processors and amplification.  But Dolby does expect (and is already seeing) that the early adopters will all be in larger venues, specifically in the premium theater rooms such as AMC's ETX (Enhanced Theatrical Experience) and Regal's RPX (Regal Premium Experience).
Unlike 3D, Dolby Atmos does not require glasses, or nausea pills and we suspect that audiences will be quite shocked when they hear the new system. In the demo in New York, Dolby ran a series of demo clips including two new Dolby Atmos trailers that showed off the immersive capabilites of the system. A thunderstorm demo (audio only) in 32.3 had almost everyone reaching for an umbrella as it sounded like being stuck outside in the pouring rain. Unlike 5.1 and 7.1 set-ups where you can pin-point the exact location of the speakers, Atmos creates a three-dimensional soundstage that completely surrounds the viewer from top to bottom. You don't look for the rain falling; you are dead smack in the middle of it with no gaps.
Dolby also played a few cinematic clips remixed for Atmos, including a chase scene from Mission Impossible 4: Ghost Protocol where Tom Cruise is chasing the bad guy through a sandstorm. With the Atmos-encoded soundtrack, you actually felt like you were in the desert being pounded by the blinding sand. It was a genuine 360 degree experience. When Cruise drives his BMW into the path of the villain and the two cars collide sending them rolling end over end, the impact was undeniably visceral.
What really struck me about the sound was the level of transparency at even ridiculous levels. The JBL-based system had the clarity of a pair of electrostatic loudspeakers (32 of them) without any hardness on the top end and an impressive level of bass response; without any of the bloat that is quite evident in most theaters. Solid, tight, and with perfectly matched timbre.
Dolby has something really special here and while it won't be available on a wide scale in theaters until Q2 or Q3 2013, it is one of the most impressive advances in sound that we've heard in a very long time.

For more information: