CES: Syabas Pops Up to Deliver Netflix, Facebook and More TV Apps on Popbox
By Greg Robinson
3D may be the "IT" technology at this year's Consumer Electronics Show (CES), but for many consumers (including yours truly), 3D can't hold a candle to the practicality and usefulness inherent in the slick television apps we're starting to see everywhere. Hoping to tap into that app explosion is hardware newcomer Syabas, maker of the intriguing new Popbox.
Much like the Roku Player, Popbox is a small set-top box designed to deliver internet-based apps to your HDTV. Popbox uses an open platform approach and makes available to interested developers a Software Development Kit (SDK). In many ways this is similar to Apple's App Store and their iPhone SDK. If there isn't yet a "popapp" for that, Popbox invites you to create one.
At launch, Popbox has already lined up numerous content partners, including:
Netflix
Facebook
Twitter
Photobucket
Weatherbug
Fun Spot Games
SHOUTcast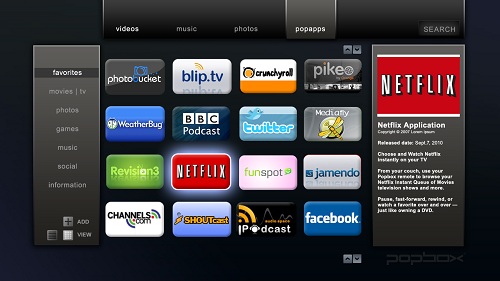 The sleek and attractive user interface (UI) on Popbox was designed by Emmy Award winner Dewey Reid, the man responsible for the UI on Moxi's Media Center. Using a series of tabs, consumers can browse their own videos, music and photos in addition to the aforementioned popapps.
Popbox promises to handle just about anything you feed it, either over your home network or using the front panel USB port. Popbox features both Ethernet and Wi-Fi connectivity and can output up to 1080p video via HDMI.

Popbox should be available in March with an expected retail price of $129.
More Information: