CES: Optoma Shows Off HD66 3D-Ready Home Theater Projector
By Greg Robinson
With 3D video technologies on display in every corner of the Las Vegas Convention Center at this year's CES, Optoma was proudly showing off its 3D-ready HD66 home theater projector. The HD66, which just began shipping last month, is a 3D-ready, 720p high definition projector sporting an attractive price tag of only $699.
Built around Texas Instruments' 0.65 DMD DLP chipset, the HD66 delivers 2500 ANSI lumens of brightness with a contrast ratio of 4,000:1. When paired with a 3D source and 3D glasses, the HD66 can render 3D (or 2D) content with a screen size of up to 300 inches (diagonal).
Optoma had the DVD version of Spy Kids 3-D running through the projector and the results were interesting enough, if you don't mind the goofy glasses and mildly-distracting image flicker. Mind you, these aren't digs against the HD66 but home-based 3D viewing in general. 
It remains to be seen whether this projector will be compatible with the upcoming Blu-ray 3D players - current information suggests that these will require an HDMI 1.4 connection while the connections on the HD66 are HDMI 1.3.  We're in the process of researching this issue and will post an update on the site when we know more.
In addition to its 3D capabilities, the compact HD66 - which weighs a mere five pounds - seems like an ideal solution for portable gaming and basement entertainment for the younger crowd.
Also on display in the Optoma booth was the recently-announced HD20.  The HD20 is a 1080p home theater projector selling for only $999.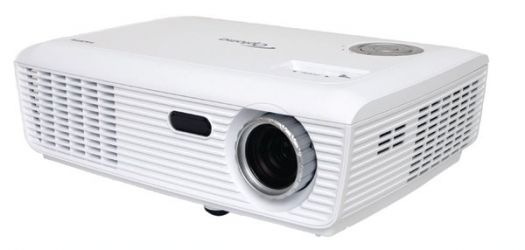 Where to Buy:
More information:
More CES 2010 Coverage Live from Las Vegas: