Buy a Samsung HDTV, Get Free 26-inch TV, Soundbar, Galaxy Tablet or Blu-ray 3D Player and Glasses
By Rachel Cericola
Earlier this year, Samsung implemented a strict UPP (uniform pricing policy) on their televisions, which makes it difficult for dealers to discount the sets below a certain price. If they bend the rules even a little bit, they risk losing their authorized dealer status. Hey, it's good to be the king!
That said, you can still get a good deal on a Samsung HDTV. Dealers like Amazon are sweetening the pot the only way they can, by throwing in some amazing accessories at no additional charge. Right now, when you buy a Samsung LED/LCD or plasma TV from Amazon, you can choose one of the free add-ons they are offering. The options include:
Samsung HW-E450 wireless AirTrack sound bar
Samsung 26-inch UN26EH4000 720p LED HDTV
Samsung BD-E5900 3D Wi-Fi Blu-ray Disc player and 10 free pairs of Samsung SSG-4100GB active 3D glasses
7-inch Samsung Galaxy Tab 2 with WiFi
Just know that you will have to add the TV and your free item into your shopping cart to receive both. The discount will be applied during your checkout process. Find out more about this offer on Amazon's main deal page: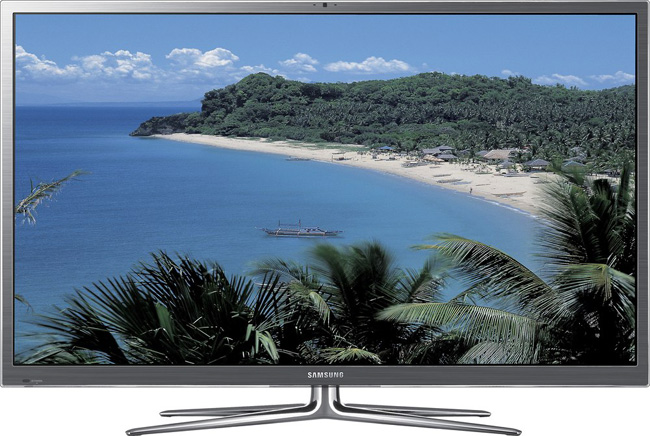 Now, let's take a peek at some of the HDTVs eligible for this promotion. A total of 15 models are available, in sizes ranging from 46 to 63 inches. There are plasma and LED TVs aplenty, with web features and 3D features -- and each one comes with a full 1080p HD image.
We found all three models from the acclaimed E8000 Series 3D Plasma HDTV line. This model did insanely well at this year's Value Electronics HDTV Shootout, making it very worthy of your TV dollars. (For more information on that, check out LED TV vs. Plasma TV: New Winner Crowned at 2012 Value Electronics HDTV Shootout.)
Besides the bragging rights, this model has active 3D technology with two pairs of 3D glasses, as well as a 1080p resolution, the Real Black Pro Panel, and a dual-core processor. It also looks nice on the outside, with a 1.5-inch profile and Samsung's Plasma +1 ultra-slim bezel. Another nifty feature is Smart TV with Smart Interaction. This new platform means that the TV has web-based goodies like Netflix, Hulu Plus, YouTube, Skype, and Pandora, but you can access them (and everything else on the TV) using voice control, gesture control and face recognition. Each of the three TVs has a built-in camera and a microphone right on the Smart Touch Remote Control to make all of the magic happen.
Other features include three HDMI inputs, three USB ports, and built-in WiFi. Find out more about the E8000 Series on the 64-incher's product page:
If you're looking for an LED, it's hard to go wrong with the ES8000 Series 3D LED HDTV line. Available in 46-, 55- and 60-inch sizes, this top-of-the-line model has a dual-core processor and Samsung's Micro Dimming Ultimate technology. That tech can actually analyze the image in hundreds of segments, to deliver the best LED backlight and video signal in real time.
It also has active 3D technology, which you can test out right away because each set comes packing four pairs of 3D glasses. Of course, you could add more glasses and a Blu-ray 3D player instantly and absolutely free with this purchase -- if you choose that option as your freebie.
Other features include built-in WiFi, access to Samsung Apps and Signature Services, a web browser, and the Smart Touch Remote. Also, this is one of the 2012 models with the built in video camera, which means it also has super-cool gesture control and voice navigation features. Find out more about this model on the 60-incher's product page:
Now, just a few notes about those freebies. Remember that you're going to need to put your TV purchase and the free item into your shopping cart; the discount will come off during your checkout process. To get that discount, however, you need to order both of the items from Amazon -- not one of the retailer's third-party merchants.
So if you want to bump up the TV's sound, add the soundbar. If you need a little TV for the bedroom, add the 26-inch UN26EH4000 LED. If you need something to do on the go or even on the couch, add the tablet. Just remember that if you go for the Blu-ray 3D player, it's bundled with 3D glasses -- and you will need to add all 10 pairs to get all 10 pairs! Read Amazon's rules and restrictions before placing your order.
Also know that all of these purchases will qualify for free Super Saver shipping, as well as free 30-day returns. Each TV is also protected under Amazon's TV Low Price Guarantee. That means if you can find the exact same TV (model and size) for less within 14 days of the ship date, Amazon will refund you on the price difference. Start shopping soon! This offer is only good through August 18, 2012, or while supplies last.
Please note: all deals posted on Big Picture Big Sound are current as of the posting date and time. These deals are frequently time- or stock-limited and generally do not last. Final pricing and stock are determined by the individual deal provider, not by Big Picture Big Sound so you will need to click through on the offer link to see if it is still available. Through our affiliate relationships with many online vendors, Big Picture Big Sound may earn a small commission on any referred sale.