Buy a Panasonic 55-inch LED TV, Get Low Price, Free Shipping and $200 Back from Amazon
By Rachel Cericola
Sometimes buying a new HDTV feels like running a marathon. There's a bunch of prep work for the big day and all of the necessary training. In the end, there's that adrenaline rush from crossing the finish line -- and then you're left exhausted. Don't sweat (literally) over that TV purchase; Amazon is offering a little relief and a nice incentive to get that home theater into shape.
From now through September 22, 2012, Amazon is offering a $200 promotional credit when you buy one of two select Panasonic HDTVs. Both are 55-inch LEDs, which we'll talk about in a minute. However, let's take a closer look at that freebie.
All you need to do is add the qualifying HDTV into your shopping cart -- which needs to be purchased through Amazon and not one of the retailer's third-party merchants. That's pretty much it! From there, Amazon says that you will receive a promotional credit within four days, once the item ships and the processing is complete.
Just know that there are some restrictions on what you can buy and the credit will expire -- so read the fine print, people! Otherwise, you should be able to get some audio and/or video goodies, games, or whatever else you want to splurge on. Read more about this offer on Amazon: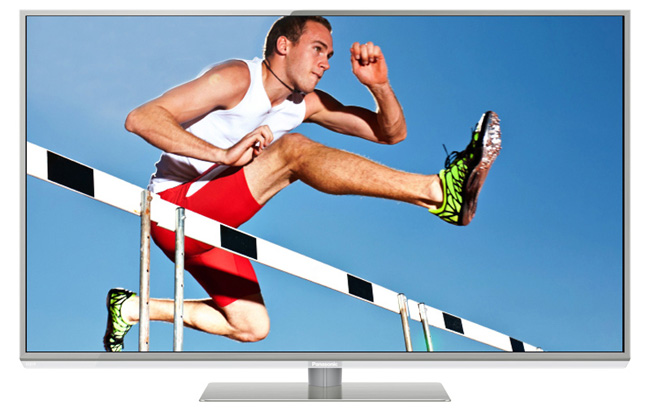 Now which TV will you buy? Well, both are 2012 LED TVs and both are 55 inches. It could come down to whether or not you want 3D.
That feature is included in the 55-inch VIERA TC-L55DT50 1080p 3D LED TV. This model has Panasonic's new LED IPS (In Plane Switching) panels, which boasts better black levels and off-axis viewing. Also, It packs in active 3D technology, which means you get a sharp 1080p HD image in both 2D and 3D. Other features include built-in WiFi and on-screen access to Panasonic's VIERA Connect platform. That little perk can deliver web-based content like Netflix, Hulu Plus, Facebook, and many other apps, via the included remote control. Find out more about the TC-L55DT50 on Amazon's product page:
If you aren't quite ready to make that leap to 3D just yet (it makes a good 2D TV too, you know!), this offer is also extended to Panasonic's 55-inch VIERA TC-L55E50 1080p LED TV. This model also has the IPS LED LCD panel, a 1080p picture, as well as VIERA Connect access. However, it does not have the 3D or built-in WiFi. The wireless connectivity is something that should be easy to add, though, using an add-on adapter. Hook that into one of the set's two USB ports and save the four HDMI inputs for some of your other AV essentials. Find out more about the TC-L55E50 on Amazon's product page:
Just remember that when you buy one of the above HDTVs, you need to order directly from Amazon -- and not one of the retailer's third-party merchants. Amazon is the one offering the $200 promotional credit, which should arrive shortly after your order ships. Also, Amazon will include free Super Saver shipping and free 30-day returns on both of these sets. Finally, each purchase is protected by Amazon's TV Low Price Guarantee, so if you can find your purchase (exact make and model, please) for less within 14 days of the ship date, Amazon will refund you on the price difference.
Please note: all deals posted on Big Picture Big Sound are current as of the posting date and time. These deals are frequently time- or stock-limited and generally do not last. Final pricing and stock are determined by the individual deal provider, not by Big Picture Big Sound so you will need to click through on the offer link to see if it is still available. Through our affiliate relationships with many online vendors, Big Picture Big Sound may earn a small commission on any referred sale.