Bridesmaids Blu-ray Review
By Rachel Cericola
The Film
Judd Apatow gave the rom-com genre a much needed jolt with comedies The 40 Year-Old Virgin and Knocked Up. Yes, those were rom-coms. However, unlike the genre's trademark of regurgitating the same old corny crap, Apatow mixed things up a bit. He also let men take the lead. Now, he's backed one mainly for the ladies in Bridesmaids.
Apatow produced Bridesmaids, with his Freaks and Geeks collaborator Paul Fieg taking the director's chair. The end result is funny, a little raunchy, slightly sentimental, and a huge bump for Saturday Night Live star Kristen Wiig, who also co-wrote the film.
Wiig stars as Annie, a failed, well... everything. Her business failed, her relationship failed, and her role as maid of honor and best friend to Lillian (fellow SNL alum Maya Rudolph) is currently hanging its head in the toilet.
Despite the strong girl power in Bridesmaids, it's a rom-com at heart, which means there's plenty of man candy. That comes in the form of the hunky, hilarious Jon Hamm (Mad Men) as Annie's favorite f-buddy, and the adorable Chris O'Dowd (Gulliver's Travels).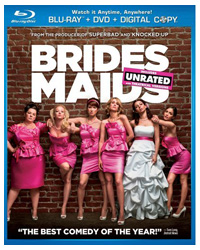 During its theatrical run, Bridemaids was constantly compared to The Hangover. Besides the pending nuptuals and a bit of raunch, the two couldn't be more different. In fact, it's not even fair to call Bridesmaids an ensemble film. Oh, there is a posse, which includes Rose Byrne, Wendi McLendon-Covey, Ellie Kemper, and a star-making turn by Melissa McCarthy. However, besides the group sharing a doomed bachelorette party and a funky fitting session, the film is really all about Annie. A more appropriate title would have been "Bridesmaid." Don't get us wrong; the supporting characters know how to steal a scene, but the title and the Blu-ray cover art are slightly misleading.
Bottom line: Bridemaids is a funny movie. The first half is probably a little funnier, but it's still funny. It also elevates the entire genre, to actually warrant the "com" in rom-com.
Want to see a real party? Check out Karen Dahlstrom's theatrical review of Bridesmaids.

The Picture
Bridesmaids was the surprise hit of the year, so this is one title that Universal doesn't want to mess up. Thankfully, you won't have to get all bridezilla on anyone. This is a super-clean 2.40:1 transfer, with plenty of detail. Maya Rudolph's freckles, in particular, display just how detailed this release can get. Otherwise, there's lots of texture in the clothing and accoutrements that lead up to the big day. The colors especially deliver that "this is a wedding, people!" vibe. These girls may get down and a little dirty (in more ways than one), but the dresses, the flowers, the cakes, and all of the outdoor shots are busting with bright imagery.
The Sound
Most rom-coms don't pack a whallop when it comes to the soundtrack. Of course, most rom-coms aren't Bridesmaids. That said, the DTS-HD Master Audio 5.1 channel soundtrack doesn't pack the same punch as the rest of this release, but it's the nature of the genre. However, the dialogue is perfect and there are some excellent atmospheric sounds. It's well balanced and enjoyable throughout. Oh -- and those surrounds have no problem reminding you that this is most definitely a chick flick. Despite a fairly kick-ass collection of tunes, Wilson Philips' "Hold On" is like one massive punch in the face. It's a girly punch, but it still stings. Keep that remote close by, people.
The Extras
Bridesmaids comes packing a bevy of extras. Besides an unrated version, a standard-def copy of the movie and a Digital Copy, there are bloopers, outtakes and deleted scenes, and various one-liners. While deleted scenes are typically deleted for a reason, fans of the movie will love the collection included here. There are a lot of funny moments that didn't make the movie! The film was over two hours, so it's understandable. However, you'll want to check them out for the extra laughs and the hearty dose of Paul Rudd, who did not make the film's final cut.
"Made of Honor" is a pretty standard making-of featurette. It has a few interesting tidbits, but is mainly a promotional piece. If you want some dirt and a really good time, the commentary is a must. It features director Paul Feig and co-writer Annie Mumolo, as well as all of the gals (minus Rose Byrne). Talk about a party; this is one wacky track. The girls are giggly, fun and seem to be having a great time, with Feig firing off tidbits about the actual production.
Final Thoughts
Bridesmaids was a major hit. Not everything works, but there's enough to make it a must-see. A decent collection of extras and excellent AV certainly push this one to the top of your Blu-ray registry. Besides, don't you want to be prepared for the film's (probable) sequel?
Product Details
Actors: Kristen Wiig, Maya Rudolph, Rose Bryne, Wendi McLendon-Covey, Ellie Kemper, Melissa McCarthy, Chris O'Dowd
Director: Paul Feig
Audio/Languages: DTS-HD Master Audio 5.1 (English), DTS 5.1 (French, Spanish), DVS 2.0 (English)
Subtitles: English SDH, French, Spanish
Aspect Ratio: 2.40:1
Region: A
Number of Discs: 2
Rating: R
Studio: Universal
Blu-ray Disc Release Date: September 20, 2011
Run Time: 125 minutes (theatrical), 131 minutes (unrated)
List Price: $34.98
Extras:

Unrated Version
Feature Commentary with Director Paul Feig, Co-Writer Annie Mumola and Cast Members Kristen Wiig, Maya Rudolph, Melissa McCarthy, Wendy McLendon-Covey & Ellie Kemper
Gag Reel
Line-O-Rama
Made of Honor: Behind the Scenes of Bridesmaids
Blind Date
Deleted Scenes
Extended & Alternate Scenes
Roommates
Cholodecki's
Drunk-O-Rama
Pep Talk
Annie vs. Helen
Hold On
BD-Live