Boxee Box by D-Link Review
By Rachel Cericola
What's in a Name?
D-Link got in just under the 2010 wire with its Boxee Box... uh, box. Packing in the extremely popular (and free, at least on the PC) Boxee software into this latest entry into the streaming media hardware category has created a standalone streaming and media playback device to be reckoned with.  The box itself -- part of a new category of devices known as OTT ("Over the Top") boxes -- has a funky design, an easy-to-use interface, and a host of entertainment possibilities.
Despite the dreamy set of features, initial reviews of the Boxee Box were less than enthusiastic. However, the bugs appear to have been fixed and the dust has now settled. Should it and will it fly off retail shelves? Let's unbox this box and take a closer look.
Unboxing the Boxee
As mentioned, the Boxee Box is a design geek's dream. It's not a rectangle, a square or even a circle. Instead, it's a sort of a penta-zoid-allelogram. Actually, it looks like part of the Boxee Box is missing, but that design is definitely intentional -- it seems to be meant to look like a cube that has embedded itself into whatever surface you put it on. Perhaps it streaked down from the heavens like a tiny meteor or Borg Cube and crashed into your AV cabinet?  Whatever it is they were going for, the Boxee Box certainly looks different, so kudos to the design team on that.  Plan on getting that attention, too, since the flat side of the device is actually the top, as well as where the power button is located.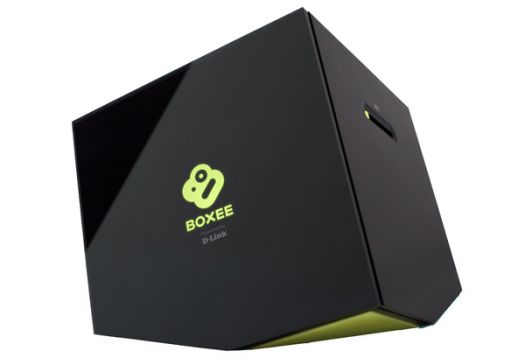 Super-Easy Setup
As with other streaming media players, the Boxee setup ain't rocket science. Plug in the power cord, the included HDMI cable, and press the aforementioned power button. From there, you'll get an on-screen message prompting you to connect to the web, via your wireless home network.
In about 3 seconds, the Boxee found our wireless network, which is password-protected. Thankfully, the Boxee Box remote has its own keyboard (more on that later), which makes entering such items a breeze. We do recommend clicking the "show password" box, if you need to enter items like numbers and capital letters.
It took about seven seconds to get prompted to perform a software upgrade, which took approximately another 90 seconds over the wireless network. The reboot took about another 2 minutes, and then another prompt instructed us on sizing the screen. A Boxee user account is needed, which basically consists of an email address and password. Boxee then asks you what you prefer to watch: Mostly stuff from the web, mostly my own files, or the always popular "I'm not sure."
It's important to note that much of the Boxee Box's actual setup needs to be done via computer. Facebook and Twitter integration need to be done through the computer, as does Netflix (when it becomes available). Once you punch in those passwords, reboot the box. If your experience is anything like ours, the refresh isn't all that refreshing. It's easier (and quicker) to get to the good stuff by restarting the box.
What to Do, What to Do...
Once setup is completed, the world is your oyster -- literally. The Boxee Box's main menu features direct access to Friends, Watch Later, Shows, Movies, Apps, and Files. However, you can also go for broke, with one of the rotating selections featured on the lower half of the screen. During our testing, we saw option du jour selections, such as the brand new VUDU app (just added), The Daily Show with Jon Stewart and a Tekzilla podcast.
Since we planned to run the entire gamut, we started at the end, with Friends. This option integrates your Boxee activities with Facebook and Twitter. It's also sort of bizarre. Unless your friends love posting video, you will find very little use for this portion of the Boxee Box menu. Between our 250-some Facebook friends and another 100 or so Twitter followers, we were only treated to maybe three videos over a 24-hour period -- none of which were really worth the wait.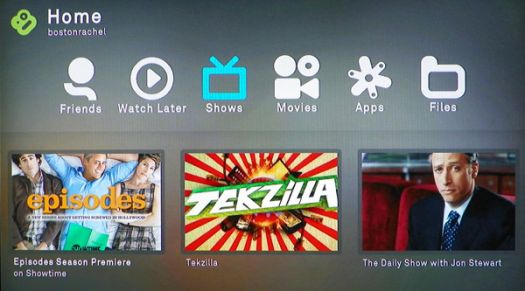 Thankfully, Boxee has a ton of other content to tap into. TV shows and movies are easy to access via the main menu button. First, we flipped through popular TV shows, which were surprisingly current. That's right; don't expect obscure items from foreign lands of 50 years ago -- unless that's what you're looking for (although you might want to use the search). We found everything from Hell's Kitchen to 16 and Pregnant to How I Met Your Mother. The one quirk about these videos was that everything was coming from different places. Videos from Fancast fared much better, since they at least allowed us to go full screen. A few other videos, like ones from the History Channel, banished us to browser mode, with no way out. Via the main menu suggestions, we also caught a free (and slightly edited) episode of Showtime's Episodes, which was as good looking as our satellite service's HD Showtime feed.
The most popular movies were slightly more obscure, although there were familiar titles, such as Smiley Face, His Girl Friday and Reefer Madness. You won't find any A-list stuff here, unless you find The Brain That Wouldn't Die to be top-shelf entertainment. That said, it is free. The Chevy Chase comedy Cops and Robbersons (can you imagine that's free?) streamed nicely from YouTube, with bold sound and a DVD-quality image.
One of our favorite features was Watch Later, which allows web surfers to bookmark video for later viewing. Although it does require computer use, it was a nifty treat to have several new videos waiting for us every time we fired up the Boxee Box. Even better, we were able to call up recent TV episodes from major networks.
App Attack
The Boxee Box provides access to almost 200 apps, ranging from the weird and wonderful to sort of pornographic (use the parental block, if you need it!). Most of the apps are entertainment-based, offering a similar experience to what we received above.
Web browsing was a completely different story. There are two ways to search on this system. Clicking the menu button brings up a search browser, which is powered by Bing. Aside from being limited in search engine, it's also limited when it comes to content. Searches for "Gmail" and "VH1" only brought up Bing-related videos. To access any of those selections, you'll need to move around the on-screen cursor. That movement is best achieved by holding down one of the arrow buttons. Overall, it was a slow, labor-intensive experience.
Boxee actually offers the Boxee Browser for more detailed web searches. This is also powered by Bing, offering a larger scope, but an equally slow, squint-inducing process. Also, there's no zoom feature, which makes surfing the web sort of pointless, unless you have a super-large screen.
Aside from the above services, Boxee is already planning for the future. That future includes both Netflix and Hulu Plus. Right as we were wrapping up this review, they added the VUDU service. VUDU allows viewers to rent and purchase movies online. One-time rentals are between $.99 and $5.99, with purchased movies costing from $4.99 to $24.99. The big hook about VUDU is that it has HD and HDX media on demand, with up to 1080p resolution and Dolby Digital Plus 5.1 surround sound.
Once the service was made available, we found it prominently featured on our Boxee Box home page. One click prompted us to a quick software upgrade. After a reboot, we were asked to provide an email to VUDU, and offered a free HD rental in return.
Boxee Box is one of the platforms to receive the newly announced VUDU 2.0 user interface. This boasts more selections per page, as well as a better overall search experience. We love being directed to 99-cent rentals, as well as the trailers, sneak peeks and other showcases (including 3D). Once we flipped through some of the selections, we tested out the service using the free Dolby Demo reel, which shows off VUDU's HD 5.1 Dolby Digital Plus sound, via clips from movies including The Last Airbender and The Expendables. The images were extremely enticing, but the sound really blew us away, using all of our speakers and the sub to deliver some very impressive sound.  It's not Blu-ray but it's about as close as we've seen from a streaming service.
Because we were so pumped up, we took VUDU up on the free movie offer and ordered The Other Guys. VUDU's HDX high-def format looked fantastic, with bold, bright colors and absolutely no lag or buffering issues. It really was almost as good as watching a Blu-ray Disc. Also, it was a nice added bonus to get sound cranking from all five speakers (and nice explosions from the sub as well). This could be very addicting indeed, especially if you don't currently have a VUDU-enabled HDTV or other CE device.
Something More Familiar
Like many streaming devices, the Boxee Box has the power to tap into other content living on your home network. Also, like a few of those devices, there are issues. We needed to remove our Vista PC's Norton firewall to access any shared content -- every time we wanted that content. Also, the Boxee Box will acknowledge DRM-protected content, but it's merely a tease, as it won't play any of it. That said, the interface will find and play back any non-DRM files, whether in iTunes, Windows Media, or wherever else you like to keep them.
Once our firewall was down, we had no problems clicking for audio, photos and home video over both our wireless and wired network. Expect to click a few times to find those items, however. From the Settings menu, you'll need to click on File Sources, and then Add Sources. Once we found our networked devices in that menu, we were able to check out JPG and TIFF photos, MP3, WMA and ACC audio files, as well as MPEG-4 and WMV video files. (A complete list of supported file types can be found in the Product Specifications section below.)
Our streamed video was short, and didn't suffer from any buffering issues. Also, photos were big and gorgeous, depending on the original source. As Boxee says, "If things don't look great in your browser, they won't look good on your TV either." However, we never encountered any stretched out or super-small images or video, which is appreciated: original aspect ratio was always respected. Music files were accompanied by associated artwork (e.g., album art from an MP3 music file), which is always a nice touch.
Boxee allows you to share as many sources as you want, as long as they are networked with public/shared access. If one of those sources is a Mac, however, you will need to define the share as SMB.
Isn't the Remote Cute?
Out of the entire Boxee Box experience, myfavorite part had to be the remote. Maybe it's because of my tiny fingers, but the remote is the perfect pairing to this experience. Unlike Google TV, there isn't the awkwardness of having a full keyboard or extra remotes. The Boxee Box remote is about the size of a cell phone, with a split personality.
One side looks similar to an iPod, with four-way D-pad and two buttons. One is for play and pause function, while the other takes you through the menu. That's it. The flip side is where you will spend most of your time, since it also features a menu button, as well as a full (but small) QWERTY keyboard.
Despite our love for this remote, it has its issues. First of all, it's missing a power button. The most simple, no-brainer button of them all is absent here. Instead, you need to click through menu functions to power down the box. Powering on is a bit simpler, with just the press of the menu button.
Also, this isn't the type of remote that allows you to grab and go. Almost every time I picked up the remote, I was holding it the wrong way. In other words, you need to pay attention. Only a Boxee Box master will be able to pull off control without having to look at the remote.
If you think the remote has its issues during daylight hours, try dealing with it in a dark room. The remote lacks any sort of backlighting, meaning you not only have to pay attention, but you will also need some sort of lighting for typing and control.
Turn Ons
HDMI input
Wireless works nicely
Love the remote (even with its quirks)!
Tons of apps to keep you busy
Watch Later allows you to create a playlist from the web
Netflix & Hulu Plus coming soon
Turn Offs
No dedicated power button or backlighting on remote
Screen refreshing is not so refreshing
Weird form factor is quirky, but hard to place
No internal storage
Final Thoughts
The Boxee Box has gotten a lot of flack for its initial performance. However, we see a ton of potential. It's got a nice interface, a super remote, and a ton of apps to keep you from getting cranky. Adding VUDU kicked our review up at least half a star, so we can assume that Hulu and Netflix will make the Boxee Box a real competitor for the sea of current over-the-top media streaming boxes.
Where to Buy:
Product Specs:
Dimensions (LxWxH): 4.5" x 4.5" x 4.6"
Language Support: English, French, German, Italian, Spanish
Network Protocol Support: IPV4, ARP, TCP, UDP, ICMP, DHCP Client, DNS Client, DDNS Client, HTTP Server, Samba Client, RTP/RTMP, VPN: PPTP, DLNA 1.5 (DMP)
Wireless: 802.11n/g/b
Ports: HDMI 1.3, 10/100 Fast Ethernet, 2x USB 2.0, Optical Audio (S/PDIF), Analog Audio (RCA L/R)
Memory Card Support: SD, SDHC up to 32GB, MMC
Audio Formats: MP3, WAV/PCM/LPCM, WMA, AIF/AIFF, AC3/AAC, OGG, FLAC, Dolby Digital/Dolby True HD
Video Formats: Adobe Flash 10.1, FLV/On2 VP6 (FLV/FV4/M4V), H.264 AVC (TS/AVI/MKV/MOV/M2TS/MP4), VC-1 (TS/AVI/MKV/WMV), MPEG-1 (DAT/MPG/MPEG), MPEG-2 (MPG/MPEG/VOB/TS/TP/ISO/IFO), MPEG-4 (MP4/AVI/MOV), DivX 3/4/5/6 (AVI/MKV), Xvid (AVI/MKV), WMV9 (WMV/ASF/DVR-MS)
Image Formats: JPEG, PNG, GIF, BMP, TIFF
Playlist Formats: M3U, PLS, WPL
Subtitle Formats: SRT, SUB, SSA, SMI, ASS
Supported Resolutions: H.264: 1080p at 30 fps, 1080i at 60 fps; WMV9/VC-1: 1080p at 30 fps, 1080i at 60 fps; MPEG4: 1080p at 30 fps, 1080i at 60 fps; MPEG2: 1080p at 30 fps, 1080i at 60 fps
MSRP: $229.99
What's in the Box:
The Boxee Box by D-Link
HDMI Cable
AC Power Adapter
Remote Control with Full QWERTY keypad
Manufacturer's Contact Information:
D-Link
17595 Mt. Herrmann
Fountain Valley, CA 92708
800-326-1688
On the web: www.dlink.com/boxee