Bond 50: 22-Film James Bond 007 Blu-ray Collection Review
By Greg Robinson
The Films
"Bond. James Bond."
It's hard to believe it's been fifty years since Sean Connery first uttered those three little words (well, two if you want to get all technical about it). Inspired by a series of novels and short stories from writer Ian Fleming, Dr. No became Hollywood's first big screen adventure featuring British Secret Service Agent 007, a.k.a. James Bond. Who knew that this gritty and sexy spy thriller would spawn the longest-running film franchise in cinema history?

Most fans of 007 know that only some of the James Bond films have received the Blu-ray treatment before now. And the titles that have made it to Blu-ray have done so in strange fashion. Although certain titles have been released for individual sale, others have only been available as part of awkward 3-movie collections.
That all changes with MGM Home Entertainment's release of Bond 50, a comprehensive 22-film collection celebrating five decades of James Bond.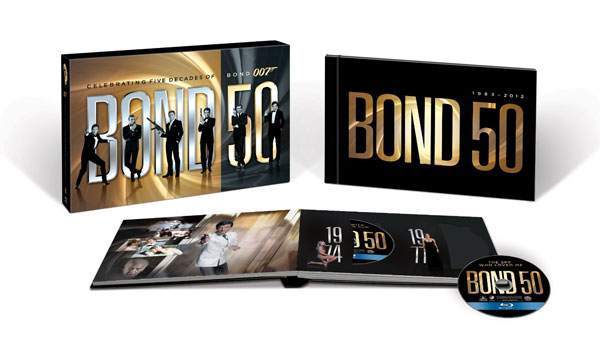 This handsome boxed set features all 22 "official" James Bond films, nine of which are making their Blu-ray debut:
Dr. No (1962) starring Sean Connery -

read our review
From Russia with Love (1963) starring Sean Connery - read our review
Goldfinger (1964) starring Sean Connery - read our review
Thunderball (1965) starring Sean Connery - read our review
You Only Live Twice (1967) starring Sean Connery - new to Blu-ray
On Her Majesty's Secret Service (1969) starring George Lazenby - new to Blu-ray
Diamonds are Forever (1971) starring Sean Connery - new to Blu-ray
Live and Let Die (1973) starring Roger Moore - read our review
The Man with the Golden Gun (1974) starring Roger Moore - read our review
The Spy Who Loved Me (1977) starring Roger Moore  - new to Blu-ray
Moonraker (1979) starring Roger Moore - read our review
For Your Eyes Only (1981) starring Roger Moore - read our review
Octopussy (1983) starring Roger Moore - new to Blu-ray
A View to a Kill (1985) starring Roger Moore - new to Blu-ray
The Living Daylights (1987) starring Timothy Dalton - new to Blu-ray
License to Kill (1989) starring Timothy Dalton - read our review
Goldeneye (1995) starring Pierce Brosnan - new to Blu-ray
Tomorrow Never Dies (1997) starring Pierce Brosnan - new to Blu-ray
The World is Not Enough (1999) starring Pierce Brosnan - read our review
Die Another Day (2002) starring Pierce Brosnan - read our review
Casino Royale (2006) starring Daniel Craig - read our review
Quantum of Solace (2008) starring Daniel Craig - read our review

Some readers may be wondering why Sean Connery's final outing as 007, Never Say Never Again (1983) is not included in this comprehensive set. The short answer: for licensing and creative rights issues, Never Say Never Again was produced outside of the usual channels (i.e. Eon Productions). As such, this red-headed step child has never been considered an official installment in the James Bond canon. The long answer would take more time than we have here, but do some Googling if you haven't heard the story before. It's a strange and fascinating tale that will surely be of interest to die hard Bond fans.

Like any long-running franchise, the James Bond film canon has its fair share of ups and downs, stunners and stinkers, zigs and zags. A few entries, like the aforementioned Dr. No, were low-key and serious affairs, while others feature Denise Richards as a nuclear scientist named "Christmas." And like any other franchise where multiple actors have filled the titular lead role, everyone has opinion on who is best. (In case you're wondering, the correct answer is Sean Connery - but Daniel Craig is gaining rapidly.)
The Picture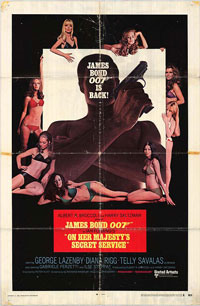 As previously stated, 13 of these 22 Bond films have been available on Blu-ray Disc prior to this release. And since you can easily read our reviews of those discs using the links above, here we're simply going to focus on some of those films making their Blu-ray debut in this new Bond 50 release. Still, that's nine films we're talking about. Suffice to say we won't be digging too deeply into any one film. We've all got things to do. Places to go. Martinis to shake (not stir).
Before getting to some general impressions about these new Bond Blues, it's worth mentioning that this Bond collection has been a long time coming. The process began in 2006 when MGM contracted with Lowry Digital Images to undertake a massive restoration effort on the entire James Bond film library - or at least, everything prior to 2006's
Casino Royale
. Working from the original camera negatives, the team at Lowry used advanced scanning technology to create new digital masters which were then painstakingly examined, cleaned, and restored to match as closely as possible the original filmmakers' intent. The oldest of these films (nine films from
Dr. No
to
The Man with the Golden Gun
) were scanned at a whopping 4K resolution, which exceeds the available resolution of Blu-ray.  The remaining 11 were scanned in HD (1080p).  There's a brief but informative look at this process on the
Dr. No
disc in a special feature entitled "License to Restore."  Definitely give it a look.
Having already been impressed by the Bond Blu-ray Discs I'd seen in recent years, I was eager to look at some of those that are new-to-Blu with this Bond 50 release.  The first disc I checked out was one of the series' black sheep,
On Her Majesty's Secret Service
starring George Lazenby as 007. This underrated entry, which wisely put the focus on Bond as a character as opposed to his girls and gadgets, is better than some of you may remember and it's unfortunate Lazenby never got a second crack at the role. Lowry's restoration work is once again impressive, with brilliant contrast and punchy, colorful ski wear on display during the film's Swiss Alps-set sequences.
Goldeneye
is another personal favorite of mine and it's another title I've been eager to see on Blu-ray. Unfortunately, this one is a bit of a letdown from a visual perspective. Although it was slated for restoration in the 2006 project, it's actually missing the Lowry restoration nod in the credits so we're wondering whether plans may have changed. To my eyes, it seems to have been sourced from an earlier HD master and the results are mixed, to say the least. Although fine detail is evident during facial close-ups and the color accuracy - such as during the opening Aston/Ferrari downhill race - is noticeably improved over the DVD,
Goldeneye
suffers from what appears to be an undue amount of digital sharpening (edge enhancement) and noise reduction that detracts from the overall picture quality.
[editor's note: We confirmed with the studio that both Goldeneye and The Spy Who Loved Me did not undergo the Lowry restoration process as had originally been announced.]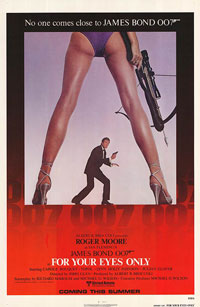 Jumping around the rest of the set, I took a look at several other new-to-Blu titles such as
The Spy Who Loved Me, Tomorrow Never Dies,
and another personal favorite of mine,
The Living Daylights
.  In each case, I was generally quite impressed with the video quality on display. Timothy Dalton's sweet Aston Martin in
The Living Daylights
- one of my favorite Bond cars in the franchise's history - looks sharper than ever and the walnut woodgrain covering the center console's concealed weapon controls offers a warm and welcome dash of color amidst the otherwise drab and steely gray surroundings during Bond's thrilling escape from the border patrol.
With the exception of
Goldeneye
, the benefit of high definition coupled with improved color balance and a marked reduction in noticeable dirt and print wear make these Bond Blu-rays a significant improvement over the DVD editions many of of us still own. And that alone is reason enough to pony up for this elaborate new collection.
The Sound
Having spent some time with most of these new Blu-ray Bond discs, I'm pleased to report the new DTS-HD Master Audio soundtracks are consistently impressive.  Dialogue is clear and intelligible and many titles feature a welcome (and thankfully subtle) new presence in the surround channels. Adding to sense of immersion, this multi-channel updating on some of the older titles is, like the video restorations, a welcome upgrade from DVD.
The single opening gunshot and ensuing musical score sounds better than ever on every disc I looked at.  And whereas Goldeneye was a visual disappointment for yours truly, I'm thrilled that the same cannot be said for its new, lossless soundtrack: it's quite good.

The Extras

Several years back, MGM released their "Ultimate Edition" DVDs of the pre-2006 James Bond films. In fact, it was those DVDs where Lowry Digital's restoration work was first observed by consumers, albeit in 480p. For those Ultimate Edition DVDs, MGM put together numerous commentaries, interviews, and behind-the-scenes material for all of their Bond films.  And thankfully, most of that - if not all - seems to have carried forward to these new Blu-ray editions.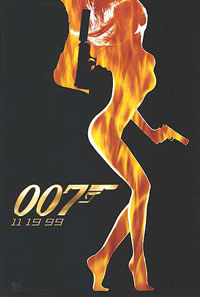 Every movie disc in this collection features not just the film, but its own assortment of film-specific bonus material.
Casino Royale
and
Quantum of Solace
, previously available on Blu-ray from Sony, also feature a number of goodies. In addition to those extras which are sprinkled across all 22 movie discs, Bond fans also get an additional Bonus Disc of newly-created material. Unfortunately, it's a bit of a dud.
At first glance, the Bonus Disc looks promising. HD featurettes on the "World of Bond" - with installments dedicated to Bond's cars, villains, gadgets, and of course, the Bond girls.  Sounds great, right? Unfortunately, each of these runs a mere 5 minutes in length (or less) and none has any real substance. Little more than fluff, it's unfortunate that MGM didn't perform new interviews on any of these discussion-worthy subjects.
The biggest disappointment, however, is "Being Bond." Marking the 50th anniversary of James Bond on film, what better opportunity could there be to speak to the six men who portrayed him on the silver screen? I'm sure it wouldn't have been easy to organize, but that's a roundtable discussion I'd have loved to see. Instead, we get a 3-4 minute hash of old interviews clips and recycled press material. Ugh.
On a final note, it should be noted that the packaging on this release is a mixed bag. On the plus side, the hard outer slipcase is sturdy and gorgeous. And I love that the they've given us a ready disc slot for
Skyfall
, which I personally cannot wait to see in theaters this winter. However, the disc holders themselves are crap. Despite thick, foam pages and attractive Bond girl artwork, the disc sleeves force you to slide the disc against its cardboard backing paper - a guaranteed way to scratch any disc once dirt or foreign material finds it way in there. When you consider the price tag and the target collector audience, it's mind-boggling that a better solution wasn't employed.
Final Thoughts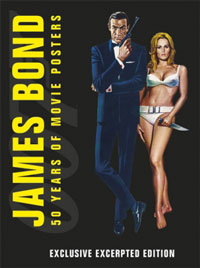 Is every Bond film a winner?  Heck no. But on some level, Bond films are like pizza. Some entries are cheesier than others, but there's really no such thing as a terrible Bond movie. They've experimented with different sauces and spices from time to time, but the basic ingredients have remained the same. On the whole, Bond 50 is a magnificent, must-have addition to any film lover's library. And when you do the math, it's a remarkably affordable set considering how many films you're getting. Highly recommended.
Features and Specifications:
Number of Discs: 23
Audio: DTS-HD Master Audio 5.1
Studio: MGM Home Entertainment
Blu-ray Disc Release Date: October 2, 2012
List price: $299.99
Extras:

More than 130 hours of bonus material
Featurettes
Audio commentaries
Skyfall video blogs