Bolt Blu-ray 3D Review
By Chris Chiarella
The Movie
A kid and her dog: What's new about that? Leave it to Disney to answer, with 2008's Bolt 3D. The pooch of the title (voiced by John Travolta) is the star of his own action/adventure TV series, but in order to draw out a convincing performance each week, the director and producers go to great lengths to convince him that it is all real: that his master Penny (voiced by Miley Cyrus) is forever in grave danger and that he possesses super-canine powers.
But when network concerns lead to an unusually dark twist in the plot, it messes with the dutiful pup's head, and when he finds himself accidentally shipped from Hollywood to New York City, he embarks upon a coast-to-coast trek home to protect his best friend. He's off the set for the first time in years however, and is perplexed by the apparent loss of his special abilities. Teamed with a street-smart cat, Bolt has a journey of discovery along the way, overcoming his remarkably funny cluelessness in a sort of extended Buzz-Lightyear-I'm-really-just-a-toy kind of way.
Also read Karen Dahlstrom's review of Bolt 3D.
The Picture
The 16:9 image is entirely computer-generated so the filmmakers can do whatever they want, and they are unafraid to manipulate the foreground, mid-ground and background objects with a keen focus that really shows off the stereoscopic depth. The 3D use is frequent and dynamic, right down to a complex faux lens flare that floats before us.
Unlike a sheer fantasy, Bolt is set in the "real world," so the picture is also crafted with sick levels of detail, from tiny bits of dirt and sand and stone on up to sharp blades of grass and even the delicacy of the print on Mom's shirt. The scratches on Rhino the hamster's ball-cage are many and varied, and individual dog/cat/human hairs catch the light in different ways. I noted some noise and ringing, but no doubt this one is a winner from a visual perspective.
The Sound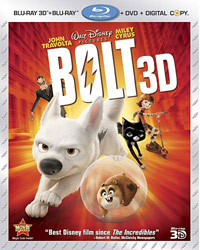 The movie opens with an elaborate (too elaborate for a weekly TV show, frankly) chase sequence with electric ninjas on motorcycles and in attack helicopters: To call it wild home theater fun would be an understatement. Once the curtain is lifted and the "action" is more down-to-Earth, these scenes still offer precise directionality, discrete surrounds and more-than-ample bass for explosions and more. The huge studio fire in Act III also envelops us with appropriate DTS-HD Master Audio 5.1 menace.
The Extras
The Blu-ray 3D disc has no bonus content but the 2D Blu-ray maintains all of the special features from the original March 2009 release of Bolt on Blu-ray, as reviewed by Grant Clauser. These include several brief but interesting behind-the-scenes featurettes, a music video, two deleted scenes with director introductions, as well as a short film starring Rhino. Also here are an interactive set-top game plus a still art gallery.
Disc Three is a standard-definition DVD of Bolt with all of the extras from the Blu-ray except the game and gallery. Disc Four carries a Digital Copy of the movie for iTunes or Windows Media.
Final Thoughts
With lots of character-based comedy and the universally touching tale of a good, loyal dog, the PG-rated Bolt is fun for the entire family. And the Blu-ray audio and video--2D and 3D--will send you bolting back to the couch for more.
Product Details
Voice Actors: John Travolta, Miley Cyrus, Susie Essman, Mark Walton, Malcolm McDowell, James Lipton, Greg Germann
Directors: Chris Williams, Byron Howard
Audio Format/Languages: DTS-HD Master Audio 5.1 (English), Dolby Digital 5.1 (Spanish) (2D and 3D); Dolby Digital 5.1 (French, Polish, Czech, Hungarian, Russian, Ukrainian), Dolby Digital 2.0 (English Audio Descriptive) (3D only)
Subtitles: English SDH, Spanish (2D and 3D);  English, French, Polish, Czech, Hungarian, Russian, Ukrainian (3D only)
Aspect Ratio: 1.78:1
Number of discs: 4
Rating: PG
Studio: Walt Disney Studios Home Entertainment
Release Date: November 8, 2011
Run Time: 96 minutes
List Price: $49.99
Extras:

"Super Rhino" animated short
"In Session with John Travolta and Miley Cyrus"
"I Thought I Lost You" Music Video by Miley Cyrus and John Travolta
"A New Breed of Directors: The Filmmakers' Journey"
Deleted Scenes with director intros
"Act, Speak! The Voices of Bolt"
"Creating the World of Bolt"
Bolt's Be-Awesome Mission Game
Bolt Art Gallery
D-Box Motion Code
DVD of the movie with extras
Digital Copy