Bluesound Pulse, Vault, Powernode Review
By Mark Abell
Edited by Chris Boylan
The wireless multi-room speaker market is getting more crowded every day. The category was effectively invented by SONOS, and the Santa Barbara-based company still dominates the space. More recently, vendors such as Bose, Samsung, Denon and DTS (with partners including Polk, Definitive Technology and MartinLogan) have entered the market, hoping to carve out their own piece of this burgeoning business.  Another new vendor in the space, Bluesound, hopes that their unique take on wireless whole home sound will appeal to audiophiles who don't want to sacrifice sound quality for convenience.
Position in the marketplace
Bluesound, a subsidiary of Lenbrook Industries (best known for their NAD brand), seeks to marry the precise reproduction of recorded music that audiophiles crave with the convenience and simplicity of wireless streaming. Although the Bluesound Vault can be compared to the Marantz M52 digital music vault ($2000) and the Meridian Sooloos media server system ($7500), its closest rivals design-wise are the Sony HAP-Z1ES (1TB, $2000) and the Sony HAP-S1/S (500GB, $1000). Like the vault, these media servers also feature a contemporary feel with generous storage capacity. But Bluesound seeks to provide a full ecosystem of products and a simple app-based platform that can run on Windows, Mac, Android or iOS.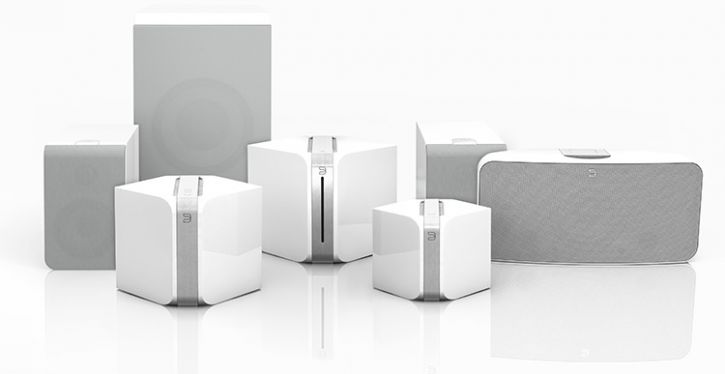 Though many may ask the question, "Is Bluesound A SONOS Killer?," the two systems exist in separate spheres. The common thread between SONOS and Bluesound is that they are both multi-room speaker systems that can be controlled by a smart-phone and allow users flexibility and multiple combinations of song playback to speakers scattered throughout a living space. However, Bluesound is largely its own animal as it emphasizes sound quality over all else via native support for high resolution audio files from sources such as HDTracks and Qobuz. SONOS currently does not support high resolution audio files, however the Bluesound user interface and app ecosystem may be a bit behind the curve (we'll get to that).
The Product Suite
Bluesound offers a number of components including media servers, self-contained powered wireless speakers and wireless networked amplifiers that can be used with virtually any brand and model of speakers. For the purpose of our review, we looked at (and listened to) three products: The Powernode, the Vault and the Pulse.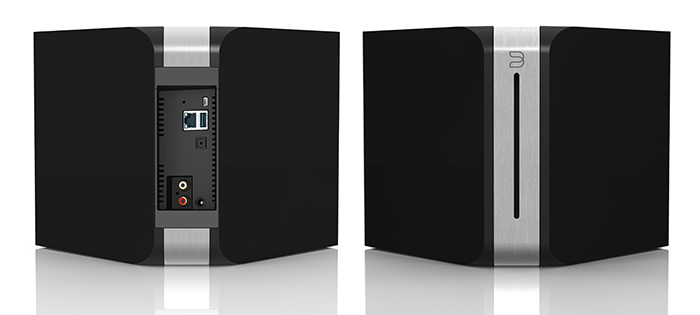 The Vault ($999) is a 1TB (one terabyte) music server which can hold thousands of CDs or hundreds of high res audio albums. In October, Bluesound upgraded the Vault for 2TB storage for future orders (at no increase in list price). The Powernode ($699) is a wireless bridge and 40 Watt/Channel amplifier (into 4 ohms) which can be paired with passive or active speakers. The Pulse ($699) is a networked speaker with an integrated 80-watt amplifier and built-in WiFi networking.
The advantage of such a component-based system is that music stored on the Vault can be streamed through speakers you already own via the Powernode in any room, or streamed wirelessly from the Vault to a standalone powered speaker like the Pulse. You can also plug the Vault into a pair of powered speakers in whichever room it's located or connect it to an existing preamp or receiver as a standard line-level source. This flexibility is advantageous because it allows you to listen to your high quality music files your way, via various speaker combinations throughout your home, using your existing gear.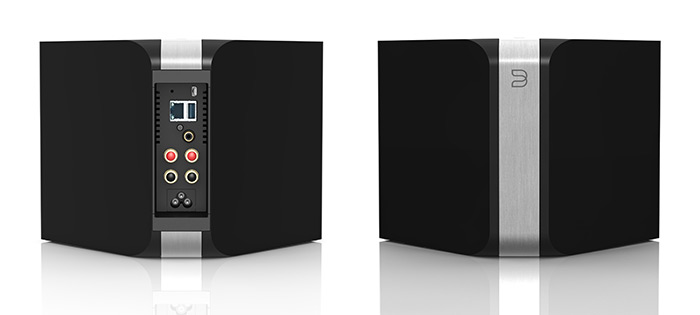 Dollar for dollar, Bluesound products hold their own against the competition. For example, the Vault can house most peoples' entire ripped CD collection and downloaded high resolution files at less than a third of the cost of Marantz's NA-11S1 network attached media player ($3,499), and half of the cost of Marantz's M52 music server ($2,000). It even provides double the storage of Meridian's digital media system with the Control 15 ($7,500), a 500GB media storage which comes with a Sooloos touch screen.
Also, Bluesound's use of an iOS and Android app front end, which receives regular software updates, offers an attractive alternative to proprietary touchscreen-based control systems which may soon become obsolete or require regular visits from a professional to update functionality over time.
Getting Started/Set-up:
Setup of the wireless network for the Vault, Powernode and Pulse was fairly seamless utilizing the Bluesound iPad app. The app walks users through setup visually, installing and necessary firmware updates and indexing the local music collection. Voila you're in business.
I was disappointed by my inability to setup the Vault, Powernode or Pulse wireless network via the Android app on my Samsung Galaxy SIII. The app appeared crude and buggy; its limited functionality possessed a frustrating beta-like quality. However, on the iPad, the app was significantly more solid.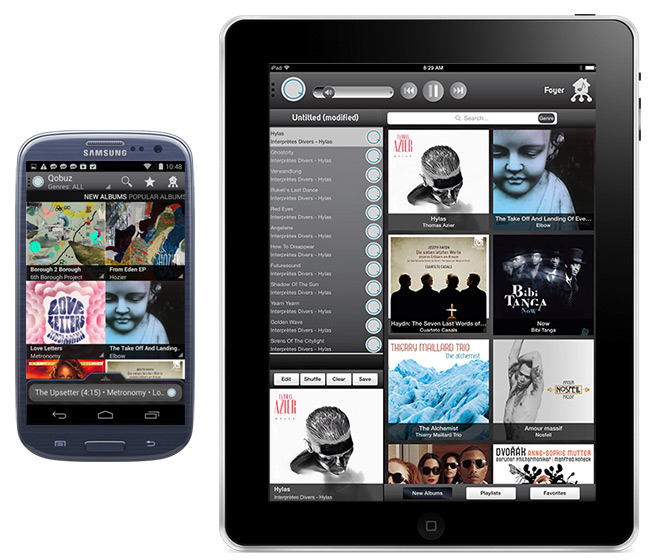 Although Setup of the Vault's network attached storage was initially intimidating because the directions that were provided seemed fairly opaque, moving files from my laptop to a the Ethernet-tiered Vault music server turned out to be extremely simple. Go to Network in Windows 7, allow devices on your network to be shown, and drag and drop music files from your music folder to the Vault. It was that simple.
The Vault helped to eliminate my long held concerns that music I've paid for will get lost or destroyed in the event of a hard-drive failure and that backing up my collection would take forever. Thankfully uploads to the Vault's network attached storage were faster than uploads to cloud-based services. Although moving 60GB of high resolution music from my laptop to the Vault took approximately 3.5 hours, the transfer speed to NAS was dramatically faster than uploading 20GB of high resolution music to cloud storage services such as Mega, Box, Dropbox, GoogleDrive, Wuala which took over 24 hours.
One important caveat to this "wireless" ecosystem: the Vault requires a hard-wired Ethernet connection to your home network. Client devices such as the Powernode, Node and Pulse can be either wireless or wired, but the main music server does need a hard line.
Ergonomics and Features
The Pulse speaker weighs just under 14 pounds and features an ergonomic carry-handle and conveniently small footprint: approximately 16.5" wide, 7.5" deep and 8" tall. It incorporates an 80-Watt internal amp that reproduces music loudly without distortion unlike those tiny wireless speakers that are all the rage these days. The Powernode (10" x 8" x 7") and Vault (12" x 9" x 8") continue in the small-footprint vein.
Perhaps most importantly, the Powernode and the Vault are versatile because they allow users to use their own powered or passive speakers in any room while still maintaining wireless connectivity: there's no need to run speaker wires or interconnect cables inside your home in order to get multi-zone, multi-room music.  For my testing, I used the best speakers I had on hand, which were Audioengine's A5+ powered speakers.
The pairing of the Pulse WiFi speaker in one room with the Powernode and my set of Audioengine A5+ bookshelf speakers in another was very complementary. The line level output from the PowerNode was super clean and produced some of the most musical sounds I've heard on the Audio Engine speakers, while the Pulse held its own in musicality (albeit with less stereo separation, due to its relatively small size). It's nice that I could access the same music collection from both and that I could use my existing speakers to do so. If you've also got a pair of powered speakers you like already, you could save a few bucks and get the Node ($449) instead of the Powernode. But the Powernode can also be used to drive traditional passive speakers.
Size Matters
The Vault's fairly gargantuan 2 TB storage capacity should provide more than enough room for most music collections, even ripped in lossless format. The 60GB I uploaded to the Vault for testing incorporated nineteen folders of high resolution music, some containing multiple albums and one folder brimming with lossless music tracks. The Vault has a built in CD drive so you can rip your CDs directly to it, without the need for a computer. Also, since it uses non-proprietary file formats, this music can be accessed by other devices in your home, including your Mac or PC.
By my estimation, each high resolution album in my collection takes an average of 3GB in storage (varying according to sampling rate and bit depth) whereas CD-quality albums in the FLAC or Apple Lossless format measure approximately 250MB-350GB per album. If you rip your CDs in AIFF or WAV format, they will be the same size they are on the original CD so that's around 500 to 700MB per album. Thus, by my rough calculation, the 2TB Vault could potentially hold at least 650 high resolution albums or well over 3,000 lossless CD quality albums or any combination of the above. That's a lot of music. If you need even more storage, or want to access additional music not directly stored on the Vault, you can attach a USB stick or external USB hard drive to the Vault and access songs on that drive from any connected Bluesound speaker, Node or Powernode.
Sound to Banish the Blues (Unless You Like Blues)
Audio enthusiasts will appreciate the neutral tonal quality the Bluesound ecosystem lends to their listening experience as it replicates music as it was recorded without excess distortion. You won't find exaggerated treble or artificially enhanced bass bloat here. The Pulse WiFi speaker provides a very pleasurable aural experience that includes a great deal of musicality. The Pulse was perfectly capable of being driven hard and played loud while maintaining its composure. The midrange, high-end and low-end of "Time Out" by The Dave Brubeck Quartet and "Pet Sounds" by The Beach Boys from Qobuz were spot-on, listening on the Pulse.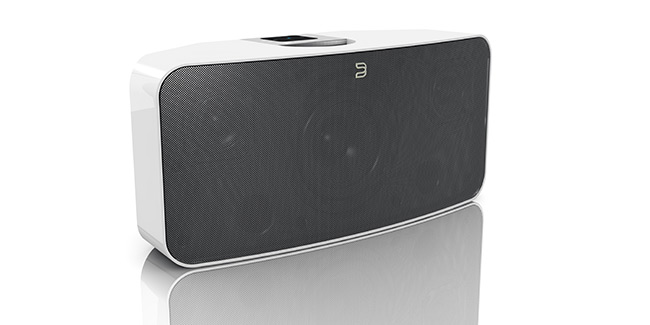 And as for the Vault and the Node or PowerNode, these components will allow your speakers to reach their maximum potential.  They don't have a distinguishing sonic character, per se, rather they pass along all the details of the music (good and bad) to your speaker for reproduction.  By supporting high res and lossless audio in their native formats (with no compression or down-sampling), the Bluesound system can blow the sonic doors off lossy compressed music systems or Bluetooth-based speakers. I did not have a chance to test out the Powernode's built-in 40-watt-per-channel NAD-designed amplifier with traditional passive speakers, but its performance as a source for my Audio Engine powered speakers was outstanding.
What? No Pandora or iTunes Radio?
Bluesound offers a decent selection of streaming services, but for those that it does offer, a premium (paid) account is required for just about all of them. At the time of publication of this article, Bluesound offered access to Deezer, JUKE, Murfie, Qobuz, Rdio, Rhapsody, Spotify, Tidal and WiMP/WiMP HiFi. Missing are popular services such as Pandora, MOG, iTunes Radio, Slacker and a few others. You can stream these missing services from your phone or tablet in Bluetooth mode, but only if you purchase the optional Bluetooth/USB adapter from IOGear. And doing so isn't quite as integrated an experience as app access within Bluesound. Also, you'll be subject to the quality losses inherent in Bluetooth streaming.
Trouble in Paradise?
While the overall Bluesound system impressed me, particularly for its audiophile orientation, there were a few areas that disappointed me on the features front. First, the Android app seems much buggier than the Apple version. I was not able to complete the set-up on my Android Galaxy S3 while it worked much better on my iPad. Second, the lack of in-app streaming for Bluesound with the exception of Spotify Premium was annoying. Users should not have to use the Bluesound app to make song and station selections in TuneIn, Qobuz and Slacker to stream to the Vault, Powernode and Pulse. To be fair though, this limitation is no different from SONOS. With Bluesound speakers, only the Spotify app, of the four Internet radio services I tested, allowed me to stream to the devices directly without going through the Bluesound app.
Lastly, the Bluesound's reliance on wired Ethernet connectivity to the Vault was a bit frustrating because I had to have my cable company install a new Ethernet line in the room where it was located. If you have a spot for your Vault near your router, then this won't be a big deal. For the speakers and networked amps, you have a choice of wired or wireless connectivity, but if you go wired, the system can support more zones or rooms (8 units or rooms in wireless mode or 32 wired zones).
Turn-ons:
Great value: multi-room HiFi system including server, amps and speakers for less than the cost of a single high-end music server
Audiophile sound at reasonable price point
Large storage capacity
Peace of mind that your music collection is backed up on the Vault
Ability to listen to music in multiple rooms without wires
Ability to listen to music directly on the server using powered speakers
Can work with existing powered or passive speakers
Does not require a dedicated PC or Mac to act as music server
Turn offs:
Installation is only intuitive with iPad app
Bug-ridden Android app fairly painful to use
I noticed some lag when streaming high-resolution songs over WiFi
Limited selection of streaming services
Cord clutter (Vault requires hard-wired Ethernet connection)
Final thoughts:
I would recommend the Bluesound products and ecosystem to audiophiles who care about precise musicality but also to ordinary, convenience-loving individuals who desire the ability to stream high resolution, high quality music wirelessly to multiple rooms. The aesthetics, durability and performance of the Bluesound ecosystem are exceptional given its fairly reasonable price point. This is not a bargain basement product, but it is accessible for a young professional who loves music. Bluesound offers a compelling value proposition as it outfits many rooms with audiophile-grade sound at a competitive price point.
More Information: