Blu-ray Player Buyers Guide for 2011
By Rachel Cericola
If you're still on the fence about bringing home a Blu-ray player, this may be a good time to jump. If you already have one, it could be time to think about a second or third. Prices have really come down, loading speeds have improved and audio/video performance has never been better.  And those extras like Netflix, VUDU, Pandora and other network streaming options are no longer an expensive luxury.
When the first Blu-ray players launched back in 2006, one could be had for around $1000. Now, a quick search on Amazon finds at least a few options under the $100 mark. However, before you start blindly shopping for bargains, know that Blu-ray players have come a long way, baby.  There are still features worth seeking out and potentially paying a little extra for, such as integrated wireless networking (WiFi), a good selection of internet streaming services, Skype video calling (turn your TV into a giant video phone!), and iPod/iPhone or Android app control.
Besides the price drops and improvements in loading times, Blu-ray players do a lot more than just play Blu-rays, DVDs and CDs. Most of today's Blu-ray players now come packing an Ethernet port or Wi-Fi connectivity, making it a breeze to access those special features found on Blu-ray discs under the "BD-Live" label as well as do some form of internet streaming. Just know that besides the web access, BD-Live requires some type of storage. If your player doesn't include internal storage of at least 1GB (Gigabyte), you'll need to plug in a USB drive or SD card (depending on the player), with a minimum of 1GB of storage available.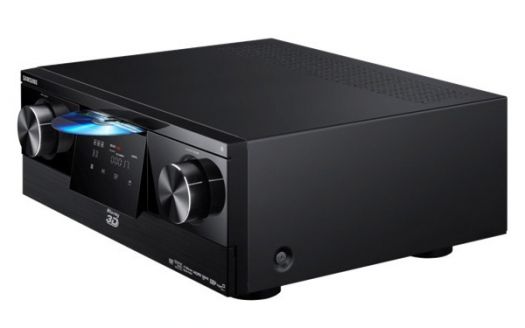 Even More Entertainment
Of course, you don't even need a disc to be entertained by some of the newer Blu-ray players. We're not talking about staring at that pretty black box. That web access has opened up a slew of new options. Many players now have built-in web services, such as Netflix, YouTube, Pandora, VUDU, Amazon VOD, and a plethora of other added entertainment. (Subscriptions and fees may apply.) Some players even allow you to access media files from your home network via DLNA-compatibility.
This year, the bulk of the new Blu-ray players also have 3D capabilities. Blu-ray 3D players can play all of the same discs as last year's Blu-ray players. However, these machines also support Blu-ray 3D discs, and play 3D effects when paired with a 3D TV or 3D projector, and 3D glasses.
If you haven't started building your Blu-ray 3D collection or even much of a Blu-ray collection, standard-def DVDs are still welcomed here. In fact, Blu-ray players can "upconvert" that standard-def content to high-def resolutions, making those older discs look better than they ever did on that old DVD player.  The Panasonic players even support 24p playback from DVDs so you can watch movies in their native 24 frame/second rate on compatible HDTVs.
Besides video, Blu-ray also offers a nice audio boost. Blu-ray discs have more storage space than the average DVD, so there's plenty of room for better audio. Some of these new formats (Dolby TrueHD, DTS-HD Master Audio and multi-channel uncompressed PCM), can actually reproduce the original studio master tapes with no loss of detail or resolution. However, to tap into all of those audio goodies, you will need a player that actually supports these newer formats.  At this point, even many of the entry-level players do.
Also, don't forget that the PlayStation 3 is still a Blu-ray player, and offers endless hours (we timed that) of gaming action in addition to CD, DVD, Blu-ray and even Blu-ray 3D playback.
Of course, to enjoy the PS3 or any other Blu-ray player, you will need an HDTV. To see just what these new Blu-ray players can really do, we recommend that you hook the player to a 1080p TV via an HDMI cable. Once you have the HDTV, there are plenty of player options out there. Here is what manufacturers are offering up for 2011.
---
Denon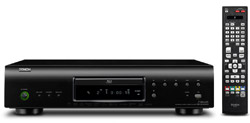 Denon is still going strong with its
DBP-1611UD universal Blu-ray player
. Announced last year, this inversal disc player supports CD, DVD, Blu-ray, DVD-Audio and SACD. It can even do Blu-ray 3D; however, the player may require a firmware upgrade for that. That kind of compatibility is obviously good for video. However, the audiophile crowd should be just as happy, since this player has Burr-Brown PCM-1781 24 bit/192 kHz D/A converters. It also provides stereo mix down along with bass management via the analog stereo outputs. Other features include 1GB of built-in storage, DLNA support, YouTube and Netflix Streaming, and a front USB port.
The DBP-2012UDCI has the same universal disc support, including 3D playback. It also has the Burr-Brown converters, the DLNA 1.5 support and the Netflix and YouTube streaming. What makes this unit a step-up is the RS-232C jack for integration with home automation systems, as well as the on-board Anchor Bay Technology video processor and the multi-channel analog outputs.
---
LG
This year, LG continues to offer NetCast access on the
BD630
and the
BD640
. This provides on-screen access to Netflix, CinemaNow, VUDU, YouTube, and other web-based services, right from the remote. However, earlier this year, LG announced its new SmartTV platform, featured on the company's three Blu-ray 3D players. SmartTV features a customizable home dashboard, as well as a wealth of new web services.
The BD690 is this year's "it" model, offering the SmartTV services, the 3D option, and also a built-in 250GB hard drive. That type of internal storage allows you to order up content from VUDU, Amazon, and other services, and have it on-hand for easy access.  You can also rip your CD collection to the hard drive for hours of music playback fun.
---
Marantz
Marantz hasn't said too much about Blu-ray over the past year. Maybe they've been saving their breath for the
UD7006
. According to the company, this player is ready for almost all of your silver disc playback needs. This player is truly universal, with support for Blu-ray 3D, as well as SACD, DVD-Audio, 2D Blu-ray, CDs and DVDs. Other features include Anchor Bay's ABT 2015 VRS video processing, Netflix and YouTube streaming, DLNA 1.5 support, and 1GB of built-in memory for BD-Live out of the box.
---
Onkyo

Earlier this year, Onkyo announced its first Blu-ray 3D player, the
BD-SP309
. The player came packing access to several streaming services, such as Pandora, Netflix and VUDU, and can upcovert standard-def DVD to 1080p. This summer, the company decided that it was time for an upgrade, with the THX-certified
BD-SP809
. Besides the 3D, the BD-SP809 plays Blu-rays, DVDs and CDs, and has DLNA 1.5 support. Other features include Marvell's Onboard Qdeo video processing technology, twin HDMI ouputs for compatiblity with older non-3D-ready HDMI receivers, and the addition of Blockbuster and Film Fresh on-demand access.
---
OPPO

This year, OPPO offers up two new players, the
BDP-93
and the
BDP-95
. Both offer universal disc playback, which means they can support Blu-ray 3D discs, 2D Blu-rays, DVD-Audio, DVD, SACD and CD. The BDP-93 includes Marvell QDEO video processing, built-in Wi-Fi, FLAC and MKV file support, dual HDMI outputs for compatibilty with older receivers, and additional entertainment through Netflix, VUDU and Blockbuster. OPPO says that the BDP-95 is more geared towards the "audiophile" crowd, featuring ESS SABRE32 Reference ES9018 digital-to-analog converters, a balanced XLR stereo output, and a linear power supply with toroidal power transformer. Another nice bonus in the BDP-95 is that it's rack-mountable.
---
Panasonic

At January's Consumer Electronics Show, Panasonic announced its
Blu-ray plans for the year
. While they are still offering one 2D-only entry-level model (the DMP-BD75), the company is concentrating on 3D readiness with three models that support Blu-ray 3D playback.  All three feature 2D-to-3D conversion, and an SD card slot for memory expansion. All three also have Panasonic's own VIERA Cast, which provides on-screen access to Netflix, Amazon Instant Video, YouTube, Pandora, Twitter, Bloomberg News, a weather channel, and Skype (via the add-on
TY-CC10W camera
).
The DMP-BDT110 is the entry-level 3D-ready model, which we reviewed back in April. The DMP-BDT210 and the DMP-BDT310 both add in built-in Wi-Fi, as well as a touch-free sensor to open the disc tray with a wave of your hand. Find out more about the top-of-the-line model in our editor's comprehensive review of the DMP-BDT310.
---
Pioneer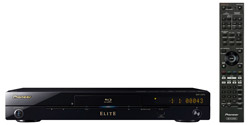 Pioneer also planned three Blu-ray 3D players this year. Two of those players fall under the company's Elite line, which means that the
Elite BDP-41FD
has an RS-232 port for custom installation access and control, while the
Elite BDP-43FD
boasts an armored chassis and high grade parts.
All three have the BD-J resume feature and support for the company's iControlAV app. Other common features include 36-Bit Deep Color support, Precision Quartz Lock System (PQLS) for jitter-free reproduction, and Pioneer's PureCinema technology, which promises to upconvert standard-def video to 1080p.
For added enertainment, all three models provide Netflix and Pandora playback, with YouTube to be added via a firmware update at a later time. For web access, each one has an Ethernet port, or you can go wireless via the optional AS-WL200 wireless adapter.
---
Samsung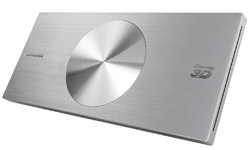 We have a winner! Samsung gets the prize for the most Blu-ray players this year. Of the eight new options, six support 3D playback. However, the entire lot offers up Smart Blu-ray features, which includes access to web-based services through Samsung's Smart Hub, as well as media sharing via AllShare. The Smart Hub is a new feature for this year, and a handy one at that. For starters, it allows customers to search across what's on TV, as well as through apps and other online content.
Of course, there are standouts amongst these stand-alone players. The BD-D7500 measures a slim 0.9-inch in height, making it easy to stuff into almost any AV cabinet or even mount on a wall. Also, the HW-D7000 is the company's first offering with an integrated Blu-ray 3D player inside an AV receiver.  Just add speakers and a 3D TV or projector for instant high def 3D-capable home theater.
The BD-D7500, BD-D7000 and BD-D6700 all offer 3D up-conversion of movies, pictures and streaming video. On the audio side, all of the players offer Dolby TrueHD decoding, with DTS-HD available for the BD-D6500 and up.
The BD-D5700, BD-D6500, BD-D6700, BD-D7000 and BD-D7500 all have built-in Wi-Fi, while the BD-D5300 and BD-D5500 offer a standard network port for wired networking.  These wired models can be upgraded to WiFi, with the addition of the optional WIS09ABGN LAN adapter.
---
Sharp

Sharp stepped up its game this year, announcing three new players, with all offering 3D playback. The
BD-HP75U
,
BD-HP35U
and
BD-HP25U
can also stream content from Netflix, VUDU, Pandora and YouTube. Two of the players can tap into those services via built-in Wi-Fi; the BD-HP25U requires the add-on
VR-WL25 LAN dongle
or you can go with a wired connection.  Other extras across the board include Sharp AQUOS LINK, AQUOS PURE Mode, DVD upconversion, and two USB ports. Two control options are available; the BD-HP75U and BD-HP35U have IP control, while the flagship BD-HP75U is easy to add into the decked out home theater via an RS-232 port.
---
Sony

Sony will also have plenty of 3D fans out there, thanks to the PlayStation 3. First introduced in 2006, the gaming device could play Blu-ray discs and DVDs in addition to the countless games now available. Last year, the company added 3D support via a firmware upgrade, which means the device now supports Blu-ray 3D discs and 3D gaming.  The only drawback is that the PS3 cannot handle both 3D playback and lossless audio bitstreaming or decoding (DTS-HD, Dolby TrueHD).  Instead the player steps the audio down to the lossy equivalent (DTS or Dolby Digital) when playing back Blu-ray 3D Discs.  But hey, this is the only Blu-ray player released five years ago that isn't a boat anchor by now.
Back in January, Sony announced plans for four stand-alone Blu-ray players, three of which support Blu-ray 3D playback. The BDP-S480, BDP-S580 and BDP-S780 can all play back 3D and 2D Blu-rays, as well as DVDs, CDs, and even SACDs. Other common features between those three are support for Sony's Media Remote app and a little something called the Entertainment Database Browser. This nifty feature uses the power of Gracenote (now owned by Sony) to allow searches on actors and movie titles, to scrounge up a few extra details during your day-to-day AV fix. All three 3D players also have BRAVIA Internet Video content, which includes on-screen access to Sony's Video On Demand and Music Unlimited powered by Qriocity, as well as Netflix, Pandora, HuluPlus, Amazon Instant Video, and other web-based services.
The BDP-S780 has built-in Wi-Fi with Wi-Fi Protected Setup (WPS), DLNA support, and a front USB port. This model is also compatible with Sony's new HomeShare Wi-Fi Network Speakers. Besides the BRAVIA Internet Video, this player also has Skype embedded, which allows for big-screen calling with an optional USB TV camera. The BDP-S780 also offers 2D-to-3D conversion, IP Content Noise Reduction technology and Precision Cinema HD Upscaling technologies.
The BDP-S580 also has built-in Wi-Fi, as well as the IP Content Noise Reduction, DLNA support, and the possibility of adding in the HomeShare speakers. Rounding out the 3D line is the BDP-S480, which boasts speedy load times, as well as DLNA and HomeShare speaker support.
Last, but certainly not least, the BDP-S380 is Sony's only new non-3D Blu-ray player. Like the 3D models, this one offers SACD playback, as well as the BRAVIA Internet Video, the Gracenote goodies, and the Media Remote app. There's no built-in Wi-Fi, so if you want to go wireless, get the add-on LAN adapter.
---
Toshiba

It took Toshiba a few years to shake that whole HD DVD thing. However, they bounced into Blu-ray very nicely. This year, they have a total of three new players. The
BDX2200
is the only one to not offer 3D playback. However, it does 2D Blu-ray, as well as Netflix, CinemaNow, VUDU, Pandora, and other web radio options -- and all for under $100. Other features include USB and HDMI-CEC ports.
The BDX4200 and BDX5200 are Toshiba's other two player options. Both have all of the same features as the 2D player, but add in 3D playback. The big difference between the two is that for an extra $50, the BDX5200 can stream all of those web goodies with built-in Wi-Fi support.
---
VIZIO

For 2011, VIZIO announced two new additions to its Blu-ray player line. The
VBR122
does 2D and a whole lot of streaming via VIZIO Internet Apps (VIA). The
VBR133
adds in Blu-ray 3D playback. Those apps include Netflix, VUDU, Pandora, Blockbuster, and Hulu Plus. The VBR122 is actually the one with the built-in Wi-Fi, with the 3D model requiring a wire for its network features. However, the VBR133 is one of the least expensive 3D options that we've seen yet; Amazon is currently selling the player for under $100.
---
Yamaha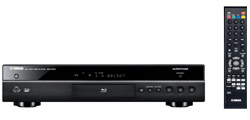 Yamaha squeaked in its
AVENTAGE BD-A1010
Blu-ray 3D player earlier this summer. Designed as a complement to the company's AVENTAGE line of home theater receivers, this player does 2D and 3D playback, and streams additional entertainment from Netflix, Blockbuster and YouTube.
Other features include dual USB ports (one in the back, one in the front), an RC-232C for custom install integration and control, and support for a free iPhone app (Android is on its way).
---
Also Check Out: