Blu-ray Blowout: Over 650 Blu-ray Discs Under $10 Each (Pulp Fiction, Dark Knight, Alien, Much More)
By Rachel Cericola
If you're reading this website, most likely you love movies and have a ton of friends that also love movies. We're not saying that all of you love good movies, but that's ok. Thankfully, Amazon is currently discounting Blu-rays in just about every genre, for every type of taste.
As part of its Cyber Week of sales, Amazon is slashing prices on a slew of Blu-ray discs. No, really; they are making it insanely easy to give the gift of Blu-ray. We found a whole mess of Blu-rays priced at under $10 each -- over 650 of them, to be exact.
These aren't crappy bargain bin titles, either. There are classic comedies, blockbusters, cult classics, tearjerkers, holiday flicks for the family, and oh-so-much more. See the complete lineup on Amazon: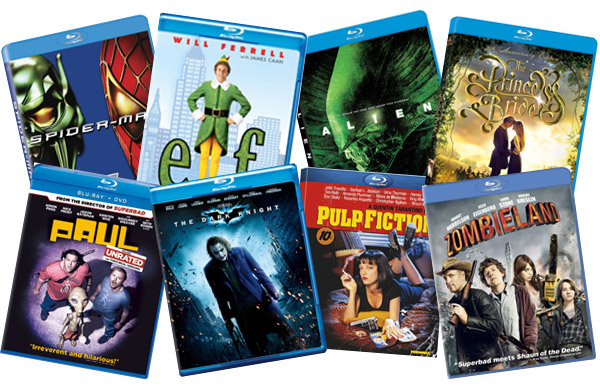 If you have any superhero fans on your list, know that you can stock up on stocking stuffers such as The Dark Knight, Batman Begins, Spider-Man, Spider-Man 2, and even Spider-Man 3. For your favorite sci-fi geek, we found the original Alien, the sequel Aliens, The Matrix, Paul, Spaceballs, and a ton of other titles.
There are even a few of my personal favorites (which I plan to snag), including Pulp Fiction, Cool Hand Luke, The Princess Bride, Zombieland, and The Evil Dead.
And finally, if you're looking to build up a collection of holiday favorites, now would be the time to do it. We found Elf, The Polar Express, National Lampoon's Christmas Vacation, A Christmas Story, and countless other Christmas classics, all for under $10 each.
Before you head out to stores for stocking stuffers, you should really check this list -- and maybe even check it twice. It's a little overwhelming, but it's also pretty awesome. There should be something here for everyone on your list (including yourself!).
Just know that when you place an order, you need to do it through Amazon. Amazon is offering the discounted Blu-ray prices, as well as the option for free Super Saver Shipping on orders over $25. However, you'd better order something soon; this offer is part of Cyber Monday Deals Week and some titles may run out of stock!
Please note: all deals posted on Big Picture Big Sound are current as of the posting date and time. These deals are frequently time- or stock-limited and generally do not last. Final pricing and stock are determined by the individual deal provider, not by Big Picture Big Sound so you will need to click through on the offer link to see if it is still available. Through our affiliate relationships with many online vendors, Big Picture Big Sound may earn a small commission on any referred sale.