Big Miracle Blu-ray Review
By Rachel Cericola
The Film
"There are going to be things that happen that neither you or anyone else can do anything about."
Ya think? Yeah, one of those things is the movie, Big Miracle.
Director Ken Kwapis must be quite the charmer. Despite having Dunston Checks In and The Beautician and the Beast listed amongst his credits, he can assemble some pretty impressive casts. His last film, He's Just Not That Into You, had so many A-listers, it's amazing they could fit all of the names on one poster (maybe it was continued on the back?).
Thanks to that rom-com's $178 million haul, he's compiled an equally interesting collection of names for Big Miracle. This time, it's not a rom-com -- unless you have a love for whales.
The Office's John Krasinski and Drew Barrymore star as ex-lovers brought together by the plight of three trapped whales. That said, the true-life tale seems secondary to the love stories, the news crews, and the political overtones. Also, like He's Just Not That Into You, there are just too many characters to keep up, but the movie throws in a few tears for good measure.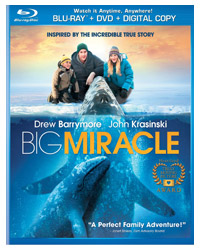 Big Miracle isn't bad, but well... it sort of is. A true story about the plight of a whale family seems like prime fodder for a family drama, a la A Dolphin's Tale. Instead, Big Miracle is sort of a big mess.

The Picture
If you can get through some of the sap, the whales and everything else look really nice in this 2.40:1 transfer. The print has some slight grain, but the image is a pretty sharp one. Colors are saturated and on the warm side, but make for a nice visual experience against the icy backdrop.
The Sound
The DTS-HD Master Audio track isn't action-packed, but provides just enough atmosphere to keep you interested. You can almost hear the chill in the air, with the sound of winds and crunching snow. Of course, there are the whales, which do sound wonderful. The score also makes itself very present, but never drowns out any of the other audio, like the dialogue.
The Extras
If you aren't familiar with the true tale behind Big Miracle, you'll want to check out "Truth is Stranger than Fiction." Even though it's only 12 minutes, it's a nice peek at the inspiration, as well as how it was adapted for the big screen. Otherwise, this release includes four deleted scenes and a feature commentary with director Ken Kwapis. It's a shame that some of the lengthy cast didn't get more of a chance to shine in this section, but everyone is squeezed into a 21-minute production featurette.
Also, it should be noted that Big Miracle is a "flipper disc," so the standard-def DVD version of the movie is on the opposite side of the Blu-ray.
Final Thoughts
Despite being a nice family movie on the surface, Big Miracle is a big sap-fest. And that would be fine and dandy, if it were just about the whales. Instead, it gets caught up in competing romances, politics and so many famous faces, you're definitely going to need a scorecard. At least it looks and sounds wonderful, so there's that. Swim at your own risk.
Product Details
Actors: Drew Barrymore, John Krasinski, Kristen Bell, Dermot Mulroney, Tim Blake Nelson, Vinessa Shaw, Ted Danson
Director: Ken Kwapis
Audio/Languages: DTS-HD Master Audio 5.1 (English), DTS 5.1 (Spanish, French), DVS 2.0 (English)
Subtitles: English SDH, French, Spanish
Aspect Ratio: 2.40:1
Number of Discs:1
Rating: PG
Studio: Universal Home Entertainment
Blu-ray Disc Release Date: June 19, 2012
Run Time: 107 minutes
List Price: $34.98
Extras:

Feature Commentary with Director Ken Kwapis
Deleted Scenes with Intros by Director Ken Kwapis
A "Big Miracle" in Alaska
Truth Is Stranger Than Fiction
BD-Live
D-Box Motion Code
Standard-Def DVD
UltraViolet Digital Copy