Big Eyes Blu-ray Review
By Rachel Cericola
The Film
Only a truly bizarre filmmaker could capture the truly bizarre story of Margaret Keane. Director Tim Burton (of course) puts his quirky mark on Big Eyes, a biopic about the artist, whose paintings of people and animals with oversized eyes became insanely popular in the 1960s.
During that rise to fame, however, Margaret never received any accolades. That's because her husband, Walter, was too busy taking all of the credit for himself. The entire story seems insane and silly. However, it's also very true -- and has the court records to prove it.
The film opens on the late 1950s, when Margaret Ulbrich (Amy Adams) does the unthinkable: She leaves her husband and begins her life as a painter -- of furniture. On the side, she tries to sell her unique portraits, which are her true passion. At a flea market, she catches the eye of Walter Keane (Christoph Waltz), a painter/realtor. The two soon get married and that's where the story gets truly bizarre.
Walter starts using his sales expertise to get Margaret's paintings a worldwide audience, all while claiming the work to be his own. After all, no one is going to buy "lady art," right?
Big Eyes is pretty comprehensive in its 106 minutes, covering the rise and fall of this big lie, as well as the marriage tied up in it. Despite the lack of Oscar love, Adams is great here. Then again, when isn't she great? Her Margaret is so sweet and reserved, even as she's sticking it to her now-ex. Waltz's Walter is a bit like a cartoon character, but that's perfect as well. Otherwise, it may be impossible to stomach someone that could do such despicable things.
It certainly isn't your typical biopic, but Big Eyes really shouldn't be. After all, it's written by the same guys (Scott Alexander and Larry Karaszewski) who did Ed Wood. So you can imagine that it has an unconventional, quirky tone to it. However, so does the story of Margaret Keane.
The Picture
Big Eyes is big in the image department. The 1.78:1 transfer is bursting with bright imagery, with a color palette that reminded me a lot of Edward Scissorhands. It's wonderful, with those baby blue cars, lush Hawaiian scenery, and gorgeous street scenes (they're so clean!), as well as Amy Adams' cute outfits, bleach blonde hair and pink lips. Even nighttime club scenes look great, with the neon, the blue lighting and the awesome black levels. There's also plenty of detail here, between the faces, the clothes, the brick, the screen doors, all of the canvas, and much more. Big Eyes a big piece of eye candy.
The Sound
This film's DTS-HD Master Audio 5.1 track is perfect for this movie. It's not bad, but it's not showing off, either. The dialogue is always clear and there's plenty for the surrounds, including street scenes, club chatter and the film's bold musical soundtrack.
The Extras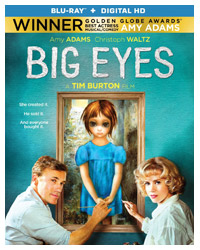 Considering Margaret Keane's history and body of work, it's surprising that this Blu-ray only has a pair of short featurettes. The 21-minute "Making of
Big Eyes
" mixes up shots from the movie with interviews. There's not a lot of info here that isn't covered in the movie. However, it includes interviews with several people in front of and behind the camera, most notably Keane herself and director Tim Burton. Slightly more interesting is the "Q&A," which has snippets taken from a screening. One portion includes writers Scott Alexander and Larry Karaszewski, with Keane and Amy Adams. About 10 minutes in, that flips to a panel with Adams, Tim Burton, Christoph Waltz, Krysten Ritter and Jason Schwartzman.
Final Thoughts
Big Eyes is a different type of movie for Tim Burton, but he certainly puts his signature stamp on it to make it better that the average biopic. It's actually fun to watch, which is sort of a weird, given the on-screen circumstances. The story is just fascinating, but it certainly helps that the performances and the video help to draw you in as well. While it's not Burton's best, Big Eyes still gets a big thumb up.
Product Details
Actors: Amy Adams, Christoph Waltz, Danny Huston, Jon Polito, Krysten Ritter, Jason Schwartzman, Terence Stamp
Director: Tim Burton
Audio/Languages: DTS-HD Master Audio 5.1 (English), Dolby Digital 5.1 (Spanish)
Subtitles: English SDH, Spanish
Aspect Ratio: 1.78:1
Number of Discs: 1
Rating: PG-13
Studio: Anchor Bay
Blu-ray Disc Release Date: April 14, 2015
Run Time: 106 minutes
List Price: $34.99
Extras:

The Making of Big Eyes
Q&A Highlights
UltraViolet Digital Copy