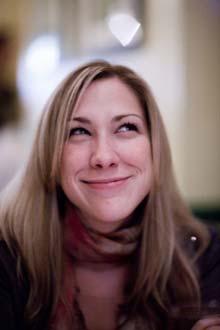 Beth's first job was at a local cinema - 
a majestic art deco movie palace
. It embodied everything that she loved about movies: the big screen, the glamour, the eventfulness of it all, and her high school years were spent taking full advantage of the free admission. When she wasn't oversalting and ruining batches of popcorn, she could often be found sneaking away from the concession stand to catch a glimpse of the screen... or staring up at the gorgeously painted ceiling... or admiring the fire curtain.
A talentless actress, she nonetheless briefly flirted with a career in performance (opera) before coming to her senses and heading for the more pragmatic pastures of pixels and perl and ended up studying computer science. While she's come to terms with the fact that she's never going to get to the Vanity Fair Oscar party on her own merit, she has since made every person she knows in the industry promise to take her as their guest if they ever get the chance. A girl can dream.
When offered the opportunity to redesign Big Picture Big Sound's web site, Beth did not hesitate to say yes. A reader (and occasional debugger) of the site for some time, she had all sorts of improvements in mind. And so, armed with a napkin drawing (promptly lost) of Chris and Joe's vision, she set to work and soon BPBS as you see it today was born. Being invited to contribute to the site was the icing on the cake.
Beth has been a fixture on the internet for many years. An erstwhile blogger, she was an inaugural writer for the London Metblog and her posts about the 7/7 London bombings landed her on page 4 of the USA Today as a spokesperson for social media - headshot and all. More recently, she was featured on beauty site Birchbox for managing to master being both geeky and girly all at once.
Beth's Home Theater System:
Samsung UN55D8000 LED HDTV
Panasonic DMP-BDT320 Blu-ray 3D player
Marantz NR1402 A/V receiver
Apple TV
Mirage MX 5.1 speaker system
Logitech Harmony 900 universal remote