Battleship Blu-ray Review
By Rachel Cericola
The Film
When a movie is based on a board game, you go in with a few preconceived notions. Sorry, it's just not possible to clear your head about this sort of thing.
However, Battleship is pretty much in name only. The only ones playing games here are a bunch of aliens. That's right; aliens. Was there an anniversary edition of the game I wasn't aware of? Director Peter Berg makes the best of a topic that probably shouldn't have made it past a pitch meeting. In place of things like "acting" and "plot," he just throws in a ton of action, explosions, and beautiful looking people. Is that so wrong?
Yes and no. Battleship is basically just another "us against the aliens" type of movie. Berg fills it to the brim with gunfire, explosions, and more explosions. Unfortunately, it's also filled with people that Hollywood is trying to make "happen." Taylor Kitsch, Brooklyn Decker and Rhianna (as an actress!) are all in this film, and it's not doing anyone else in it any favors. That includes Liam Neeson, who grumbles his way through -- and he's grumblier than he was in The Grey!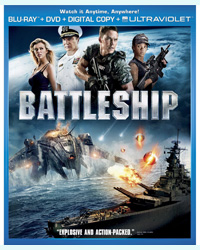 The casting is just fine. Frankly, they could have pulled people off the street and it would have had the same result.
Battleship
is all about the non-stop action and a ton of eye candy. If you don't expect cliché and corny to accompany that, I'd like to get a peek at the script you're writing.
Mindless action has its place, but your brain may start to feel mushy after a little while. At 132 minutes, this film is about 30 minutes too long. However, the absolute worst thing about Battleship is how Universal tried to tie it to the classic kiddie game. Why bother? Were explosions and aliens not enough for people?
A-10, B-2, C-8; it's Mark Grady's turn. Check out his theatrical review of Battleship.
The Picture
If you're going to make a movie and make the eye candy the main focus, you'd better do it right. Thankfully, Universal has delivered a feast for the eyeballs with this one. Skintones are a bit on the rosy side, but Battleship is as stunning as you'd expect a blockbuster based on a board game to be. The 2.40:1 transfer has great black levels and saturated colors throughout. It also boasts some insanely good details, from the stubble and sweaty faces to the explosions and other carnage.
The Sound
From the first few minutes, this DTS-HD Master Audio 5.1 track lets you know what kind of movie this is going to be. Um, a loud one! Battleship is like one long music video, with the plenty of crashes, smashes and explosions sprinkled in. The track rumbles loud and often, with the sound of ships, planes, water sprays, gunfire sprays, crunching metal, and so much more. If this track were any more active, you'd feel a breeze blowing in your face. Everything is cranked up to the next level -- except the actual movie, of course. This release's saving grace is that it's a big AV fest. Strap yourself in and enjoy.
The Extras
Like the movie, the extras section is mostly about quantity. There are a few interesting tidbits here, though. The standout is "All Access with Director Peter Berg," a picture-in-picture commentary track with interviews and tidbits about the production popping up throughout the film. Berg occasionally breaks into the action with more in-depth shorts about certain scenes and characters. If you want even more, Universal has also included the Second Screen option for tablets and PCs.
Everything else is on the shorter side, with pieces about the cast, the effects, the board game, and more. There's also a nice "USS Missouri VIP Tour," which throws in a bit of a history lesson to boot.
Final Thoughts
Action, explosions and the concept of kicking alien ass is nothing new, but director Peter Berg does his best to make Battleship fun. It's completely mindless fun, though, with a gorgeous image and even better audio. If you go in expecting something more, I've got an advanced ticket to Hungry Hungry Hippos: The Movie I'd like to sell you.
Product Details
Actors: Taylor Kitsch, Alexander Skarsgård, Rihanna, Brooklyn Decker, Tadanobu Asano, Liam Neeson
Director: Peter Berg
Audio/Languages: DTS-HD Master Audio 5.1 (English), DTS Surround 5.1 (French, Spanish), DVS 2.0 (English)
Subtitles: English SDH, French, Spanish
Aspect Ratio: 2.40:1
Number of Discs: 2
Rating: PG-13
Studio: Universal
Blu-ray Disc Release Date: August 28, 2012
Run Time: 103 minutes
List Price: $34.98
Extras:

Alternate Ending Previsualization
All Access with Director Peter Berg
USS Missouri VIP Tour
Preparing for Battle
All Hands on Deck: The Cast
Engage in Battle
Commander Pete
The Visual Effect of Battleship
Second Screen
D-BOX Motion Code
BD-Live
Standard-Def DVD
UltraViolet Digital Copy