Battle of the Sexes Review
By Matthew Passantino
Stone Serves Up Her Best Yet
Jonathan Dayton and Valerie Faris' "Battle of the Sexes" pits a hardworking, committed and experienced woman against a bumbling, has-been buffoon, who is just desperate for attention. For a movie that takes place in 1973, it's astounding - and somewhat unfortunate - how relevant the movie feels through today's lens.
Emma Stone follows up her Oscar-winning turn in "La La Land" with an even richer and more layered performance as Billie Jean King, a tennis superstar at the height of her powers. Early on, she, along with the rest of the women's team, are ousted from the Tennis League by head Jack Kramer (Bill Pullman), because Billie Jean fights against the unequal prize money for women. Jack initially calls her bluff but without much hesitation, Billie Jean has challenged him to the point of expulsion.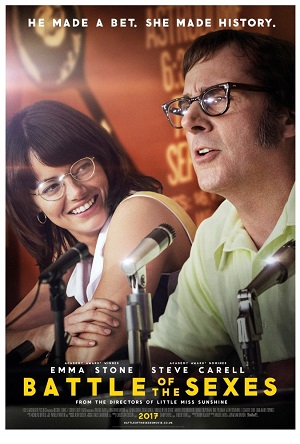 Frustrated on the court and off, Billie Jean and the team create their own women's league, managed by Gladys Heldman (Sarah Silverman), who has to work overtime to secure funding and sponsorship. Billie Jean is thrilled that there are some eyes on women's tennis but many distractions thwart her focus.
Out of the blue, she gets a call from Bobby Riggs (Steve Carell), who proposes the idea of a tennis match, which will pay more prize money than she had ever dreamed of winning. Bobby, who is currently living off his wife (Elisabeth Shue), has left his tennis career in the rearview mirror. Bobby's star has faded and now he has a gambling problem and is always looking for the next big game. He pitches the idea of a match between the "hairy-leg feminist" and the "male chauvinist," which is bound to be a must-see event. Billie Jean immediately declines but not before assuring him that she does in fact shave her legs.
As the story goes, Billie Jean and Bobby Riggs do eventually play against each other in a heavily watched sporting event. The screenplay by Oscar-winning scribe Simon Beaufoy ("Slumdog Millionaire") builds on the usual beats and conventions leading to the final showdown but has still crafted an entertaining ride to the final game. Even though the tennis match is well-known and documented, Dayton and Faris are able to create a modest amount of tension on their way to the film's final moments.
The directors keep things light and entertaining, even when Billie Jean's story gets to be too much for the character. Off the court, she is in a marriage that appears to be for show and is struggling with her attraction to her hairdresser (Andrea Riseborough). Stone conveys Billie Jean's sense of being pulled in a million directions with equal amounts of grit, determination, and frustration. Billie Jean spent a lot of time with cameras on her and a smile plastered on her face but Stone is able to portray her longing with the simplest look.
Carell is perfectly suited for the broad, scene-chomping role of Bobby and he makes a perfect antagonist for Stone's more levelheaded Billie Jean. There is a comfortable camaraderie between the stars, which makes "Battle of the Sexes" an entertaining watch.
"Battle of the Sexes" couldn't be a timelier film. It could have gone deeper into the gender roles of the time, without emphasizing the surface-level exterior of the Riggs character for laughs. But under the gentle hand of Dayton and Faris and with the performances of Stone and Carell, "Battle of the Sexes" is worth seeing.