Battle Royale: Complete Collection Blu-ray Review
By Greg Robinson
So today's lesson is, you kill each other off till there's only one left.

Nothing's against the rules.

The Films

Much has been written about Kinji Fukasaku's controversial Battle Royale, and its unnecessary sequel, Requiem. In truth, the controversy is warranted. For many moviegoers, the idea of watching junior high schoolers (read "children") being forced to kill each other in a cruel, government-orchestrated contest of survival is downright disturbing. However, if you can get past its intentionally provocative subject matter, you'll find an inspired and thought-provoking masterpiece of mayhem just below the surface.

For those unfamiliar with Battle Royale, a Japanese film originally released in the year 2000, the quick plot summary I provided above may be ringing a few bells. It's no coincidence that Battle Royale is making its long-awaited DVD and Blu-ray debut in the U.S. the same week that the film adaptation of Suzanne Collins' awesome The Hunger Games is hitting theaters; the two tales admittedly share a few common threads. However, let's be clear: Battle Royale and The Hunger Games are two very different stories with very different agendas. Blockbuster may recommend one from the other ("If you liked Dr. No, you'll love Dr. Dolittle!"), but avoid drawing any conclusions about one without first seeing the other.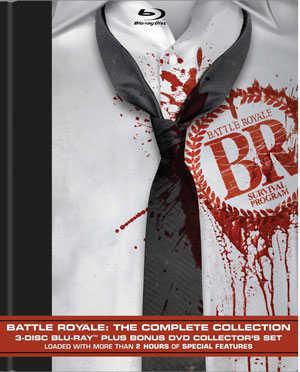 Fans who purchase this "Complete Collection" get both the Theatrical Cut and Director's Cut of the original film, along with its interesting albeit inferior sequel,
Requiem
. It should be noted that unlike many alternative cuts out there, the differences in
Battle Royale
are fairly substantial, particularly in terms of pacing. The Director's Cut provides a few welcome flashback scenes and adds a few layers of character development, but it comes at the cost of slowing the film down, often at inopportune times. Personally, I'd stick with the Theatrical Cut, but the Director's Cut is definitely worth a look.
The Picture

I have to confess that this was my first time watching the original Battle Royale in its entirety. I'd seen bits of an import disk many years ago, but my frame of reference is admittedly not all that it could be.  That said, I was pleasantly surprised with Anchor Bay's Blu-ray treatment of the two films. Although the films do have a flat and somewhat dated look to them, and there is definitely some crushing of detail during the film's nighttime sequences, both films look generally sharp with accurate skin tones and a clear delineation of color amidst the island greenery. Overall, these are perfectly respectable transfers.

The Sound

This was the real surprise of this set. The Director's Cut of Battle Royale features a 7.1 Dolby TrueHD soundtrack and boy does it pack a whallop. Machine gun fire moves far and wide into the rear sound stage and the surround channels are given a lot more to do than you might expect given the film's age and understated appearance. Dialogue is clear throughout both films (not that I could understand it without the help of English subtitles), and panning from one channel to the next is smooth and convincing - particularly in Requiem, which has more aircraft sound effects to play with.
The Extras

Anchor Bay has put together a handsome package here, with Disc 4 entirely devoted to bonus material in support of the original Battle Royale. If you're not going to look through the various featurettes and TV spots, do make sure you at least check out "The Making of Battle Royale," a nearly hour-long look behind the scenes at the crafting of this cult classic. It does overstay its welcome a bit, but fans will find a lot to like.

Final Thoughts

As mentioned earlier, for some the idea of kids wearing explosive collars being forced to kill each other will be enough to say "no thanks" to Battle Royale. And that's to be expected. That divisiveness is guaranteed to follow a pair of films such as these.

For everyone else: the wait is over.

Product Details
Actors: Beat Takeshi, Tatsuya Fujiwara, Aki Maeda
Director: Kinji Fukasaku
Audio/Languages: Dolby TrueHD 7.1 (Japanese, Director's Cut), Dolby TrueHD 5.1 (Japanese, Theatrical Cut and Requiem)
Subtitles: English
Aspect Ratio: 1.78:1
Region: A
Number of Discs:4
Rating: Not Rated
Studio: Anchor Bay
Blu-ray Disc Release Date: March 20, 2012
Run Time: 368 minutes
List Price: $49.99
Extras:

"The Making of Battle Royale"
Press conference
Instructional video
Audition and rehearsal footage
Behind-the-scenes featurettes
Special effects featurette
Theatrical trailer
TV spots