Bang & Olufsen BeoPlay A9 Speaker is Stylish and Circular
By Rachel Cericola
Bang & Olufsen never seems to disappoint when it comes to cool-looking products. You have to check out the company's latest active speaker system, the BeoPlay A9. In fact, we dare you to look away.
The new active speaker system under the B&O PLAY brand is a giant circular speaker. It may as well have a bullseye painted right on it, because people are going to be gravitating to this thing like moths to light. Just look at it!
Now, the BeoPlay A9 is wireless with support for AirPlay and DLNA support, so you won't have to worry about placement or tons of wires messing up that cool, unique look. It also boasts sound to rival the speaker's appearance, with two 0.75-inch tweeters and two 3-inch midrange units, all four driven by separate 80-watt class-D amplifiers. There's also an 8-inch bass unit, which has its own class-D amp.
As if all of that wasn't cool enough, the control is even more unique. Volume control is via the swipe of a hand or you can use your smartphone or tablet to do the deed.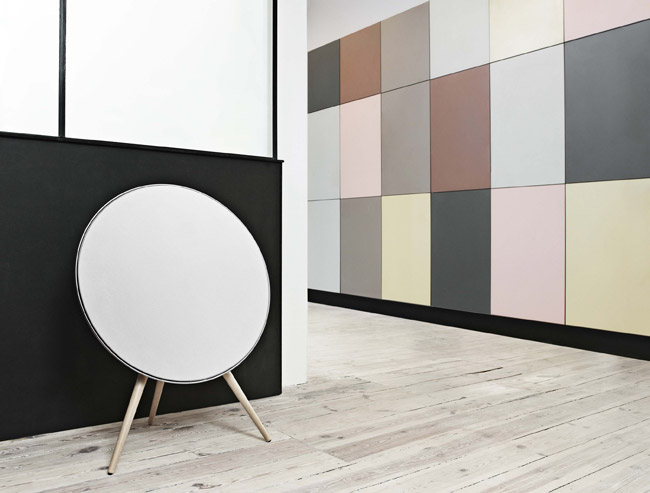 That AirPlay is a nice perk, too, allowing users to stream sound right to the speaker from any networked iOS device, Mac or PC. Other features include a DSP (digital signal processor) algorithm, patented Adaptive Bass Linearization technology, and three pre-set sound modes. Featuring an output of 480 watts of power, the BeoPlay A9 also has a line-in and USB socket for direct hookup of almost any portable, as well as charging options.
"We asked Oivind Slaatto, a young designer who also has a strong interest in music, to create a design that is as free of visual noise as possible, and then had our engineers empower it with truly amazing sound," said Henrik Taudorf Lorensen, VP at B&O PLAY. "The result is a liberating take on acoustic performance with a cleanly graphic look that is intuitively easy to use."
Designed to sit on the floor or hang on the wall, the BeoPlay A9 features solid wood legs in oak, beech or teak. As far as the speaker is concerned, the eye-catching fabric options include silver, white, black, red, green and brown, all of which are interchangeable.
As with most Bang & Olufsen products, the BeoPlay A9 won't come cheap. Look for it online and in stores starting in the second half of November, with an MSRP of $2699.
Where to Buy: