B&O To Launch First WiSA-Certified Wireless Speakers This Fall
By Rachel Cericola
People used to pooh-pooh the idea of wireless sound. Sure it was cool, but it also produced inferior sound quality. Bang & Olufsen is hoping to change that perception, announcing a brand-new wireless speaker platform.
The new platform is a collaboration between B&O, the WiSA Association (Wireless Speaker and Audio Association) and Summit Semiconductor. It uses WiSA's open standard to produce sound in a multi-channel wireless setup.
Yes, it's wireless, but also robust enough for 24-bit, uncompressed music. No wire clutter is needed! Instead, it uses the relatively uncongested 5.2-5.8GHz range, so there's no interference from other signals. It also promises to drive anything from a pair of speakers to a full 7.1 surround system, all without those pesky wires.
After talking up the technology, Bang & Olufsen announced plans to produce the world's first WiSA-certified wireless speaker, which will fall under the "Immaculate Wireless Sound" brand. Although the company wasn't willing to divulge any info on that product just yet, you won't have too long to wait. The speaker is expected to ship sometime at the end of October 2013.

Also, we know that the speakers will be able to connect to any WiSA-compliant third-party TV, Blu-ray player, AV receiver or other device. Other features include the promise of a simple setup, as well as Dynamic Frequency Selection to combat latency and error problems.
"Our engineers have been testing the boundaries of wireless speaker technology for years, but until today the transmission quality simply hasn't been reliable and good enough," said Bang & Olufsen CEO Tue Mantoni. "Now, our investment in this pioneering technology and our collaboration with WiSA pay off as we introduce Bang & Olufsen's latest innovation in sound, design and technology -- we call this Immaculate Wireless Sound. Immaculate Wireless Sound is the biggest innovation from Bang & Olufsen for several years and will form the backbone for a launch of several new speaker products later this year."
Bang & Olufsen is currently demonstrating Immaculate Wireless Sound at this week's 2013 CEDIA Expo in Denver, Colorado. More information on the first Immaculate Wireless Sound speaker will come closer to the product's launch date.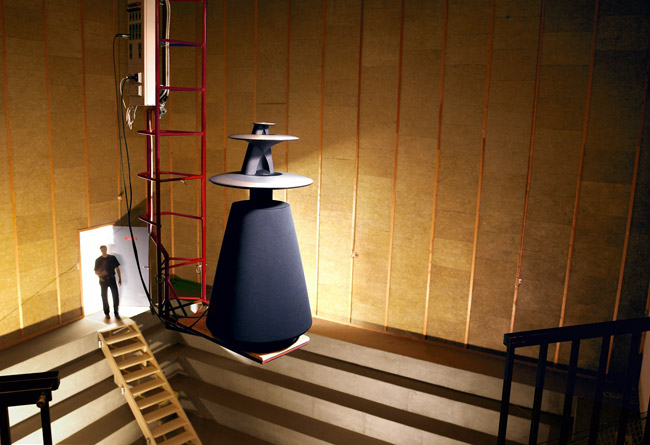 For More Information:
More News from CEDIA: