Azuradisc CD and DVD Repair and Disc Restoration Service Review
By Chris Boylan
I Need a Fix
A while back, I saw a demo of a prototype CD/DVD cleaning and repair machine that looked pretty nifty. For an announced price of $250, the SkipAway disc cleaning and repair machine seemed to offer professional CD and DVD disc repair performance at a price well below the heavy duty pro machines. Unfortunately as these things sometimes go, the machine doubled in price when it made it to production and its ability to restore badly damaged discs to full playability was pretty limited. You can read more about it in our SkipAway Pro review.
But in bringing these machines into the BPBS labs for review, I found that a large number of friends, acquaintances and family members had been quietly building up a library of their own scratched and damaged silver discs, placed in a pile in hopes for a solution to reveal itself one day. There was certainly no shortage of volunteers when I asked around for a few damaged discs to repair. But if the inexpensive machines don't work that well, and the pro machines sell for upwards of $1500, then what's a poor music, movie or game lover to do? That's where CD and DVD repair services come in. And with a pile of scratched CDs and DVDs in hand, I decided to do some investigation.

I found that the costs of disc repairs vary significantly, from around $1.00 to $4.00 per disc, depending on volume and the service selected. Walt Disney actually offers their own
DVD replacement program
. For $6.95 (plus the cost of shipping the DVD to them), they'll send you a brand new replacement. Not a bad deal, but only applicable for Disney's DVD titles.
One particular service that caught my eye was "We Fix CDs" from Azuradisc. Azuradisc actually makes their own professional disc repair machines, starting from $695 for a basic disc buffer/polisher that repairs minor scratches to $2495 for an industrial strength machine that repairs even deep gouges on two discs at a time. For high volume CD or DVD-based rental or resale businesses, Azuradisc will even lease you a super-duper repair machine ("The Advantage") for $387/month. This machine is capable of polishing up to a staggering 177 discs per hour.
For those of us who only need the occasional repair, Azuradisc also offers a disc-repair-by-mail service. You can have them run your damaged discs through their super high-end disc repair machines at prices ranging from 85 cents per disc (for extremely high volume orders) to $2.95/disc for 1-10 discs.  The more discs you send, the lower the prices, with the price dropping to $1.75 per disc (11-25 discs) and $1.50 per disc (26-50 discs).
I decided to give their disc repair service a spin (no pun intended), sending them an assortment of 25 discs.  Most were CDs and DVDs, with one Wii game disc and one HD DVD.  Some of these were lightly scratched, and some had deeper scratches and gouges. All of the discs had problems in playback before I sent them in. As a real torture test, I decided to include a few of the really chewed up discs I had already attempted to repair myself through multiple passes in the VenMill Elite 60 disc repair machine. The results from Azuradisc were pretty impressive.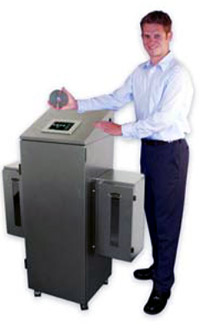 Some of the discs were simply too badly damaged to be repaired by this or any method. These mostly had damage to both the play side and the label side of the disc and some even had spots where light shone right through the disc. Damage like this to the data layer and foil layer cannot be repaired as the actual data has been lost.
As I mentioned in my SkipAway review, these particularly bad CDs were owned by an old friend of ours who had no concept that CDs should be treated with care. Instead I think he may have used them as projectile weapons to scare away mice during the long slow winter months in his general store in upstate New York. Or perhaps he strapped them onto his boots for a little impromptu ice-skating session. Before Azuradisc returned these discs to me, they contacted me to let me know exactly which discs could not be repaired and why, so at least I was forewarned.
For the rest of the discs - even ones with deep scratches - the Azuradisc service was extremely effective. Four discs which had failed to be repaired by the VenMill Elite 60 (a Wii game disc, one HD DVD, one CD and a regular DVD) were restored to full playability by the Azuradisc service. Five of the afore-mentioned badly gouged CD discs and one deeply scratched/cracked DVD could not be repaired (due to damage to the data layers), but the rest were restored to perfect playability. The repaired discs were visibly better than they had been - we couldn't spot any scratches on their shiny playing surface. But we also watched (or listened to) nearly all of the restored discs from end to end and saw or heard no glitches in playback.
As for the CDs that could not be fully repaired, I was at least able to rip some of the songs on these damaged discs to my PC in order to burn replacement discs for our friend's listening enjoyment (while he skated around scaring mice). Before the repair attempt, I couldn't even get my PC to recognize these discs so even this was an improvement.
How It Works
Most disc playback problems are caused not by damage to the underlying data, but by scratches in the disc's protective polycarbonate layer. These scratches cause your DVD or CD player's laser to fail to "see" that data or to skip over the uneven disc surface. By precisely polishing a scratched disc, surface irregularities can be removed, restoring optical perfection to your damaged discs, allowing the player's laser to see the underlying data again.
Azuradisc machines use a liquid microabrasive formula called PoliCoolTM to continuously recirculate a finely abrasive compound onto a single polishing head which polishes away scratches from the disc. This process provides both the scratch removal and final polishing action while keeping the discs cool. Apparently excessive heat is the enemy of CDs and DVDs as it can cause separation of the internal substrate as well as warping of the disc itself.
After polishing in the Azuradisc machine, each disc is also washed, rinsed and dried by machine eliminating the risk of re-scratching by human hands. The Azuradisc machines feature the newest "floating head" technology, which keeps each disc surface optically flat, leaving finishes that are actually, in some cases, superior to the original disc production.
How You Use It
To take advantage of Azuradisc's disc repair service, you simply select how many discs you want repaired, select your shipping method, print out the label, pack up the discs and send them in. About 48 hours after they receive your discs, they'll pack them back up (repaired, of course) and will ship them back to you at no additional charge.
You can repair a single disc, but $2.95 plus shipping makes that a bit cost prohibitive.  Lower prices kick in for larger orders so you might want to get together with friends to pool all your damaged discs together for one collective repair. Libraries and businesses take note: high volume repairs for repeat customers can be had for as little as 85 cents per disc (plus shipping).
For convenience, you can mix and match different types of discs into one kit: data and music CDs, Wii, Playstation, PS3 and Xbox games, data and movie DVDs, even Blu-ray Discs or HD DVD discs. As far as the rates are concerned a dual-sided DVD counts as two (they will repair both sides) so keep that in mind when compiling your big stack 'o discs.
Turn-Ons:
Effective CD and DVD Disc Repair Results Even on Badly Damaged Discs
Low Per-Disc Repair Cost
Fast Turnaround
Turn-Offs:
Lower prices only kick in for more than 10 discs (more than many people need)
Final Thoughts
No matter how careful we try to be, accidents happen. And kids and pets tend to be less careful with our expensive silver discs than we'd like them to be. But purchasing a professional quality repair machine just doesn't make economic sense to most consumers. With Azuradisc's by-mail disc repair service, you can now take advantage of the latest disc repair technology, and get your favorite movies, music and games back up and running for under $2.00 a disc.
Note: This review was updated in 2013 with new lower pricing options and elimination of the disc minimum.
Contact Information:
Azuradisc Inc.
7307 South 89th Pl,
Mesa AZ, 85212
Phone: 1-800-933-4923 (800-WE-FIX-CDS)

E-Mail: sales@wefixcds.com
On the Web: