Atlantic Technology Demonstrates H-PAS PowerBar 235, Confirms Pricing and Availability
By Chris Chiarella
This week at the CEA Line Shows in New York City, Atlantic Technology is providing live demonstrations of their new (some are saying "revolutionary") soundbar, the H-PAS PowerBar 235. As folks following the wildly popular soundbar category know, these slim, convenient speaker boxes generally need to be paired with an outboard subwoofer in order to achieve full-range audio reproduction for movies and music. But with just the single box, the PowerBar 235 hits deep bass notes down to a tooth-rattling 47 Hz. At the same time, it offers lower levels of harmonic distortion than the competition, which is a boon to dialogue in particular.
The "H-PAS" name is deference to Atlantic Technology's "Hybrid Pressure Acceleration System" design algorithms which are essential to the soundbar's performance. The secret here is the proprietary internal layout of chambers, galleries, traps, and vents which channel the sound generated by the rear sides of the two small woofers. The results of this patented solution is a sound that can be compared to bigger, more elaborate speaker systems. H-PAS speaker designs can also be run full -power without the high levels of distortion of large-diameter woofers, according to the manufacturer.


The all-in-one H-PAS PowerBar 235 is a powered (80 total watts RMS) two-channel system that can be wall-mounted beneath a video display. If inverted for shelf mounting above the TV, the control panel display can be electronically rotated for correct view in either configuration, a nifty trick. Alternate display labels are also provided for both contingencies. While offering enjoyable, unprocessed stereo, it also contains its own digital signal processing with Dolby Digital and DTS decoding to render a three- or five-channel illusion. One coaxial and two optical digital inputs are provided, a rear RCA stereo input, front mini-jacks to patch in a portable audio player, and yes, a subwoofer output if you really need to dust the ceiling.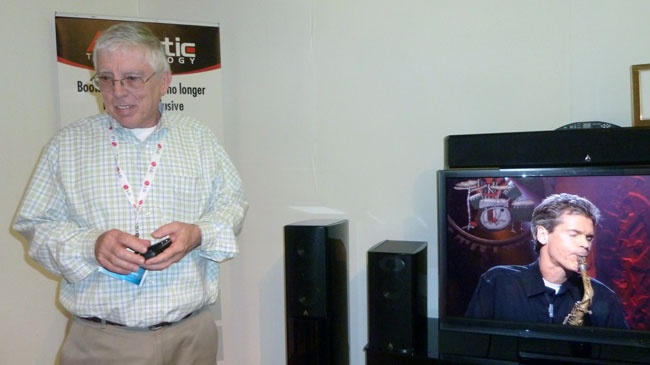 Even without an outboard kicker, it's plenty room-filling for a small-to-medium-sized room. Atlantic Technology was running demos of the H-PAS PowerBar 235 on the show floor at the CEA Line shows and, sure enough, despite the high levels of crowd noise and competing loudspeaker auditions, this single dude put out a powerful full-range sound. It will arrive at retail this September, with a suggested price of $899.
Where to Buy: