Ash vs. Evil Dead: The Complete First Season Blu-ray Review
By Rachel Cericola
The Film
"Yo, Granny. Hope you took your Geritol, 'cause it's time to dance!"
Over the years, there have been Evil Dead comic books, video games, and even a big-budget remake/reboot. The one thing missing from all of those installments was something Ash vs. Evil Dead: The Complete First Season has in spades -- Bruce Campbell, who is just as sharp, smug, and awesome as he was decades ago.
Based on the cult film franchise, this series is the piece of the puzzle that fans have been waiting years to see. What the hell happened to Ash Williams, our chainsaw-wielding hero? Exactly what you'd expect. Set 30 years after the first three Evil Dead films, Ash vs. Evil Dead finds Ash living in a trailer, working at ValueShop, and trying to impress barflies with grand stories about his missing hand.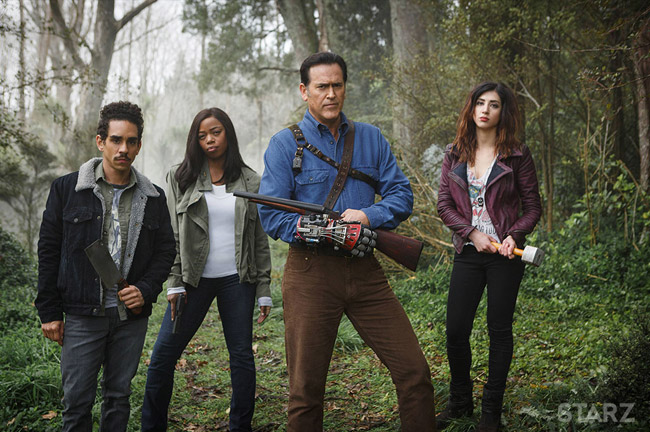 Ash being Ash, he uses the Book of the Dead to impress one of his one-night stands, and accidentally awakens the Deadites. This is a good thing for us. Not only does it bring about a whole new crop of adventures and quotable lines, but reconnects Ash with his chainsaw and his boomstick. It also weaves in a slew of new characters that play really well off our main protagonist, which isn't exactly an easy thing to do. That lineup includes Ray Santiago, Dana DeLorenzo, Jill Marie Jones, and Lucy Lawless. Alright. Who wants some?
The Picture
The Evil Dead franchise has come a long way, from an image standpoint. This 1.78:1 transfer is pretty perfect, as well as pretty gruesome (in a good way). Black levels are deep and the contrast is great throughout all 10 episodes. Despite the dark nature, the color palette is bright, whether it's displaying skintones, creatures, blood, background scenery, or anything else. The detail is also impressive, with evident texture on Ash's girdle, Ely the lizard, the thick pools of blood, the specks of dirt, and much more. There are definitely parts that aren't as detailed as others, but they aren't supposed to be. This is Evil Dead, not Game of Thrones. It's still pretty darn groovy though.
The Sound
Aside from the actual content, the audio is absolutely the best thing about this Blu-ray set. It's not often that you get a 7.1 track with a TV show. Well, Ash vs. Evil Dead isn't your average TV show. Sound effects fly all around the room with killer directionality, whether it's thunder, footsteps, gunshots, Ash's chainsaw, or random rattling and rumbling. And when demons strike, it's especially awesome. Basically, there always seems to be something filling the soundfield. When it does take a breather, Joseph LoDuca's score is there to pick up the slack. That said, it's important to note that none of this activity drowns out the dialogue at all. It's just a really active track.
The Extras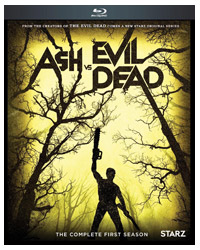 On paper, there aren't too many extras included in this 2-disc set, but it's a decent start. There are commentary tracks on all 10 episodes. Bruce Campbell is featured on eight of those, with Sam and Ivan Raimi joining in for the pilot. Other than that, there are three other shorts on Disc 2. "Ash Inside the World" is the most comprehensive, even though it tries to condense the entire first season in just 16 minutes.
Final Thoughts
Ash vs. Evil Dead is a real treat for fans of the franchise. It has a fun story, memorable dialogue, and a great cast. While I would have loved a few additional extras, it's hard to complain. The image and audio are borderline perfect and the content is killer. Hail to the king, baby!
Product Details
Actors: Bruce Campbell, Ray Santiago, Dana DeLorenzo, Jill Marie Jones, Lucy Lawless
Directors: Michael J. Bassett, David Frazee, Michael Hurst, Rick Jacobson, Sam Raimi, Tony Tilse
Audio/Languages: Dolby TrueHD 7.1 (English), Dolby Digital 5.1 (French), Dolby Surround 2.0 (Spanish)
Subtitles: English SDH, Spanish
Aspect Ratio: 1.78:1
Number of Discs: 2
Rating: NR
Studio: Anchor Bay
Blu-ray Disc Release Date: August 23, 2016
Run Time: 294 minutes
List Price: $49.99
Extras:

Audio Commentary on All 10 Episodes
Ash Inside The World
How To Kill A Deadite
Best of Ash