Artison's RCC Nano 1 Home Subwoofer: Petite Performer Packs a Punch
By Rachel Cericola
A good subwoofer doesn't have to take up a chunk of your living room. Artison is packing big sound abilities into the pint-sized RCC Nano 1.
The RCC Nano 1 is the company's first freestanding subwoofer. It's also a subwoofer that measures a mere 7.5-by-8-by-9 inches, which includes the feet and grilles. Despite that small size, this 300-watt subwoofer has an oversized 8-inch woofer, variable crossovers, and two active 6.5-inch long- throw aluminum drivers.
Because of that compact enclosure, the RCC Nano 1 is easy to squeeze into any space, without taking up too much room. It boasts omni-directional low-frequency sound waves, no matter where and how it's placed.
Of course, it has so much more. In fact, Dennis Burger said that the size is the least interesting thing about the RCC Nano 1. "What's more impressive is that Artison has delivered such a feature-rich, installation-friendly subwoofer for such a reasonable price," he said. "And yes, the size of the Nano 1 does factor into its installation flexibility, but it's far from the only thing that makes this such a versatile sub." [You can read his full review over at Residential Systems.]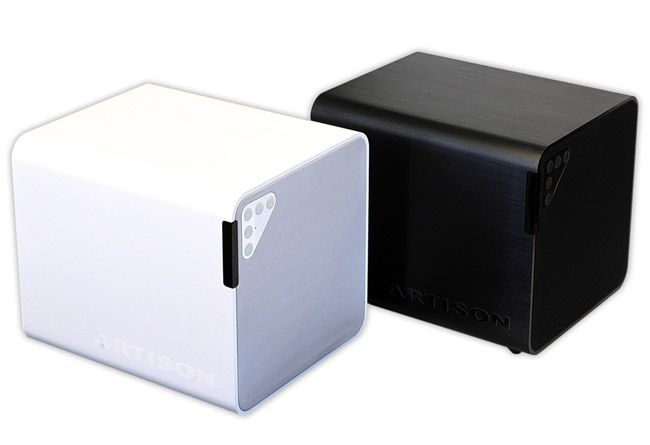 The RCC Nano 1 has Artison's reactance cancelling (vibration free) design, which boasts an accurate frequency response (32Hz to 160Hz) and secure placement. Other features include Adsorbing Damping materials, a unique bass-enhancing algorithm, a built-in wireless input, high- and low-level inputs, and a 12-volt trigger. It also has a design that's rigid and thin -- thanks to the 6061 T6 Aluminum.
"Many installations and audio configurations benefit from a freestanding subwoofer," said Cary Christie, Artison's founder and chief designer. "With the Nano 1 subwoofer, our custom installer and CE dealer partners can help their customers achieve optimal bass and special effects reproduction from an ultra-compact unit that complements any decor."
Artison is selling the RCC Nano 1 now, priced at $999. The company is also making a wireless transmitter available for an additional $99.
For More Information: