Art Meets Technology with The Frame Ultra HD TV from Samsung
By Rachel Cericola
TVs have gotten a lot better looking over the years. However, this upcoming lifestyle set from Samsung Electronics is designed to be a true work of art, both inside and out.
The Frame is a new Ultra HD 4K display that you may never want to turn off. Instead of fading to black, the TV can flip to an "Art Mode" which displays over 100 pieces of visual art. And the company has made some design tweaks so you might have trouble telling the TV version from actual framed artwork. There are 10 different art categories to choose from, including landscape, architecture, wildlife, action, drawing, and more.
Because The Frame is meant to double as a piece of art, the technology behind it needs to blend into the background more than your average TV. Samsung collaborated with Swiss designer Yves Behar on the design, but has also incorporated a few other new innovations. One is the Invisible Connection cable, a super-thin high bandwidth fiberoptic cable which connects all of your A/V sources to the TV with a single cord. A separate A/V connection box handles the source connection and selection but this can be hidden out of sight in a cabinet, along with your cable box, Blu-ray player or streaming set-top box. The Frame also comes with the company's new No Gap Wall-mount, so the TV can come closer to the wall than ever before.
In order to pass itself off as artwork in a variety of different room lighting conditions, the set uses an ambient light sensor to adjust its brightness and contrast accordingly. The Frame also includes a motion sensor so it can tell when no one is watching (and then it can truly fade to black in order to conserve energy). But when you walk back into the room it will turn itself back on again and get back to displaying art. Other than those perks and all of the choices for art layouts and colors, The Frame will also have several accessory options, including interchangeable bezels and an optional Studio Stand.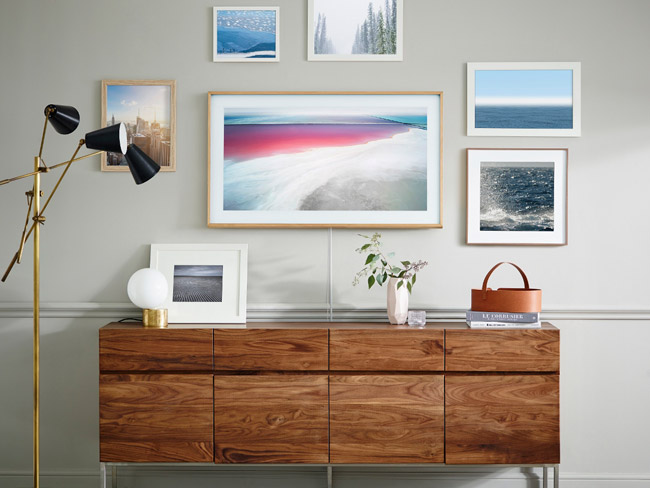 "The Frame empowers you to think about TV in a new way, bringing art and entertainment into new parts of your home," said Dave Das, SVP of consumer electronics marketing for Samsung Electronics America. "This is how television transforms -- and becomes an essential part of your lifestyle."
Samsung has yet to say anything else about The Frame, including detailed specs, a price, and availability. We know that it's got 4K Ultra HD resolution, and is expected to be available in 55-inch and 65-inch sizes, but we don't know much more than that. We can probably expect those details to come out closer to the release date, which should be sometime this spring.
More Samsung News: