Argo Blu-ray Review
By Rachel Cericola
The Film
Ben Affleck has had quite a ride in Hollywood. After a slew of bit parts, he and partner Matt Damon scooped up a screenwriting Oscar for 1997's Good Will Hunting. After that, he had a string of bad flicks and bad relationships. Down, but certainly not out, he made his directorial debut with 2007's Gone Baby Gone. Could the same guy that actively chose Surviving Christmas as a project make a real movie? I'm happy to say that his resume has never been the same.
While Affleck will never probably never live down the Gigli jokes, he's currently scooping up every award possible for Argo. He deserves it, too -- and not just because of all of the abuse. The film has all of the makings of a great Hollywood movie. The weird thing is that it's based on a true story.
In late 1979, 52 Americans were taken hostage in Iran. During that whole melee, six people escaped to the Canadian embassy. Of course, they couldn't exactly walk out of Iran. It would seem that only Superman could save them. Instead, they got Tony Mendez (Affleck). Inspired by Battle for the Planet of the Apes (said no one else ever!), Mendez came up with an idea. Later known as the "Canadian Caper," the idea was to have the group pose as a Canadian film crew scouting out Iran as a possible location for a sci-fi film titled, Argo.
The fact that this plan (spoiler alert!) actually worked is amazing. It's also some stellar subject matter for a film. Affleck pulls it off beautifully, but certainly has some help. There's a great supporting cast here, including Bryan Cranston, Alan Arkin, John Goodman, Victor Garber, Tate Donovan, and countless others.
Need a full debriefing of this movie? Check out Mark Grady's theatrical review of Argo.
The Picture
Argo isn't a great looking film. It's got a dim color palette and the detail is good, but not great. There's also some stock footage in there that doesn't do the image any favors, but it's a really pleasurable experience overall. That's because this 2.40:1 transfer pulls all of those things together to perfectly depict its situations and surroundings. It absolutely oozes the '70s vibe from every pore. It should also be noted that the image has a nice layer of grain and pretty stellar black levels. Viewers won't be wowed, but should be more than pleased about what's going on here.
The Sound
Argo is pretty focused on dialogue, but there are a ton of surprises in this release's DTS-HD Master Audio 5.1 track. The conversation is always crystal-clear and perfect -- and that's not easy, considering some of the mayhem. The crowd scenes are downright claustrophobic, with gunshots, helicopters and at least one airplane ringing through those surrounds. It's not a non-stop thrillride, but this track should keep you pretty glued for the film's full 2-hour runtime.
The Extras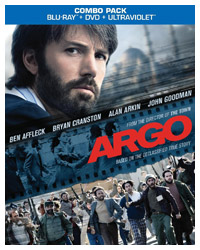 When it comes to extras, Warner Bros. has packed
Argo
with quality versus quantity. First up is the picture-in-picture commentary, "Eyewitness Account." This has pop-up interviews with people that actually lived through the event, including President Jimmy Carter, Tony Mendez, and many of the Canadian Caper escapees. It's insanely interesting and an absolute must-see. My one complaint about the track is that the volume is considerably lower than the actual film, which would be fine, if it were constant. However, when you do get the taste of what's going on in the movie, you're going to get blown out a bit. For something a bit more constant, there's also an audio commentary with Ben Affleck and writer Chris Terrio.
Otherwise, the release includes a trio of shorts and the more in-depth "Escape from Iran: The Hollywood Option." The latter is a 47-minute standard-def Canadian television documentary from 2005, which marked the event's 25th anniversary.
Final Thoughts
Believe the hype, people. Argo is a great film. It's absolutely mind-boggling that this was based on a true story and the stellar cast should skyrocket this one to the top of your gimme list. Thankfully, Warner Bros. has given the film the Blu-ray it deserves, most notably the enjoyable AV presentation and that stellar picture-in-picture track.
Product Details
Actors: Ben Affleck, Bryan Cranston, Alan Arkin, John Goodman
Director: Ben Affleck
Audio/Languages: DTS-HD Master Audio 5.1 (English), Dolby Digital 5.1 (French, Mandarin, Portuguese, Spanish, Thai)
Subtitles: English SDH, Cantonese, French, Korean, Mandarin, Portuguese, Spanish
Aspect Ratio: 2.40:1
Number of Discs: 2
Rating: R
Studio: Warner Bros.
Blu-ray Disc Release Date: February 19, 2013
Run Time: 120 minutes
List Price: $35.99
Extras:

Feature Length Picture in Picture: Eyewitness Account
Commentary by director Ben Affleck and writer Chris Terrio
Short Feature: Rescued from Tehran: We Were There
Behind the Scenes: Argo: Absolute Authenticity
Short Feature: Argo: The CIA and Hollywood Connection
Documentary: Escape from Iran: The Hollywood Option
Standard-Def DVD
UltraViolet Digital Copy