Apple iPod touch Fourth Generation (4G) Review
By Chris Chiarella
Edited by Chris Boylan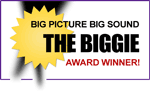 Fourth and Gold
I've made mistakes before and I'll make 'em again: My prediction that the latest iPod touch would evolve similarly to the iPhone, with its bulkier straight-edge design for 2010, was way off. Instead, the Fourth-Generation Apple iPod touch (here in the 32 GB size) maintains the sleek curves of last year's model, yet in a more compact form factor, 15% thinner and 12% lighter in fact. Miraculously, the LCD is the same size but, more impressively, that screen is simply gorgeous, the best-looking ever on an iPod.
There are certain lessons learned from the iPhone 4 however, which have found their way into this telephone-less pocket-sized media player, some more subtle than others. Last year, pundits grumbled about the addition of a video camera to the Fifth-Generation iPod nano but none on the larger, more expensive touch. Well, the iPod touch is now a video camera, and high-def to boot, at 720p at up to 30 frames per second. And we can even upload our newly-created videos to YouTube directly from the device!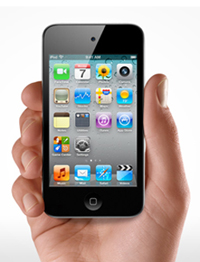 FaceTime video calling, initially exclusive to the iPhone 4, is now here as well, since the touch 4G includes a tiny front-facing camera in addition to the rear-facing HD cam. FaceTime is simple enough to set up, particularly if we have any Apple/iTunes experience and an Apple ID. All I had to do was verify my email address (needed for people to call me), otherwise I would have just had to quickly set up a new, free account.
Making my first call was a breeze, too: I just added my email address to the Contacts in my iPhone 4, selected "FaceTime" and before I knew it, my iPod touch 4G was "ringing" in that familiar way, and all I needed do was slide the virtual button to answer. All that was really missing I suppose were some friends for me to talk to, preferably ones with either an iPod touch 4G or an iPhone 4. We need a good Wi-Fi connection, too, since this is critical to the real-time audio/video transfer. And it's free!
Retinue for Retina
The three-and-a-half-inch (diagonal) Retina display, while sharing the same dimensions with its predecessor LCD, has been upgraded from the third-gen touch resolution of 480x320, 163 pixels-per-inch to a far grander 960x640 at 326 pixels/inch. Double the vertical resolution times double the horizontal resolution equals four times the pixel count, for those keeping score. As such, it is now capable of displaying the "HD"-designated videos from the iTunes Store, like the iPad and iPhone 4, and will default to that version when loading from the iTunes library, if an SD file is also present.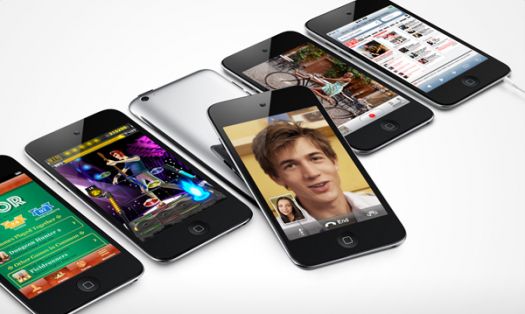 The razor-sharp clarity of HD files on the Retina display is almost freaky at first, especially if we're used to the look of SD files on the old screen. It almost felt as if I was holding an LCD home theater display in my hand, one that had been hit by some mad scientist's shrink ray.
This dot density apparently means that the human eye can no longer discern individual pixels, for a more lifelike presentation of, well, everything. Text when reading e-books or emails or even various iPod menus is insanely crisp. Uploaded still photos are head-turning, even when zoomed in with the now-famous reverse-pinch, although the mere 0.7-megapixel resolution of the touch 4G's integrated still-cam make it  more for convenience than a possible replacement of your tried-and-true digital snapper. But chances are your current digital camera can't use Wi-Fi to geo-tag your pics, adding optional location data to the files so they can be organized by each stop on your vacation, for example. The iPod touch 4G can do that.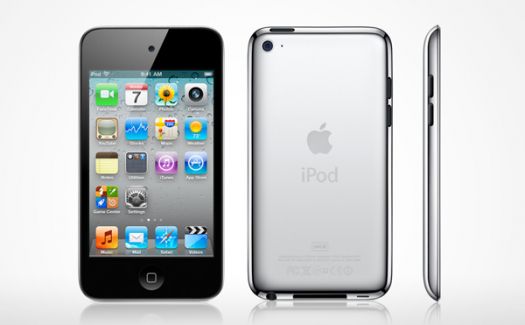 Basic video editing software is pre-loaded, so we can pull up a filmstrip-style layout of scenes in our captured movies and pick start/end points to cut accordingly. We can also step up to the $4.99 iMovie application for fancier post-production, all without ever connecting to a computer. That's pretty impressive for a handheld device, and that power comes from the Apple A4 processor chip, essential to the heavy lifting behind video editing, FaceTime calls and the touch 4G's ability to multitask.
The iPod touch 4G arrives running the iOS 4.1 mobile operating system, bringing a smoother front-end experience while delivering new features such as iTunes TV show rentals, perfect for catching up on the fly; iTunes Ping social networking, when you have to let your friends know what songs you like; and GameCenter, which encourages us to break out of our solitary fragging mode and even compete globally, over Wi-Fi.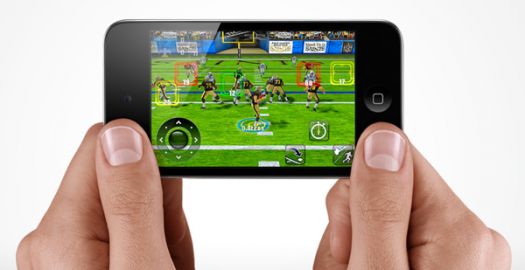 In addition to the iPod accelerometer (the previously available internal sensor which keeps text and video properly oriented when the iPod is vertical or horizontal, and makes Shake to Shuffle possible), we're now given a three-axis gyro to play with. This provides the ability to simulate pitch, roll and yaw, as well as rotation around gravity, effectively six-axis motion sensing. The touch 4G is the controller, like we've never experienced on a portable gaming device before. I fired up my recently purchased Star Wars: Trench Run and the touch 4G allowed me to brilliantly navigate the Millennium Falcon through three-dimensional space, I must say, blasting Imperial ordinance all the while. The game graphics and the included movie clips looked spectacular, too.
The Killer App
We can now update to software version 4.2 as well, that enables nifty tricks like printing directly to an AirPrint-compatible printer, search for text on Safari web browser pages, but most relevant to Big Picture Big Sound is the much-anticipated AirPlay.
AirPlay is one of those wicked cross-device features that convergence geeks like me have been dreaming about for years. Along the way, some of us gave up waiting, because of all the difficulties--some unavoidable, some deliberate in an attempt to "manage" our digital rights--that kept getting in the way. But Apple finally figured it out: With AirPlay, we can stream content from our iPod touch 4G to the TV by way of a properly updated Apple TV, over a wireless home network. No cables. No dock. No hassle.
In fact, once the Apple TV was powered up, all I needed to do was to press Play on a video on the iPod touch 4G, whereupon I saw a brand-new icon, like an arrow pointing at a TV screen. I tapped it and was asked if I wanted to switch the video playback from the iPod touch to the Apple TV and, after just a few seconds of buffering, the video continued playing where I left off, only now on my 50-inch TV. As usual, standard-def iTunes videos look okay at this size, while HD files look terrific.
When I did the same with a song, AirPlay even pushed a little window onto the TV, over the Apple TV menus, with track info and thumbnail cover art. It's elegant, it's easy, and it worked exactly as I was expecting it to, which isn't always the case in consumer electronics. Streaming audio and video from the iPod to my home theater was absolute pleasure.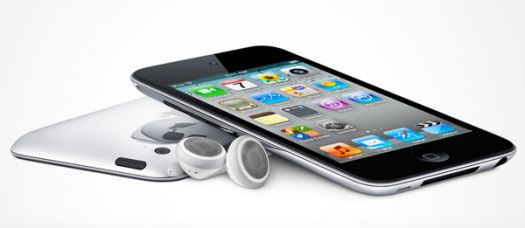 The day-to-day operation of the touch 4G is pretty familiar, with neat grids of tappable icons that launch the various apps, easy scrolling of song lists and TV episodes, and of course the ability to flip through photos and album covers with just the flick of a finger. The Multi-Touch display has lost none of its charm, nor its ability to sense our fingertips by the use of sophisticated electrical fields. (And still no static shocks.)
I would have thought that smaller was universally better, particularly when the screen doesn't lose any real estate and none of the myriad bells and whistles accumulated by the touch over several generations appear to have been dropped. But I found myself cradling li'l 4G rather delicately, perhaps because I've grown so used to holding his heftier older brothers, not to mention the iPhone 4. Loading it into a Speck Products CandyShell Grip Case made me feel a lot better, and it improved my game, too. Physically, the one detail I didn't care for in the hardware redesign was the way in which the tiny volume and power buttons now seem more difficult to get a good hold of.
Turn-Ons:
AirPlay: Coolest. Feature. Ever.
Retina display brings stellar quality to all applications
FaceTime video calling to iPhone 4 and other iPod touch 4G's, over Wi-Fi... for free!
Turn-Offs:
The still camera is a terrific addition, but not at only 960-by-720 quality
How small is too small when it comes to edge-mounted buttons?
Final Thoughts/Conclusion
My grousing about the buttons and the still camera resolution is somewhat ludicrous in the face of all the advancements obvious in the fourth-generation iPod touch. Apple has managed to make their best portable media player even better, with features that the faithful have been demanding in addition to some that come as game-changing surprises.
Where to Buy:
Manufacturer's Specifications
MSRP: $299
Dimensions: 4.4" H x 2.3" W x 0.28" D
Weight: 3.56 ounces
Screen: 3.5-inch (diagonal) widescreen Multi-Touch LCD
Resolution: 960x640 (362 pixels/inch)
Output/Input: 3.5mm stereo headphone mini-jack/shared Microphone jack
Cameras: Front-facing still/video camera, Rear-facing still/HD video camera
Other: 30-pin proprietary connector port (USB 2.0 adapter cable included)
Compatible Video Formats: H.264 video up to 720p, 30 frames per second, Main Profile level 3.1; MPEG-4 video up to 2.5 Mbps, 640x480 pixels, 30 frames per second, Simple Profile; Motion JPEG (M-JPEG) up to 35 Mbps, 1280x720 pixels, 30 frames per second
Compatible Audio Formats: AAC (8 to 320 Kbps), Protected AAC (iTunes);  HE-AAC, MP3 (8 to 320 Kbps), MP3 VBR, Audible (formats 2, 3, 4, Audible Enhanced Audio, AAX, and AAX+), Apple Lossless, AIFF, and WAV
Storage capacity: 32 gigabytes (29.28 usable)
TV Output supported (via optional connectors/cables): 1024x768; 576p, 480p, and 480i
Wireless Connectivity: 802.11b/g/n (802.11n at 2.4GHz only), Bluetooth 2.1 + EDR (Enhanced Data Rate)
Battery: Built-in rechargeable lithium ion
Available finishes: Silver/Black
Warranty: One year, limited
What's in the Box?
iPod touch 4G
Apple Earphones
USB cable
Documentation
Manufacturer's Contact Information
Apple1 Infinite LoopCupertino, CA 95014(800) MY-APPLE
On the web:www.apple.com