Apple iPod touch (3rd Generation) 32GB Review
By Chris Chiarella
Edited by Chris Boylan
iPod touch Review
The More Things Change...
As the most sophisticated member of Apple's ever-expanding iPod family, the touch represents a fistful of cutting-edge control and access features available on no other multimedia player. This was true of last year's second-generation touch, and is even more so in 2009, owing largely to some changes under the hood. In fact, to my eye the Apple iPod touch (Third Generation) 32GB model looks physically identical to the iPod touch 2G I reviewed last year: Same screen, same metal back, same few buttons.
But in a world where more and more techno-hipsters seek to carry their entire lives in a pocket, the iPod touch represents an alternative to Blackberries, Palms, Treos and even the touch's fraternal twin the iPhone, all of which come with monthly service charges. The touch uses its built-in wi-fi to access the internet, a free service at more and more places. (Borders for example began providing complimentary wi-fi for its customers at all of its retail locations this past October.) The versatile iPhone 3.1 Software is already installed on iPod touch, meaning that more applications than ever can be used immediately, including work/play features like calendars, contacts and maps. Bluetooth is also active from Day One, for wireless connection to accessories--including stereo headphones--as well as other iPod touches, for peer-to-peer multiplayer gaming.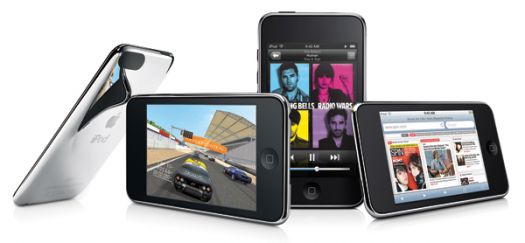 Faster, Pussycat!
The device also runs Apple's Safari web browser, which combined with a new, faster processor, helps to render web pages faster than ever. Indeed, whether I was checking my email over a latte or refreshing the Big Picture Big Sound home page to see if my latest story had posted, the web access has become noticeably more responsive, a more fluid and enjoyable experience. Side-by-side with a second-generation model, the new iPod touch was also 15 seconds faster in locating my home wi-fi network, and had no issues joining the network whereas the older unit encountered some difficulty. Once online, the two touches sometimes performed similarly, other times the new model was significantly quicker.
Some iteration or other of the iTunes store has been built into every touch, but we can now purchase and download video directly to the device. A half-hour sitcom in standard definition is 300+ megabytes, and with a strong wi-fi signal (three out of three bands) the download took 17 minutes, only about three minutes longer than the same-sized file needed over on my PC.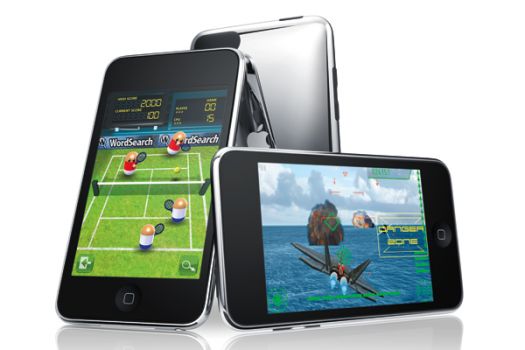 On simple tasks, juggling the basic onboard operations, the 3G model was a second or two quicker, not a game-changer but always a welcome step forward. Purchased applications such as games however loaded on average a full ten seconds faster,  and then using that app was more streamlined as well, again a second or two ahead of the 2G touch as I went from page to page or selected a particular function. Officially, Apple is not giving up many details on this new processor, although they say that it supports OpenGL ES 2.0 (Open Graphics Library for Embedded Systems, version 2.0), promising improved 3D graphics as one of the benefits. I'll be honest, I did not notice any clear difference in video performance, but I would think that moving forward this could enable superior gaming software. This will no doubt inspire developers in new ways, potentially making the iPod a more serious player in the portable gaming space.
Speech! Speech!
Over my time with the newest iPod touch I came to realize that the differences, while positive, were often subtle. The one update that really set my juices flowing however was the addition of Voice Control. With more and more features yet no additional hard controls, Apple has effectively grafted a virtually invisible new interface onto the device.  The controller?  Your voice. More than merely providing spoken feedback, it listens to our requests and responds accordingly.
The touch knows when a headphone with microphone is connected (such a pair is now included, thankfully) and we then press and hold the central Home button or pinch the on-cord controls until the Voice Over screen appears. Ostensibly to train us--we don't want to have to look down at the player all the time--it suggests words and phrases floating across the LCD that might be of use, obvious commands like "Shuffle" or full sentences like "What is this song called?" Visible sound waves on screen confirm that our voice is being registered.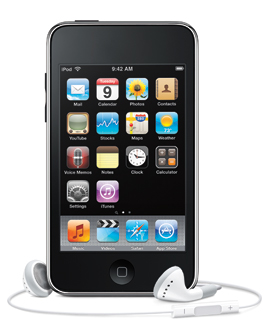 The player doesn't stay in Voice Control mode, rather it waits for us and then either responds with a friendly tone or spoken confirmation, or possibly indicates "No match found" if we're off the mark, before returning to its usual playback. Have another command? Press/pinch/hold again, the player goes quiet and awaits further verbal instructions. Some commands require music to be actively playing in order to be of any use, although we can initiate playback with but a few words, as long as we use the proper syntax, i.e. "Play songs by 'Steely Dan.'" Your favorite musician may vary, but the touch will likely compare your request against its specific onboard library and deliver a match in less than two seconds.
VoiceOver on iPod touch is a gesture-based screen reader, an accessibility feature specifically aimed at visually-impaired users, vastly different from the VoiceOver that I wrote about at length in my review of the iPod shuffle 3G, which simply reads aloud for us song titles, artists, and the names of our playlists. Owing to the unique physical layout of the touch, VoiceOver users are required to learn a new set of touch-commands, and we are audibly warned of the changes ("VoiceOver changes the gestures used to control iPod") and invited to practice the new double-taps and three-finger scrolls.
The process is quite a change from the fluid, intuitive control we're used to, so I certainly wouldn't recommend it for casual users, but for visually impaired users, the new paradigm should prove particularly powerful. Carried over to the touch from other iPod flavors are the self-explanatory Shake to Shuffle, plus Genius Mixes and even Genius recommendations for apps, which take stock of our current contents and expound accordingly.
Turn-Ons:
Voice Control adds a new dimension to the already formidable control options
Now with Voice Control and VoiceOver, sight-impaired users will have superior access to their media
Faster processor not monumental, but we'll take those performance tweaks!
Turn-Offs:
touch VoiceOver not to be confused with simpler shuffle VoiceOver
Refinements to this generation not as pronounced as in years past
Final Thoughts/Conclusion
The annual modifications were less obvious on this go-around, especially when compared to this year's inclusion of a video camera on its headline-grabbing cousin, the fifth-generation iPod nano. I can't advise you to ditch your second-gen touch and replace it with this new model, but if you've held out this long, the tweaks are almost all good, and worth the wait.
Where to Buy:
Also Available:
Manufacturer's Specifications
MSRP: $299
Dimensions: 4.3" H x 2.4" W x 0.33" D
Weight: 4.05 ounces
Screen: 3.5-inch (diagonal) widescreen Multi-Touch LCD
Resolution: 480x320 (163 pixels/inch)
Output/Input: 3.5mm stereo headphone mini-jack/shared Microphone jack
Other: 30-pin proprietary connector port (USB 2.0 adapter cable included)
Compatible Video Formats: MPEG-4, H.264
Compatible Audio Formats: MP3, AAC, HE-AAC, Apple Lossless, AIFF, WAV, Audible 2/3/4, Audible Enahnced Audio, AAX, AAX+
Storage capacity: 32 gigabytes (29.28 usable)
TV Output supported (via optional cables): 480i, 480p and 576p
Wireless Connectivity: 802.11b/g, Bluetooth 2.1 + EDR (Enhanced Data Rate)
Battery: Built-in rechargeable lithium ion
Available finishes: Silver/Black
Manufacturer's Contact Information
Apple
1 Infinite Loop
Cupertino, CA 95014
ph: (800) MY-APPLE
web: www.apple.com