Apple iPod nano Sixth Generation (6G) Review
By Chris Chiarella
It's All About the Music
So I think it all happened something like this: After getting drunk on Apple brandy at last year's holiday party, the iPod touch went back to the iPod shuffle's place, one thing led to another, and nine months later, the Apple iPod nano Sixth Generation (6G) was born. They didn't know what to do with the little guy so they left him on the doorstep of the nanos' house, and the family took him in and gave him their name, even though he didn't really look like them.
We kid, but the nano has undergone a lot of changes in its life cycle thus far, more so than any other iPod. Even the most recent shuffle has circled back around to a form factor more in keeping with its classic roots. To gain a clear understanding of the iPod nano 6G--and, not to tip my hand, but it's a fine little piece of hardware--we need to note what it has lost, as well as gained.
I'd be hard-pressed to think of an audio/video device, home or portable, that once offered video and then in a successive generation did not. This removal of video playback from the nano seems an odd deletion, especially since the nano has at the same time gained a Multi-Touch screen like the one that made the video-tastic iPod touch famous, only smaller. And while the latest touch has finally gained video recording, that capability has now been dropped from the nano family. And with no video to share, there's no longer a speaker inside the nano, either.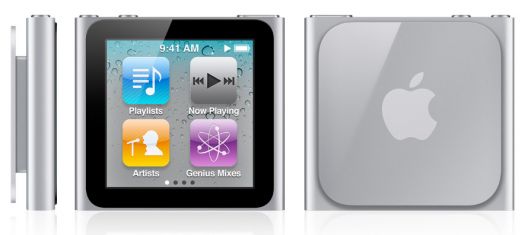 But they're pretty brainy over at Apple, so I'm guessing that they did their research and found that folks were looking for a compact, audio-only player--music, audiobooks and podcasts--but with a superior user interface. So out went the Click Wheel for the first time in nano history, and in came a bright, sharp 1.54-inch (diagonal) thin-film-transistor liquid crystal display, 240-by-240-pixels at 220 ppi. Even so, the nano does not support any Apps, and certainly not any of the Click Wheel games I played on my nano 5G.
Less is More... Right?
Although it still contains an accelerometer motion sensor, when we rotate the player 90 or 180 or 270 degrees, we now need to manually reorient the touch screen image accordingly with a couple of fingers. The first time I tried to demonstrate this move to my wife (she's getting a pink one for Christmas, let's hope she doesn't read this), I did it wrong, instead rearranging a couple of the little icons, and leaving them in their wiggly state, so that they temporarily stopped responding. In short, this new manual screen rotation requires more of a knack than I was expecting it to. Shake to Shuffle still works however.
The entire "Extras" section of the menu is now absent, taking with it the ability to record audio (no microphone), along with features such as Contacts and Calendar. The Clock remains, but no Stopwatch or Alarms. The nano has always been a welcome little partner for the fitness-conscious, and we can still synch with Nike+ shoes via the optional Nike + iPod Sport Kit, and the player has its own built-in Pedometer.

One thing that the iPod nano 6G has lost over all previous generations is girth, and this may be its greatest strength. At only about an inch-and-a-half high/wide, a third of an inch thick and weighing only three-quarters of an ounce (precise specs below), nano is now 46 percent smaller and 42 percent lighter, and these huge reductions are remarkably liberating. Along the top edge are the unit's only hard buttons, for Volume Up/Down and Sleep/Wake. Around back is a large spring-loaded clip in matching anodized aluminum, enabling us to carry the player anywhere, attached rather securely to a pocket or collar or belt or strap, even without a case.
At the same time, it also now works well with previously impossible accessories like the Griffin Technology Slap, a silicone-and-metal wristband that stylishly but unobtrusively keeps the nano 6G on our wrist, even as a watch if we pull up the Clock graphic. The new design is also so efficient that we can squeeze almost a full 24-hour day of music out of the lithium-ion battery on a single charge. Do keep in mind though that the nano is topped with a piece of glass, so no matter how tempting it may be to toss the little guy into a pocket and go on your way, well, don't.
Whole Lotta Swipin' Goin' On
Photos and cover art look terrific on the LCD display, and the square format gives portrait and landscape shots equal rights. We can easily change the background wallpaper image if we so choose as well. Due to the limited viewing area, only four function icons can be displayed at any time, so there are a total of four screens to flip through in order to see all of the standard features, which can be rearranged fairly simply with a bit of hold-and-drag. If we're deep into a particular activity, several swipes are needed to bring us back to the Home screen.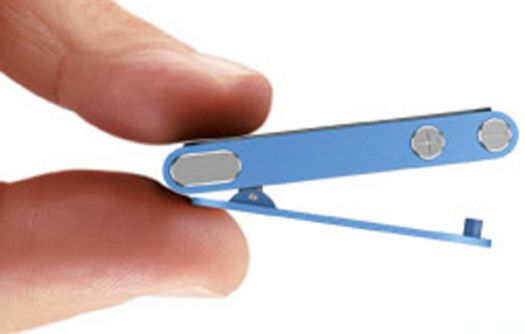 Similarly, when playing a song, we need to swipe between two different control/info overlays atop the cover art. The first shows Artist name, Song and Album title, and the virtual Play/Pause and Skip buttons, and the second repeats some of this same info with a bit more, plus the Repeat, Genius Mix and Shuffle keys, and the progress timeline along the bottom.
The FM radio offers Live Pause and a 15-minute buffer thanks to the ample onboard flash memory, and the touch screen is certainly handy for the slide-rule tuning and station skip, and we can mark a station as a preset with a tap of the little star icon. The tuner does an excellent job of locking in local broadcasts, provided we have our headphones plugged in to serve as the antenna.
Multi-Touch combines with other sophisticated accessibility features to really streamline the interface as desired. White on Black switches the readout to light text against a dark background, for higher contrast in all uses. VoiceOver speaks the name of what's on the screen so there's no need to look at it, and it works well in conjunction with Apple's step-up Earphones with Remote and Mic, although the gestures used to control the nano change in this mode. We can also fold both channels into one earbud with the Mono Audio setting.
Turn-Ons:
Completely redesigned with Multi-Touch LCD and integrated clip
Incredibly lightweight, compact and versatile...
Turn-Offs:
...for a music-only player: Gone are many of last year's key features
Small touch screen can be a challenge to manipulate with big fingers
Final Thoughts
When weighing this year's additions to the nano against what has been subtracted, I am a little surprised that Apple has decided to maintain the same price points at both the 8GB and 16GB capacities. Some of the conspicuous absentees, notably any video capability, suggest that perhaps a price reduction should have been in order. However, judging by my wife's unbridled enthusiasm, it would appear that active music lovers looking for a funky, convenient new way to enjoy their tunes are eager to embrace this new esthetic.
Where to Buy:
Also Available:
Manufacturer's Specifications
MSRP: $179 (16GB); $149 (8 GB)

Dimensions: 1.48" H x 1.61" W x 0.35" D (including clip)
Weight: 0.74 ounces
Screen: 1.54-inch (diagonal) Multi-Touch LCD
Resolution: 240x240 (220 pixels/inch)
Input: none
Output: 3.5mm stereo headphone mini-jack
Other: 30-pin proprietary connector port (USB adapter cable included)
Compatible Audio Formats: MP3 (including variable bit rate), AAC (8 to 320 Kbps) including DRM-Protected AAC from the iTunes Store, HE-AAC, Apple Lossless, AIFF, WAV, Audible 2/3/4, Audible Enhanced Audio, AAX/AAX+
FM Tuner with Live Pause and Presets
JPEG Photo Display
Storage capacity: 16-gigabyte flash drive (usable capacity 14.97 GB)
Battery: Built-in rechargeable lithium ion
Available finishes: Silver, Graphite, Blue, Green, Orange, Pink, and (PRODUCT) RED Special Edition*   *Apple Store Exclusive color
Headphones: 20Hz to 20,000Hz frequency response, 32 ohms impedance
What's in the Box:
iPod nano
Apple Earphones
Dock connector-to-USB cable
Quick Start guide
Manufacturer's Contact Information
Apple 1 Infinite Loop Cupertino, CA 95014
ph: (800) MY-APPLE
on the web: www.apple.com