Apple Unveils iPhone 5 With Larger Display and 4G
By Enid Burns
The guessing is over. Apple made its announcement this afternoon about the iPhone 5, and it comes with a promise that it's faster - as well as thinner. The 4G handset will be released on Friday, September 21 with pricing starting at $199 for a 16GB model.
"Ultra fast 4G LTE makes this iPhone so much faster than previous versions. And with the iPhone, speed is the key," says tech industry analyst Jeff Kagan.
For media hounds, one of the biggest advancements to the new release is the larger screen size. Apple upped the screen size from 3.7-inches to a 4-inch screen. The new form factor should appease home theater buffs who still want to watch video on the go. While we have yet to put a ruler to the phone, online reports state that the phone boasts a widescreen aspect ratio, and Apple says the phone is suitable for widescreen HD video.
Apple says the Retina display delivers more pixels than the iPhone 4S, though that is due to the larger screen size and doesn't offer any advancements to the Retina display technology. In addition to the ability to watch video in the format it was intended (widescreen), the larger - or should we say longer - display allows for more information on the screen. Apple boasts that a full five days of your calendar will be available on the screen. An online source notes that five rows of apps will fit on one screen.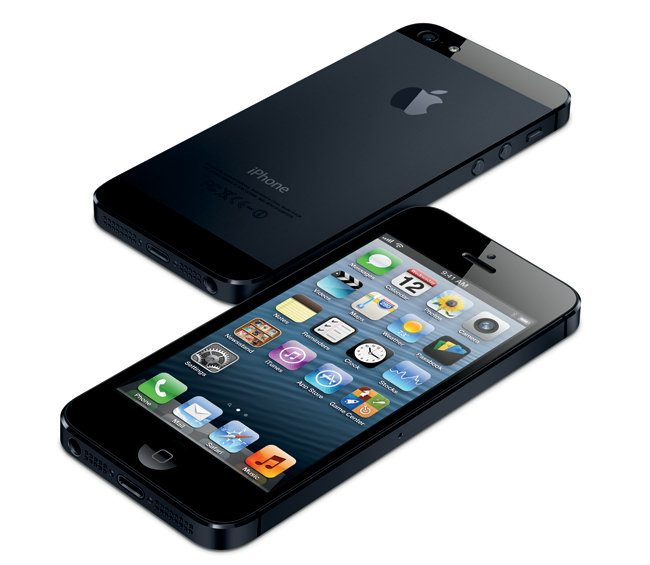 An A6 chip and iOS 6 operating system will make for faster processing. The A6 chip was designed by Apple created the chip to maximize performance and power efficiency. The chip provides up to tice the CPU and graphics performance of the iPhone 4S. That means it will handle video more smoothly, whether it's resident on the iPhone 5 or playing wirelessly. "Almost everything you do on iPhone 5 is blazing fast for launching apps, loading web pages and downloading email attachments," a corporate statement says.
iPhone 5 will run the iOS 6 operating system, which Apple promises over 200 new user features. Among the list are a new Maps app with Apple-designed cartography, turn-by-turn navigation and a new Flyover view. Other apps include Facebook integration for Contacts and Calendar, with the ability to post directly from Notification Center; Passbook; new Siri features including support for more languages, improved access to sports scores, restaurant recommendations and movie listings.
While there's a larger screen, the rest of the iPhone 5 is slimmed down. The phone is 18 percent thinner, 20 percent lighter and takes up 12 percent less volume. The iPhone 5 measures 7.6 millimeters thick and weighs 112 grams. Partners are rushing to get new accessories including cases out to market in time for the iPhone 5 release.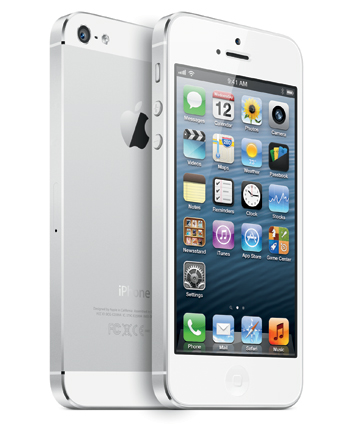 Service on the iPhone 5 will see improvement. The phone supports 4G LTE service, where it's available. It also supports DC-HSDPA, a 3G technology. For its 4G service, Apple developed a unique single-radio LTE solution, which Apple promises will provide noticeably fast speeds. iPhone 5 also features dial-band 802.11n Wi-Fi support for wireless speeds of up to 150 Mbps.
Picture Perfect
Photos, video and other imaging is captured on the iPhone 5's new 8 megapixel iSight camera. The new camera has been completely redesigned with improved optical performance. It's also 25 percent smaller than the camera in the iPhone 4S. The new iSight camera for the iPhone 5 features a sapphire crystal lens cover that is thinner and more durable than standard glass. It allows for crystal clear images. Apple developed a new panorama feature that captures panorama images of up to 28 megapixels by moving the camera across a scene in a smooth motion.
The new iSight camera includes some video-focused features including improved stabilization, video face detection for up to 10 faces, and the ability to take still photos as you record - which HTC has on a number of its newer handset models.
A new FaceTime HD front facing camera improves the quality of images on FaceTime calls. For both Facetime and self portraits, the forward facing camera records 720p HD video.
A new power and data cord standard was introduced for the iPhone 5, and will likely become the new standard for Apple products. The new all-digital Lightning connector offers an adaptive interface that uses only signals that a particular accessory requires. The connector is smaller and more durable than previous connectors. Apple will sell a Lightning-to-30-pin Adapter so the iPhone 5 can connect with legacy 30-pin accessories.
The Apple iPhone 5 will be available on September 21. Preorders will begin on September 14. The iPhone 5 will sell in Apple's retail stores, AT&T, Sprint, Verizon Wireless and a number of Apple Authorized Retailers on that date. The iPhone 5 will be offered in three models including the 16B model for $199; the 32 GB model for $299 and a 64GB model for $399. For those who want a new iPhone but don't want to spend as much, the iPhone 4S will be listed at $99 on the same date the iPhone 5 launches.
Additional Information
Where to Buy