Apple Unveils Slimmest Ever iPod Touch, New Nano, and Enhanced iTunes
By Enid Burns
While the chatter this week is mostly about the iPhone 5, Apple also unveiled a new iPod touch and iPod nano. Apple also touted its redesigned iTunes. Apple slimmed down all its devices. Like the iPhone 5, the iPod Touch and iPod nano are both thinner, lighter, and pack more screen power.
Touch Me
The iPod touch takes a design cue from the iPhone 5 with an enlarged 4-inch Retina display. You'll find a 5 megapixel iSight camera on-board, which captures full 1080p HD video. While the iPhone 5 is built with an A6 chip, Apple is using a dual-core A5 processor for the iPod touch, which the company reports has twice the processing power and seven times faster graphics than the fourth generation iPod touch. The touch will run on iOS 6, Apple's newest operating system. Apple's voice assistant Siri is also on-board the touch this year with search and location features available over a WiFi connection.
A colorful display was made of the new iPod touch, which comes in five different finish options. Each color shows up on an anodized aluminum body. Colors include pink, yellow, blue, white with silver, and black with slate. The new iPod touch measures 6 mm thick (less than 1/4 inch), and weighs 88 grams (3.1 ounces). Improved battery life promises up to 40 hours of music playback and up to eight hours of video playback on a single charge.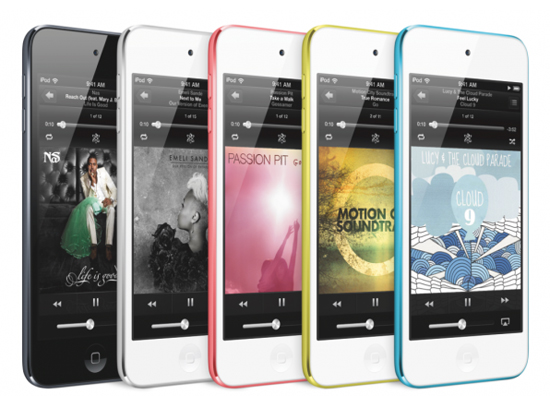 Nano Nano
Apple has also reworked its popular iPod nano to offer a bigger screen. A 2.5-inch Multi-Touch display makes it easier to navigate music and other apps. Apple added a home button, which quickly brings users back to the home screen. Navigation buttons help control music playback and volume. Built in Bluetooth means the nano easily connects to wireless headphones, speakers and cars compatible with Bluetooth technology. Apple has included a number of built-in fitness features including a pedometer and support for Nike+.
The nano measures 5 mm (0.2 inch) thick, which goes along with Apple's trend of slimming down all of its devices for the incoming generation. The nano comes in eight colors. The rainbow includes red, pink, yellow, blue, green, purple, silver and slate. While users can make any wallpaper they wish, Apple includes color-coordinated wallpapers with each to accentuate  the theme.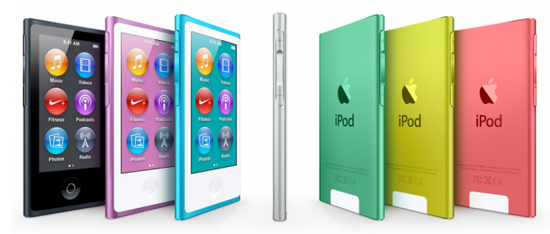 Both the iPod touch and nano share another feature with the iPhone 5: the new, smaller Lightning port to power and sync the devices. Apple is offering an adapter ($29) and 8-inch cable ($39) to use earlier docks and accessories with the new devices.  Both the iPod touch and nano will come with new Apple EarPods, featuring a more natural fit, increased durability and enhanced sound quality.
Apple will make its iPod touch and iPod nano models available in October, with preorders beginning on September 14 through the Apple Online Store. The iPod touch will sell for $299 for the 32 GB model and $399 for the 64 GB model. The iPod nano will sell for $149 for the 16 GB model.
iTunes in the Cloud
The common denominator for the iPhone 5, iPod touch and iPod nano is iTunes, the store and media management software where users can load up on music, video, apps and any other media. Apple took the opportunity to introduce a new, simplified version of iTunes. One of the largest innovations for the new online store is seamless iCloud integration. All purchases on iTunes will be displayed in your iTunes library on a user's Mac or PC, and will be available on either machine, and all devices tied to the account. "The redesigned iTunes Store, App Store and iBookstore have been rethought to make buying your favorite content on your iPhone, iPad, iPod touch, Mac or PC simpler than ever," Apple says in a corporate statement.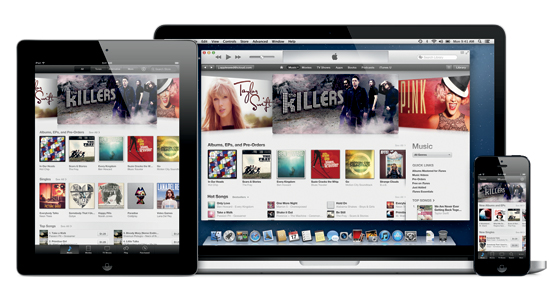 "We created iTunes because we love music and we're going back to our roots with an incredibly clean design that keeps your music at the forefront," said Eddy Cue, Apple's senior vice president of Internet Software and Services. "The new iTunes works seamlessly with iCloud, always keeping your entire library at your fingertips, and we're adding great new features that make listening to your music more fun."
The redesigned iTunes is a full-window interface on either a Mac or PC. The new library view will display all music, TV shows and movies, and other media. An expanded album view allows users to see track listings for an individual album, though it still lets users browse the rest of their music library.
An advantage to iCloud integration is easier sharing among devices. Any media purchased on iTunes is stored in the cloud, and is accessed from any and all Apple devices including the iPhone, iPad, iPod touch, Mac, PC or Apple TV. All users have to do is press play.
Additional Information
Where to Buy