Apple TV (2012) Review
By Rachel Cericola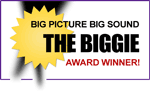 Bite me!
Somewhere in the middle of all of that new iPad fanfare, Apple snuck in the news of a new Apple TV. With the tech world frothing over rumors that Apple will get into TV manufacturing with something that may or may not be called the iTV, a new version of their $99 streaming set-top box just doesn't seem all that exciting -- on the surface. Make no mistakes; the Apple TV is still pretty darn cool.
The new Apple TV is very similar to the last Apple TV, in that it's a tiny media streamer that hooks to your HDTV. Despite its diminutive size, there are quite a few new perks. The first and most important to Big Picture Big Sound readers is the addition of 1080p streaming capability. Last year's model was all about 720p, so this is a major upgrade in picture quality.
Besides the promise of a better image (you need something else?), the still-$99 box boasts a more user-friendly icon-based interface and a single-core version of its A5 procesor. Is that enough to upgrade or take the plunge for the first time? Let's take a closer peek at Apple's super-tiny set-top streamer.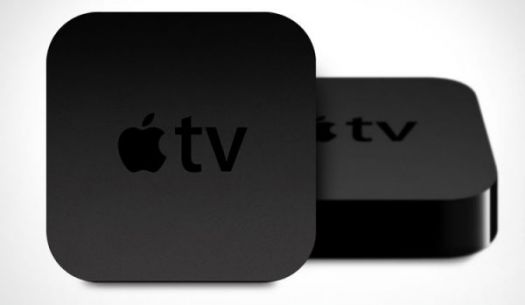 Little Boxes
Apple is very minimalistic when it comes to its packaging. Like many of the iOS devices, the entire Apple TV and all of its extras could fit into the palm of your hand.
Out of the box, the actual Apple TV set-top is less than half the size of the packaging. At 0.9 by 3.9 by 3.9 inches, it's the same size as its predecessor and only slightly larger than its closest competitor, the Roku 2. The back of the Apple TV also doesn't have any new surprises, with a spot for the included power cable, an Ethernet jack, an Optical Audio port, an HDMI output, and a micro-USB port. With the exception of power, you're going to have to supply all of the cables here. That said, don't bother running out to buy a Micro-USB cable -- at least not yet. For now, this is specifically for troubleshooting within the confines of the Apple Store.
It Ethernet isn't an option, the box does have WiFi support (up to 802.11n). Either way, it takes about 3 seconds to hook up the Apple TV, pick your language of choice, and get to the Apple TV's main menu.
The main menu screen is another new feature, since it changes up the interface a bit. Now, Apple TV has easy, graphical icons to direct the user through everything and anything Apple TV offers. The Movies, TV Shows, Music and Computers selections provide access to content purchased through iTunes or content stored on your local computers. Other menu options include Settings and Apple services such as Photo Stream, Mobile Me, Podcasts and Radio. The main menu also features a select crop of third-party partners, including Netflix, Vimeo, YouTube, Flickr, MLB.TV, NBA, NHL, and WSJ Live.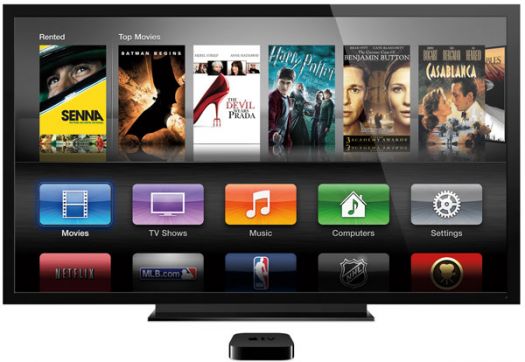 Hey Good Looking
The big draw to this latest device is definitely going to be the 1080p support. Apple is slightly late to the party, since there are plenty of other streamers currently offering this feature, namely the afore-mentioned Roku box plus any number of Blu-ray Disc players with streaming features. Some may think the difference between 720p and 1080p is negligible, but it's definitely a nice addition and does make a noticeable improvement on large flat panels and projection systems. After all, you went through all of that trouble to buy a 1080p HDTV, right, so why not get a source to match?
Now, unless you are mainly using Netflix and YouTube, most of the video goodies are located under the Movies and TV Shows icons on the main menu. This is where you'll find everything under iTunes, including all of that content you purchased in the past. Most HD TV shows are priced at $2.99, with films costing $4.99 for an HD rental and about $19.99 to purchase. There's also plenty of SD films, which typically cost less.
After entering your iTunes account info, you may be surprised to find purchases that you probably assumed were long gone. Even nicer, some options will be upgraded to 1080p, if it's available. Under Purchased Movies, you'll also find any digital copies you've unlocked in the past from Blu-ray/Digital Copy or DVD/Digital Copy bundles. So yes, you no longer have to get up and load a disc to actually watch that movie.  However, these digital copies are typically standard def, so there's still a good reason to hang onto (and play) those original Blu-ray Discs.
Most images look pretty darn phenomenal on the new Apple TV. Apple has been kind enough to include some awesome photos pre-loaded on the Apple TV for wallpaper purposes. But it's the movies and TV shows that are the stars here.  For many iTunes users, the Apple TV will provide the first opportunity to watch those iTunes purchases -- bought on and for a computer, tablet or portable media player -- on a big screen TV, in full HD.
Using a Verizon FiOS connection to the internet, and the Apple TV's built-in WiFi connection, I had zero complaints with the image quality or stability. Whether streaming standard-def, HD, Netflix, iTunes, photos, music, or a combination, there was never a buffer or a blip during my testing period. It was a smooth, enjoyable experience, albeit a little limited.
That's because Apple likes what it likes -- and most of that is what Apple sells. Users of Amazon Prime, VUDU or Hulu will be sad that this device isn't compatible. Let's face it though; this is Apple's show. If you depend on iTunes and Netflix for your main video fix, this box is perfect. Music, however, is a slightly different story (song?).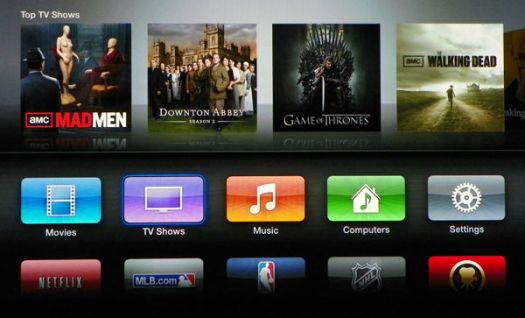 Making Music
Unless you sign up for iTunes Match, the Music icon is going to be, well... just an icon. It's strictly for those looking to access music that's stored in the iCloud. To do that, however, you're going to have to pay a $25 annual fee. Otherwise, there will be no streamy goodness through this portion of the menu. It also means that you can't purchase new music directly through the Apple TV.
That's not to say that you can't rock out with the Apple TV. It does offer a wealth of music options -- just not under the actual Music icon.
Anything that you have stored on an iOS device, computer or a connected external device can be streamed through the Apple TV, via AirPlay. If you're using a computer or external network storage device, you will need that computer on with the iTunes program open. Tracks can be selected directly through your iOS device of choice, the Apple TV remote, or the free Remote app for iPhone, iPod Touch and iPad. Of course, if you're using a computer, you can also just pick songs through the iTunes interface on the computer itself.
If you don't have a ton of music stored in iTunes, AirPlay can also stream services such as Pandora and Spotify from a compatible device. This is a little workaround, since Apple TV doesn't directly offer direct access to either service. It also doesn't require the new "mirroring" feature (more on that in a bit). Both Pandora and Spotify support AirPlay and work with Apple TV, which is pretty awesome. Even better, Pandora offers this for free. Spotify allows users to create playlists and select specific tunes, but a paid Premium account is needed to access the service's AirPlay features.
Same Old, Same Old
The new Apple TV comes with the same old remote, so existing users should know what to expect. It features a four-way wheel with a clickable center button, a Menu button and one button that doubles for play and pause features. It would have been nice if Apple upgraded this portion of the package as well, maybe adding in a little keyboard. It wouldn't add much weight, if it was done up like the one included with the Boxee Box.
It doesn't really matter, though, because this teeny aluminum remote is so small and slender, it's destined to live out most of its days inside your couch. No seriously; this thing has spent more time in between my sofa cushions than on the coffee table or in my hand.
Luckily, however, the Apple TV works with Apple's free Remote app. Download the app to your iOS device of choice and set up the Apple TV for Home Sharing. To do this, you'll need to fish the Apple TV remote out of your couch, push the Menu button, and click on Settings from the main menu. Under that, scroll down to Computers and just enable the feature. It's a good thing to have on anyway, since you'll need it to stream content from connected computers as well.
There's a bit of a learning curve with the app, but even after that, I wasn't a big fan. Overall, it's just easier to use the Apple TV remote (if you can find it - did we mention to check the couch?).
Mirror, Mirror

It's important to note that the Apple TV also supports AirPlay Mirroring. This feature allows users to simultaneously display iPad and iPhone images on the larger screen, by streaming them through the Apple TV. In other words, if you are taking notes on the iPad, or playing a game, it would show up on your HDTV through the Apple TV. It's not a brand new feature (it's also available on the previous version of the Apple TV courtesy of a firmware update), but it's one worth mentioning -- assuming you have an iPhone 4S or an iPad 2 (or later). This feature is only compatible with those portables and the second- and third-gen Apple TV. Unfortunately, my iPhone 4 is already obsolete and meant that I could not test out this feature. That said, it could be reason for an upgrade, because it opens up a world of apps (
Angry Birds
!
Words with Friends
!
Fruit Ninja
!) for Apple TV users.
Turn-Ons:
Full 1080p HD (yes, please!)
Incredibly easy setup
User-friendly icon-based interface
New features, same $99 price
Turn-Offs:
Content is limited to iTunes and select partners (no VUDU or Amazon Instant Video)

Could use a QWERTY keyboard
iTunes Match account required to access cloud-based music
Final Thoughts
If you're not an "Apple person" and are just looking for something to stream Netflix or YouTube, you may want to look into a Roku box. Roku can do that and much more, and with less expensive hardware. But if you're ensconced in Apple goodies and iTunes purchases, this purchase is a no-brainer. At $99, it's hard not to recommend the Apple TV -- even if you already have an earlier version. A new user interface and faster processor is certainly nice, but if you're reading Big Picture Big Sound, the 1080p support alone makes it worth the upgrade.
Manufacturer's Specs:
Manufacturer's Contact Information:
Apple
1 Infinite Loop
Cupertino, CA 95014
ph: (800) MY-APPLE
On the web: www.apple.com