Black Friday Home Theater Deal: Aperion Intimus 6T 5.1 Speaker System: $2399
By Rachel Cericola
Have you started cranking the Christmas music yet? Maybe you just need the proper equipment. Yes, it may be a little early, but Aperion Audio is certainly putting us in the holiday spirit, with its Intimus 6T Rockin' the Holidays speaker system deal.
From Tuesday, November 23 through Tuesday, November 30, 2010, the company will knock $900 off the popular 5.1 speaker setup. That means that you can score two Intimus 6T tower speakers, the Intimus 6C center channel, two Intimus 5B bookshelf speakers, and the Bravus II 12D subwoofer, all at a reduced rate. The cherry finish (which includes the original Bravus 12D sub) will run you $2399, with glossy black costing $100 more.
Designed for medium and large rooms, this system can rock around the Christmas tree or rock the entire neighborhood. The 6Ts feature one 1-inch silk dome tweeter, two custom 6.5-inch woofers, and 5-way gold-plated binding posts. The Intimus 6C center channel has the two 6.5-inch woofers, one 5.25-inch midrange, and a 1-inch tweeter. Those 5B bookshelf speakers are small and curvy, but pack in a 5.25-inch woofer and a 1-inch tweeter. Last, but certainly not least, the Bravus II 12D sub has a down-firing active 10-inch aluminum driver, two side-firing 10-inch aluminum passive radiators, and a 600-watt BASH amplifier. (The Bravus 12D has a 500-watt amp, with 12-inch drivers.)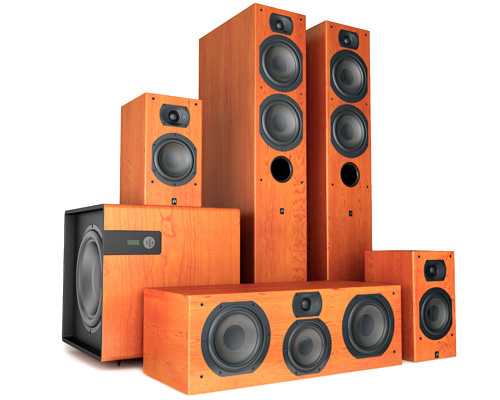 If you order within the next week, Aperion Audio will ship this hearty set for free. Also, if you literally want to rock around the Christmas tree, that can be arranged. Aperion says that orders places before the end of the promo period should arrive in time for Christmas Day.
Where to Buy:
Please note: all deals posted on Big Picture Big Sound are current as of the posting date and time. These deals are frequently time- or stock-limited and generally do not last. Final pricing and stock are determined by the individual deal provider, not by Big Picture Big Sound so you will need to click through on the offer link to see if it is still available. Through our affiliate relationships with many online vendors, Big Picture Big Sound may earn a small commission on any referred sale.