Aperion Audio's ARIS Wireless Speaker is Now Windows 8 Certified
By Rachel Cericola
Right before the summer, Aperion Audio introduced us to the ARIS Wireless Speaker for Windows, talking up the tabletop unit's Windows 7 compatibility. Well, the speaker is now shipping -- and with an upgrade.
The company just announced the ARIS to be the first certified compatible with Windows 8 speaker system. The unit operates similar to speakers with Apple's AirPlay or Bluetooth technology. However, it uses the Windows "Play To" feature, which allows listeners to select and send music wirelessly to the speaker from any networked Windows PC, tablet or smartphone.
Because the ARIS is Windows and DLNA certified, it can connect to multiple networked devices, with one button using Wi-Fi Protected Setup (WPS). It also comes with the ARIS Wireless Card for Windows, which automatically updates the unit for the latest networking and codec technologies.
The ARIS can rock the room or the house from any desktop, via six internal drivers and four amplifiers that can crank a total of 100 watts and a maximum SPL of 105 dB. The actual unit features a unique extruded and black anodized aluminum enclosure that measures 6.5 inches high by 14.75 inches wide.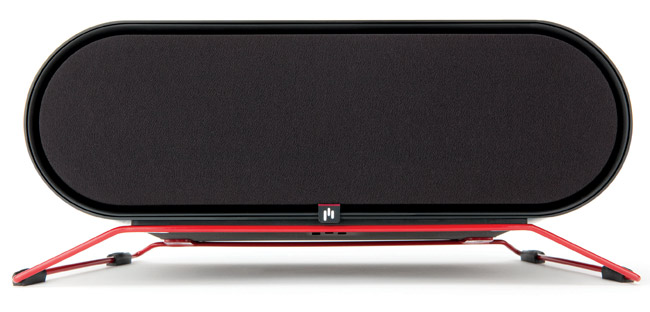 Each ARIS comes packed with an adjustable and removable red steel stand, for easy placement in any room.
Aperion Audio is shipping the ARIS Speaker with the ARIS Wireless Card for Windows now, with an MSRP of $499.
Where to Buy: