Antennas Direct Offers ClearStream 5 and Micron DTV/HDTV Antenna Models
By Chris Boylan
Although the digital transition is more than 3 months behind us, there are still many Americans struggling to receive their local over-the air channels, even with a fancy new HDTV or digital set-top box.  And Antennas Direct is here to help.  Company reps were at CEDIA EXPO in Atlanta last week to showcase a pair of new antennas that they hope will be popular among those who receive their television broadcasts for free over the air.
First up was an upper band VHF antenna, the ClearStream 5.  This outdoor antenna was designed to address the roughly 24% of DTV stations which began broadcasting on the Upper VHF bands on June 12th.  Apparently the signal strength of many of these newly re-assigned stations is inadequate to reach portions of their viewing audience, at least with a simple indoor antenna.  Compounding the problem is that many so-called "HDTV antennas" that were sold in the days leading up to the DTV transition were, in fact, UHF-only antennas.  These antennas don't do a great job of receiving signals over the VHF bands.  Add in the lower signal strength of the newly assigned channels, and you have yourself a problem.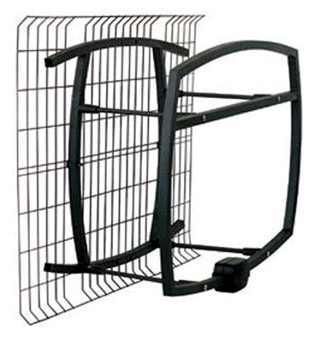 "Typically, VHF frequencies propagate better than UHF signals, but the reduction of ERP (Effective Radiated Power) on the VHF band in some cases is so severe, the channel becomes nearly unwatchable," said Antennas Direct's CEO Richard Schneider. "We've designed the ClearStream 5 with the highest possible gain for channels 7 to 13 to offer consumers the best chance for receiving high VHF DTV in those low-powered markets."  Unfortunately for apartment dwellers, the ClearStream 5 antenna is intended for outdoor use only, not only because this is how it will get its best results, but because it's fairly large and won't blend in well with your typical living room décor. 
"We made it as small as we could," said Richard, "but the laws of physics dictate the spacing of the elements and reflector." That spacing translates to a mostly open black metal frame that measures in at roughly 2 feet by 2 feet by 1 foot.  Ideally you will want to place this on a roof or outside wall, pointed toward the local broadcast tower.  The antenna's signal can be combined with that of a dedicated indoor or outdoor UHF antenna using a simple combiner (one of these is included in the box with the ClearStream 5) for reception of the full DTV spectrum.  The ClearStream 5 is available now for a list price of $119.00.
Specs for ClearStream 5:
Range: 65 + miles.
Design: Square Loop with Tuning Bar
Size: 23"w x 23"h x 11.5"d
Target: High VHF Channels 7-13 (174 MHz -- 216 MHz).
Typical Gain: 8.4 dBi.
Efficiency: 90%
Beam Width: 70 degrees
MSRP: $119.00 - Available on Amazon.com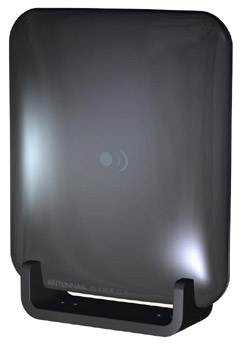 Take it Inside
For those who live closer to the broadcast towers, or whose local channels transmit only on the UHF bands, the new ClearStream Micron offers exceptional indoor UHF performance from a thin and stylish design.  Taking the popular ClearStream 1 antenna design and encasing it in a slender rectangular housing with rounded edges, the ClearStream Micron was born.  It comes with a tabletop stand which flips around to double as a simple wall-mount so you have multiple mounting options.  The ClearStream Micron offers a wide beam width to allow it to receive signals from more than one tower, each up to 25 miles away.  Although black is the standard color, other color choices may be offered (a red model was on display in Atlanta).  The ClearStream Micron will being shipping later this fall for a list price of $49.99. A high performance "Micron XG" version will also be available for those further away from the broadcast towers.     
Specs for ClearStream Micron:
Design: Black Flat Panel
Size: 9-by-11 inches; 0.59 inches thick
Range: up to 25 miles
MSRP: $49.99
To find out whether you need a UHF antenna, VHF antenna or both (and what type of gain you need), plug in your address on this antenna selector tool on AntennaWeb.org.
More Information: