Anger Management: Season One Blu-ray Review
By Rachel Cericola
The Film
Back in March 2011, Charlie Sheen gave the finger to his multi-million-dollar TV gig on Two and a Half Men (and a few other people). However, one network's trash can be another's treasure -- especially when that "treasure" comes with tons of built-in publicity.
So FX threw a ton of money at Sheen to star in Anger Management, a mediocre TV show based on a mediocre theatrical film.
Anger Management: Season One starts off with what seems to be an additional F-you to Sheen's former employers. From there, it's a non-stop laugh track -- literally. This show has a really annoying laugh track that someone is triggering approximately every 5 seconds. That would be fine, if the show was half as funny as the laugh track indicates.
Sheen plays Dr. Charlie Goodson. Surprisingly, he's not a gynocologist; he's a former baseball player (Wild Thing!) turned psychologist. Yes, Charlie is the sane one of the group. And what a group it is. The show has Charlie dishing out his crazy brand of therapy, but is more about his love of the ladies. Oh boy, does he love them -- and the sluttier, the better. That said, he seems to find a slight bit of stability from a peer/booty call (Selma Blair), an ex-wife (Shawnee Smith) and a teen daughter (Daniela Bobadilla).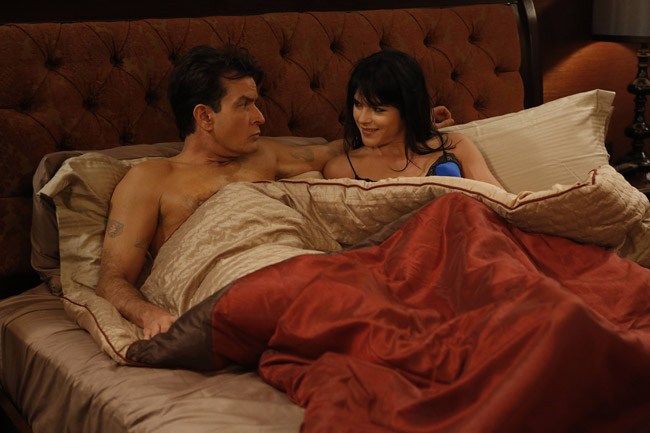 Fans of Sheen's work on Two and a Half Men (really?) may enjoy this show's first 10 episodes. It obviously had enough fans for FX to give the show a 90-episode (!) pickup. The rest will probably want to proceed with caution. Otherwise, after a few episodes, you may be the one in need of a little anger management.
The Picture
There's nothing stunning in this 2-disc set's image, but it's enjoyable enough. The 1.78:1 transfer has its share of soft moments, but has plenty of bold, solid colors and some really decent detail. That opening shot of Sheen's face is probably the best few seconds of the set, but there are plenty of other moments that make this a solid overall presentation.
The Sound
The show is dialogue-driven, so it shouldn't be too surprising that the surrounds are sort of wasted on this DTS-HD Master Audio 5.1 track. There's some occasional music, but most of the action sticks towards the front speakers. Dialogue is clear, but that laugh track has got to go.
The Extras
How awesome would it have been to have Sheen do commentary for each of the 10 episodes presented here? Yeah, don't expect to hear the actor's "winning" rants through every episode. Instead, the 2-disc comes with a short about the patients featured in the show, a gag reel and a full 17 minutes of people talking about how awesome it is to have Sheen on set (at least for now).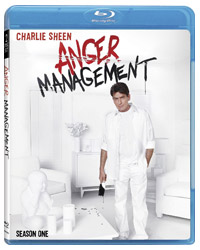 Final Thoughts
Sheen was once a good actor. He may still be, but frankly, anything he does here gets drowned out by a hideous laugh track. In Anger Management, he's not "winning" as much as living the American dream. The Blu-ray is fine, but the rest is kind of questionable.
Product Details
Actors: Charlie Sheen, Selma Blair, Shawnee Smith, Daniela Bobadilla, Noureen DeWulf, Michael Arden, Derek Richardson, Barry Corbin, Michael Boatman, Brett Butler
Directors: Andy Cadiff, Gerry Cohen, Bob Koherr, Rob Schiller, Sam Simon
Audio/Languages: DTS-HD Master Audio 5.1 (English),
Subtitles: English, English SDH, Spanish
Aspect Ratio: 1.78:1
Number of Discs: 2
Rating: NR
Studio: Lionsgate
Blu-ray Disc Release Date: January 8, 2013
Run Time: 220 minutes
List Price: $27.97
Extras:

Anger Mismanagement
Charlie's Baby
Behind the Couch: Meet Charlie's Patients
Also from Lionsgate