Android Tablet Deals: Samsung Galaxy Tab 3 7.0: $139.99 (Save $60)
By Chris Boylan
If you didn't get that tablet you had your eye on as a holiday gift, now's a good time to get one for yourself. Amazon is offering a nice discount ($60 off) on Samsung's Galaxy Tab 3 7-inch tablet, now on sale in its WiFi version for $139.99 with free shipping. This is $10 lower than their Black Friday/Cyber Monday deal on the tablet so we expect they will be selling like hotcakes.
The Tab 3 is available in white or dark brown with gold trim.  If you need 4G data access, a black version is also available with WiFi plus 4G LTE networking (via AT&T) for $269.99.  Here's the link for the WiFi version for $139.99:
The Samsung Galaxy Tab 3 comes pre-loaded with Android's Jelly Bean OS (4.1.2 OS) and is driven by a powerful 1.2 GHz dual-core processor.  There's 8 GB of storage on board, but you can beef that up all the way to 64 GB via the included microSD port and an optional microSD memory card.  This allows you to store plenty of photos, songs, videos or other files locally on the device without having to access  the internet or "the cloud" like some other tablets.
But if it's cloud you want, the Tab 3 also comes with a free DropBox account with up to 50GB of remote storage.  There are additional perks like a year of free Boingo Wireless so you'll never be too far from a WiFi hotspot.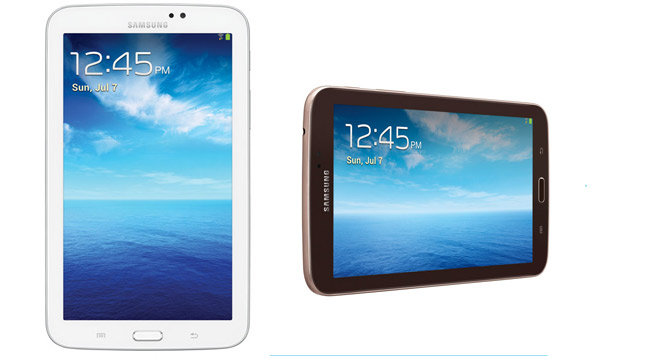 There are two cameras on board: a 3 MegaPixel rear-facing camera and a 1.3 MegaPixel front-facing camera. These can be used to shoot photos or videos, or for interactive video chatting with apps such as Google Hangout. In terms of apps, the tablet has access to the full Google Play Store with thousands of the most popular games, tools and productivity apps.  The Tab 3 is also compatible with the Amazon app store and is a very capable e-reader using the Amazon Kindle app.
One fun feature of the Galaxy Tab 3 is its ability to act as a universal remote control.  The Tab 3 has a built-in IR (InfraRed) port on top so it can control TVs, Blu-ray players, receivers and more and the app to operate all of these devices comes built-in. No more fighting over the remote - there's an app for that!
Amazon's price on this tablet was current and they had stock as of Friday morning (December 6) but they may change this offer at any point without notice. They also may run out of stock, so if you see a higher price from a marketplace seller, check the right margin of the page to see if "Amazon.com" is an option at the lower price.
More Cyber Monday Deals on Tablets, HDTVs and More:
Please note: all deals posted on Big Picture Big Sound are current as of the posting date and time. These deals are frequently time- or stock-limited and generally do not last. Final pricing and stock are determined by the individual deal provider, not by Big Picture Big Sound so you will need to click through on the offer link to see if it is still available. Through our affiliate relationships with many online vendors, Big Picture Big Sound may earn a small commission on any referred sale.