American Reunion Blu-ray Review
By Rachel Cericola
The Film
Direct-to-video spin-offs aside, it's been about 9 years since we've seen those crazy American Pie kids attend the American Wedding. Apparently, Universal had room for one more slice of Pie, and baked up American Reunion.
All of the franchise's original characters are here, with some getting more screen time than others. And while many of those familiar faces have thinning hair and new wrinkles, everyone's libedo and threshold for goofy antics seem to have survived adulthood just fine.
Jim (Jason Biggs) and Michelle (Alyson Hannigan) are in a marriage rut, Oz (Chris Klein) is a famous sportscaster with a model girlfriend (30 Rock's Katrina Bowden), Kevin (Thomas Ian Nicholas) is a house-husband with an unhealthy knowledge of reality TV, and Finch (Eddie Kaye Thomas) is a bit of a mystery. Thankfully, Stifler (Seann William Scott) is pretty much still Stifler.
The group gets back together, with Heather (Mena Suvari), Vicky (Tara Reid), Jim's dad (Eugene Levy), Stifler's mom (Jennifer Coolidge), Jessica (Natasha Lyonne), and Nadia (Shannon Elizabeth) all making appearances. Also making multiple appearances are the same sex-fueled, goofy hijinks, sprinkled with a little sentimentality, of course. It's been a winning formula for the franchise so far -- and actually works a lot better here than it did in the last two films. If you're a fan of the series, you're probably not going to stop now. Eat up and enjoy.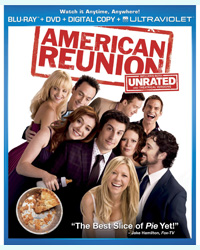 Want a larger serving of this American Pie installment? Check out Joe Lozito's theatrical review of American Reunion.

The Picture
Each of the American Pie films have been released on Blu-ray, with mixed results. None of the images are especially stellar, and American Reunion is no different. That's not to say it's horrible, but this series should be sparkling at this point. This movie was released theatrically just a few months back. And like the other American Pie movies, it made a boatload of money for Universal. The colors are nice and warm, but blacks crush on occasion and detail is hit or miss. Exactly how much money does the franchise need to haul in to get that stellar image it deserves?
The Sound
The DTS-HD Master Audio track fares a little better. However, it's a comedy, so there isn't a lot to envelop the viewer. Dialogue is strong and centered, with plenty of party chatter for the surrounds. That said, the strongest part of the track comes from the film's soundtrack, which includes a ton of '90s-era pop hits.
The Extras
Universal packed this Pie with a ton of filler in the special features section. There are multiple featurettes, a making-of promo, commentary with writers/directors Jon Hurwitz and Hayden Schlossberg, bloopers, deleted scenes, extended scenes, and alternate scenes. Just don't bother with the Unrated version of the film, though. It's a whole 1-minute longer and I'm not even sure where. In the credits? There's also something called the "Out of Control" track, which has cast popping up (literally) on-screen throughout the film to tell jokes, goof around, and occasional spit out a behind-the-scenes tidbit.
If you're only going to bother with one of the extras, check out the "American Reunion Yearbook." This interactive section features info on the characters and the series, with film clips and other tidbits.
Final Thoughts
American Reunion is certainly a lot better than the last two Pie films, which may not be saying much. If you've seen all three, this one is a no-brainer. If you haven't, well... why the heck are you reading this? No one is reinventing the genre here, but it's certainly not the stinker of the series.
Product Details
Actors: Jason Biggs, Alyson Hannigan, Chris Klein, Thomas Ian Nicholas, Tara Reid, Seann William Scott, Mena Suvari, Eddie Kaye Thomas, Jennifer Coolidge, Eugene Levy
Directors: Jon Hurwitz, Hayden Schlossberg
Audio/Languages: DTS-HD Master Audio 5.1 (English), DTS Surround 5.1 (Spanish, French), DVS 2.0 (English)
Subtitles: English SDH, French, Spanish
Aspect Ratio: 1.85:1
Number of Discs: 2
Rating: R
Studio: Universal
Blu-ray Disc Release Date: July 10, 2012
Run Time: 113 minutes (theatrical), 114 minutes (unrated)
List Price: $34.98
Extras:

Unrated Version
Feature Commentary with Co-Directors/Co-Writers Jon Hurwitz & Hayden Schlossberg
Deleted Scenes
Extended Scenes
Gag Reel
The "Out of Control" Track
The "Reunion" Reunion: Re-Launching the Series
The Best of Biggs: Hangin' with Jason B.
Lake Bake
Dancing with the Oz
American Gonad-iators: The Fight Scene
Jim's Dad
Ouch! My Balls!
American Reunion Yearbook
BD-Live
Standard-def DVD
UltraViolet Digital Copy