Amazon Offers Free TV and Movie Downloads to Prime Members
By Ian White
Netlflix is not having a good month. Last week, it lost the right to stream Criterion Collection films to rival Hulu. Today, Amazon announced that its Prime members now have access to 5,000+ films and television shows for free. Ouch. Amazon Prime members pay $79 a year for free 2-day shipping on most Amazon orders, and $3.99 for 1-day shipping, so the offer of unlimited, commercial-free, instant streaming of over 5,000 movies and television shows is certainly going to please the millions of customers who already use Prime.  It's also likely to be a strong carrot for those people who have already looked into or begun using Amazon's Instant Video service.
The electronic media distribution channel has become an increasingly important source of revenue for Amazon, and this week's announcement is certainly going to make some folks at Netflix and in Cupertino twitch. It's a bold move by Jeff Bezos and likely to pay off for Amazon who have been firing on all cylinders of late: Did we mention the ten million Kindle 3 eReaders they sold in 2010?
In reality, Amazon's new Prime offer doesn't improve on what Netlfix can deliver in terms of movie selection, but Amazon's Prime Instant Video service offers foreign films with the choice of subtitles or dubbed, which is a new item - some but not all Netflix clients support multiple audio and subtitle tracks. Prime Instant Video is not available to students who may have a free Prime membership, and also not available to folks north of the border (Canucks get hosed twice in one week).
Amazon is being quite aggressive with the launch of Prime Instant Video and making it available on your PC, Mac, and close to 200 models of Internet connected TVs, Blu-ray players, and set-top boxes.
We tried the new service today on an iMac, HP laptop, and through my Roku XDS and the interface is really well designed and load times were surprisingly quick; certainly faster than Netflix in two instances and a lot faster than VUDU through any internet-streaming television or Blu-ray player.
One thing we noticed is that the image quality isn't quite as crisp as Netlfix, and there were some motion artifacts that we didn't see while using a few clips of the same films on Netflix. Point to Netflix on that one. However, the price (free for Amazon Prime members) will make most people forget all about the slight picture differences. 
On a pure price comparison, Netflix' streaming-only plan currently costs $7.99/month for access to over 12,000 titles while Amazon's Prime membership costs about $6.58 a month with access to over 5,000 titles (both numbers provided by the respective vendor).  Amazon offers premium streaming content on-demand for sale or for rent on a per-title basis, while Netflix does not.  Amazon also offers free 2-day shipping on just about any order with Prime membership while Netflix offers disc rental by mail for an additional $2/month (DVDs) or $4/month (Blu-ray).  So each service provides some unique advantages.    
The service-agnostic media streaming hardware vendor Roku, who already provides access to both Netflix and Amazon VOD services, is part of the new partnership with Amazon and we rushed over to the XDS that we reviewed last year to see if the new service was up and running. Roku recently crossed over the 1 million boxes sold threshold and they had the new Prime Instant Video service working already when we opened our Amazon Instant Video application on the Roku. We love it when a plan comes together.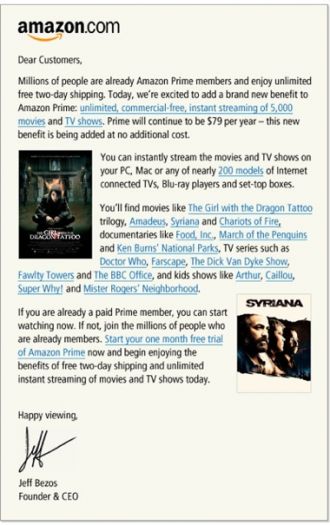 Netflix did respond today to the Amazon announcement by signing up some TV shows from CBS' library which will be available for instant streaming starting in April. The two-year deal (which is not exclusive) lets Netflix stream older shows like
Family Ties
,
Star Trek
, and
Cheers
, plus
Twin Peaks
,
The Twilight Zone
, and newer shows like
Medium
. For those of you who are scratching your heads at
Cheers
(the NBC show that you loved for years), the production company for the beloved show was Paramount, which is owned by Viacom/CBS.
Needless to say, the Netflix announcement didn't exactly get the same level of attention as the Amazon offer. Medium was rather awful the first time (IMHO, of course), so why would anyone want to pay to watch it again?
Like we said. Amazon is firing on all cylinders.
Sign up for a Free Trial of Amazon Prime: